Proof of ice everywhere is proved, the most economic development in West Africa Ghana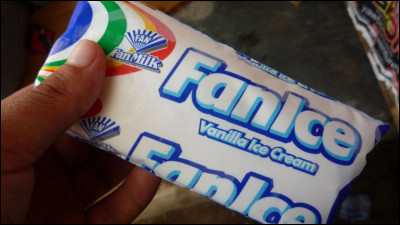 Hello,Around the World Bicycle WorldIt is Takuya Sudo @ Chaliderman. It is everywhere in Japan, but it is not easy to get ice cream in West Africa. I would like a cold cola first.

That is why the ice cream that was full of Ghana was shocking. That is common people's price. I have thought about the Ghanaian economy that continues to evolve from there. In addition, I will summarize the days in Ghana, with Banana, whether finally baked or fried for sightseeing in the Cape Coast, and finally discovered African Maize.

West Africa, the capital of Ghana Accra in this area

View Larger Map

Ghana running with floating clouds continues.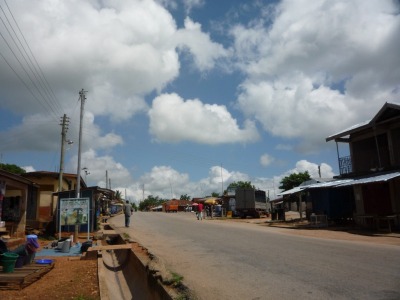 I found a huge enormous snail African snail. This is said to be eaten as "bush meat". Despite shouting "Ugyu" "Kimochiwaru", this surprise is glad. Discovery abroad breaks common sense until now. I can meet a snail like this monster so traveling is fun.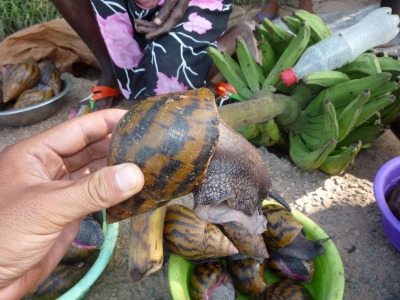 Children in the settlement are wary of doubtful Charriderman who strayed.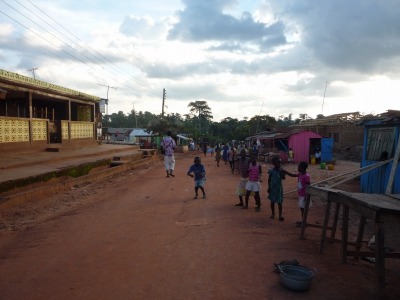 A goat was fighting at Ichihashi Bridge. Even so it got excited ... ...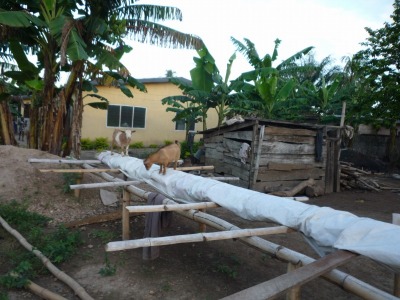 I have waited for this duel. It seems to be a quiet goat, but I sometimes hit my head and fight.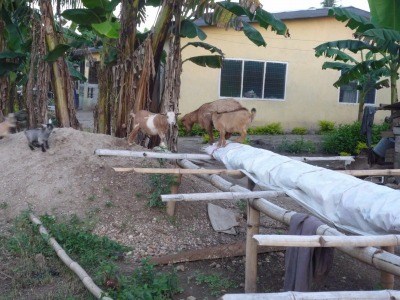 A quiet market. I like this tranquility that changes from the bustle of the daytime.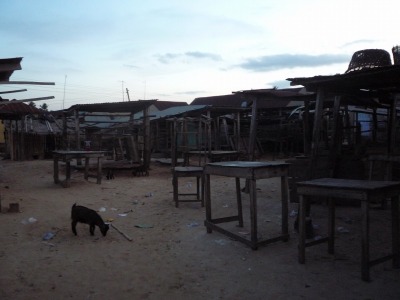 So the Gakincho. You have a nice face, are not you?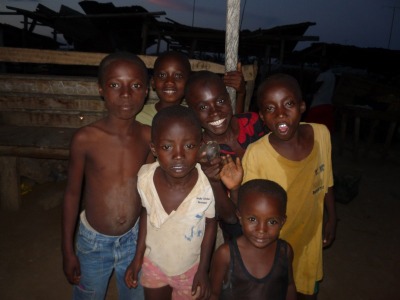 And I went to the sea. Sea which continues running from inland Mali's Bamako. Since I entered the inland from Sierra Leone, I will have largely bypassed Liberia and Cote d'Ivoire. I just got pleased with the blue blue sea that we met again.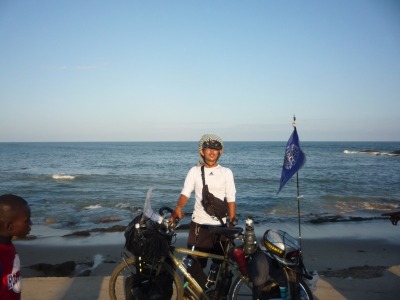 This place is called Cape Coast.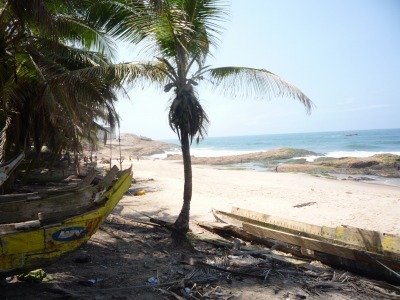 Beach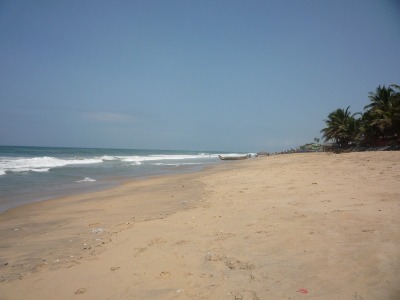 I felt big ocean on a lot of palm trees.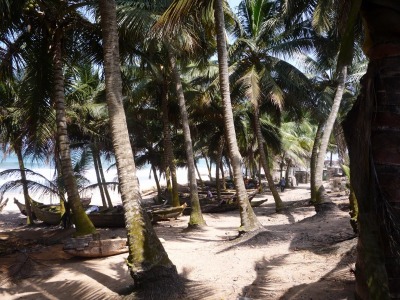 Cape Coast has a castle. Because it is a sightseeing spot, we can see some tourists as well.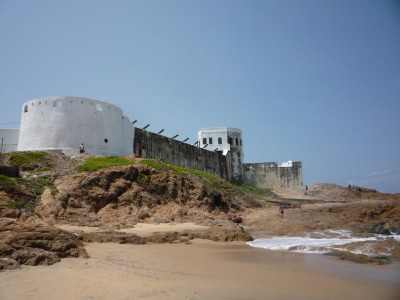 Square inside the castle.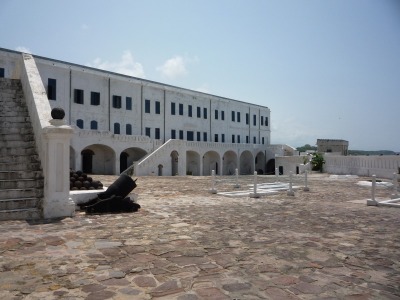 Cannonball and building.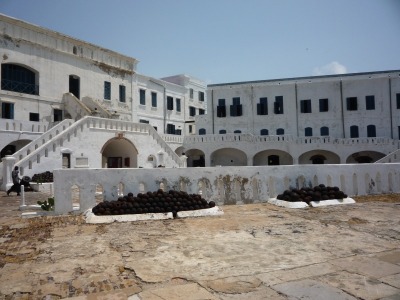 There is an elevator for the sea.



Castle walls, turret and coastline.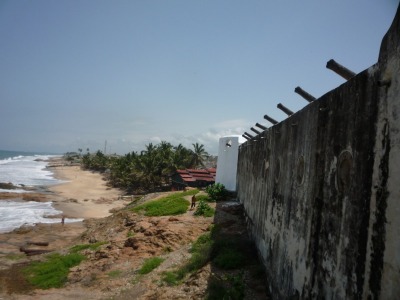 Looking down the square from the top of the building.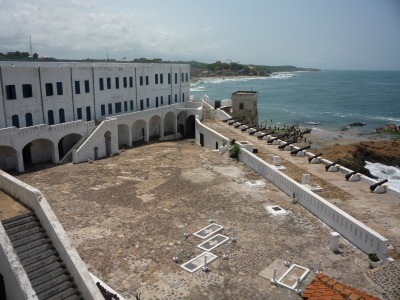 Composition that understands the whole castle.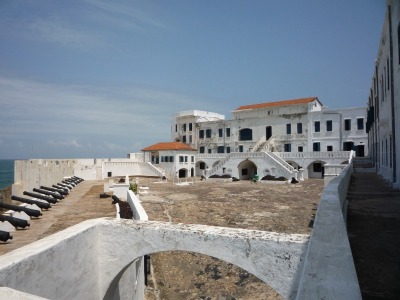 Just here as well as Gore Island in Senegal will be a historic site of slave trade. A black slave was pushed into this dim mask. On the other hand, when a white ruler was in a bright wooden building at the top of the castle, even though it is about the times, it is unbelievable.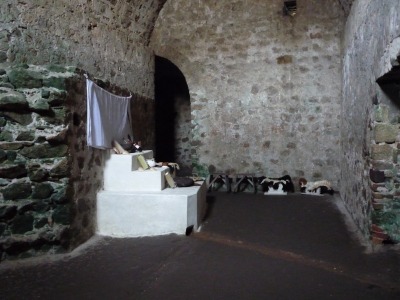 A lot of fishing boats from the castle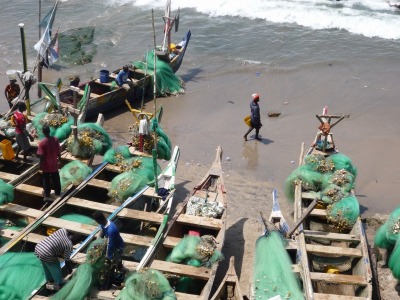 You can see a lot of fishermen.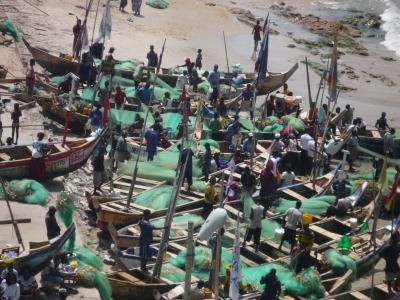 I was watching the fishing on the beach. A man jumps from a ship that has gone off the coast and swims and fries the net on the ground. Then, only twenty men will pull the net on the land. Let's make a shout, little by little little by little. It seemed like a fairy tale "big fish."

The city of Cape Coast where you could see from the castle.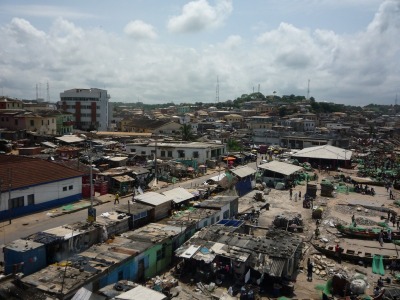 A small sailboat that receives wind.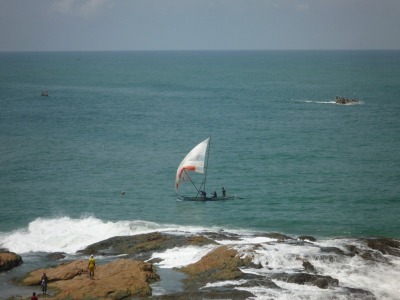 A cheap hotel where the building on the left is staying at the Cape Coast.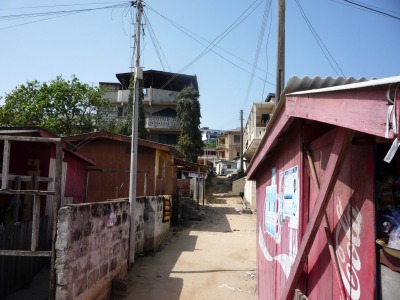 A duck that has been left open.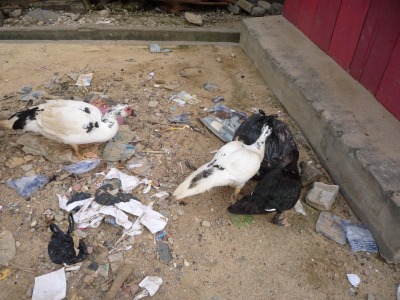 I left the Cape Coast and arrived in Accra in the capital two days. I am afraid that it is a signboard painting a medical condition.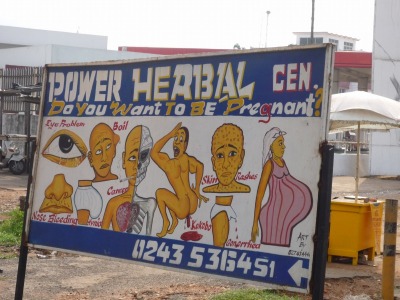 At the parking lot in the city center.



We got Benin visa in the capital city Accra. In that case, we used the meeting bus "Troll". It is operated with seats set on a wagon like Hiace. Anyway, it is a name that can not be stopped like "Trotoro". Not only that, it seems that there is a place where East Africa calls the same meeting bus "Daradara". "Trotoro" and "Daradara" are nothing fun naming.

After going out of Accra, the path will be east, aiming at the neighbor Togo. I ran a sandbar in the ocean. There are places where the width is not 500 meters, the right is the open sea, the left is the inner sea and the strange place. Since there are only water in the vicinity, there were places where the settlement was flooded.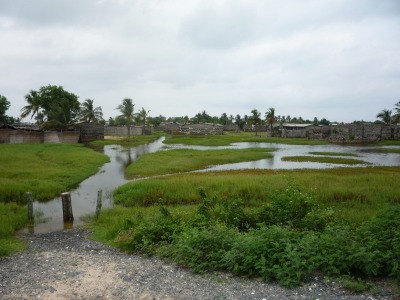 I was running on a pleasant road with palm trees and the sea.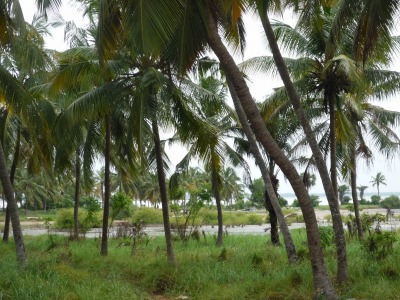 Condominium in Ghana. The hotel in Ghana stayed at 15 Seddies (about 900 yen). Because Ghanaans stayed at inn, I was relieved with plenty of cheap accommodations. Because the accommodation was expensive in Senegal and Mari, it was serious.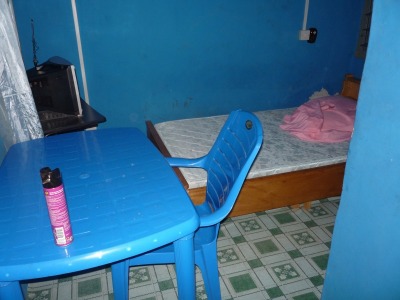 There is a shower and a toilet in the room, it is enough if you have a small desk and a chair with a fan. Bicycles were also in the room.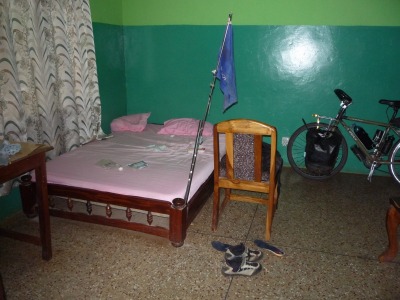 This is a room I stayed at Cape Coast.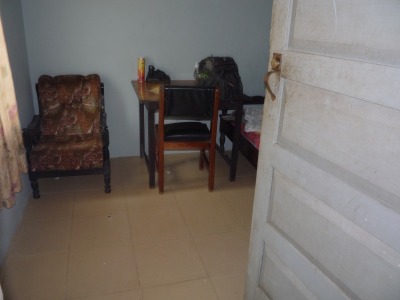 This is a motel with a golf course and it was a large wide room.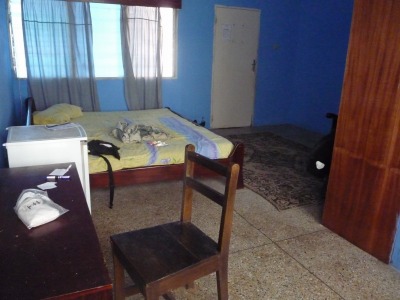 Dietary life in Ghana. In Ghana I was eating food called Banuku.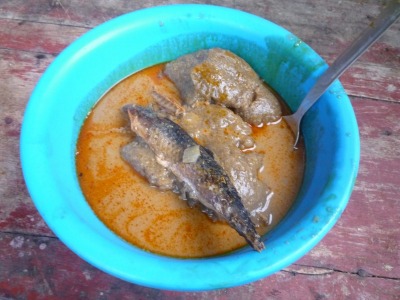 I have been kneaded like a rice cake, but I will put soup in a bit that can be bitten.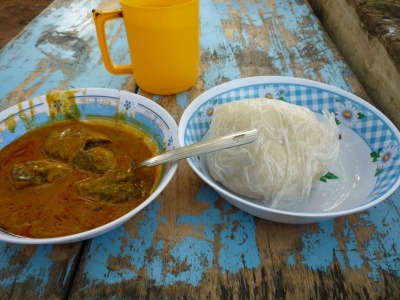 Here is a shell skewer. It was very delicious.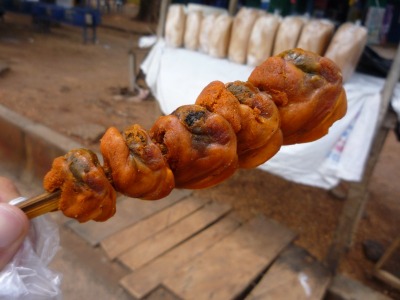 I am addicted to corn baked by aunt at the roadside. I will put it on salt water.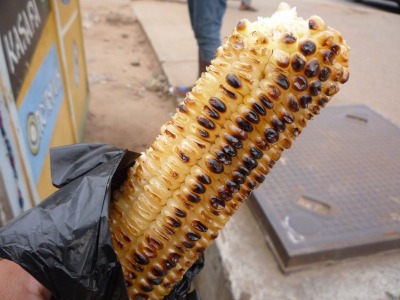 My aunt has also baked bananas.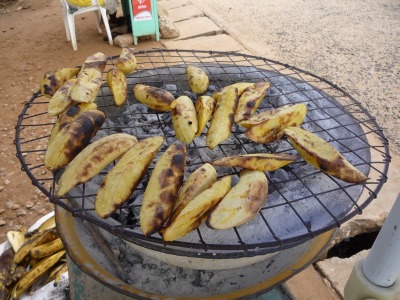 Baked bananas are like sweet potatoes. It is not just baking,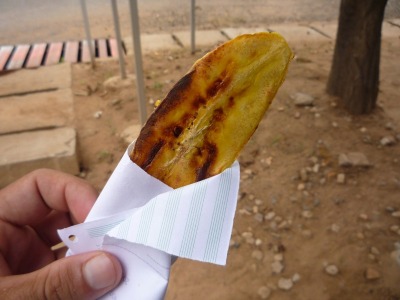 I am fried with banana. I liked it because the bean sauce, sweetness and saltiness exquisitely matched the fried banana.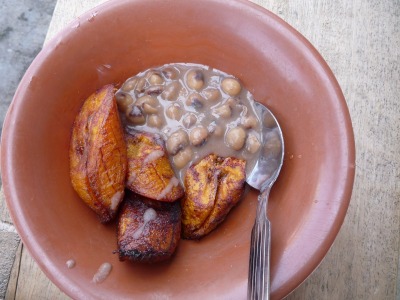 Banana chips are also delicious. Here is a banana.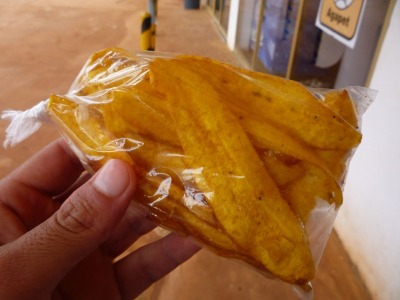 Domestic beer in Ghana will be a club.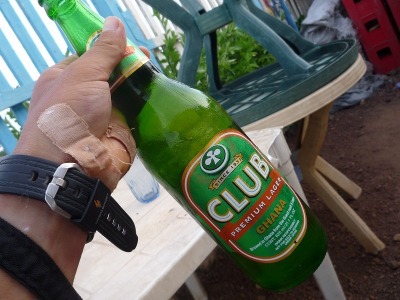 But I can also drink Irish black beer Guinness. Guinness Book of Guinness. Is deployment in Ghana a British, English connection?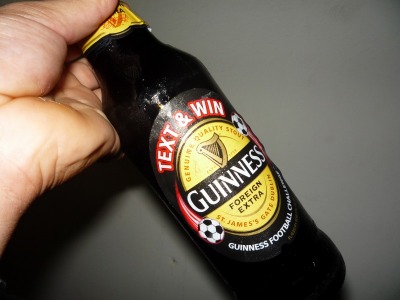 And what you should not forget is icecream in Ghana. There are no countries where ice cream of common-people prices is distributed in West Africa so far. I was happy that Ice cream could eat every day at about 30 yen. Five types in all.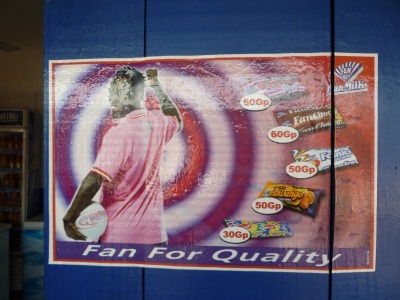 Fan ice. Vanilla ice cream. It is the best recommendation with only ice cream. I have been eating this all day.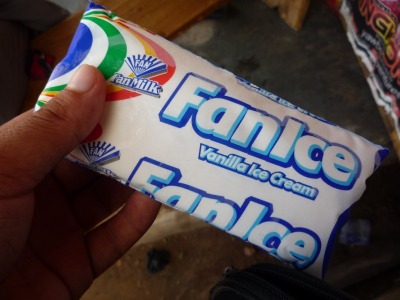 Van Yogo. Strawberry yogurt ice candy. (0.6 Cedy, about 40 yen)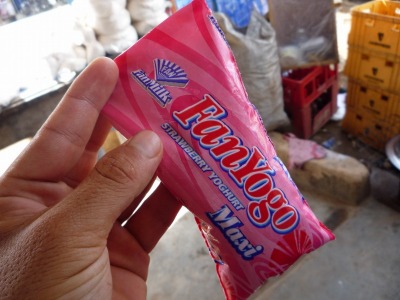 Fan chocolate. Ice candy of chocolate milk. (0.6 Cedy, about 40 yen)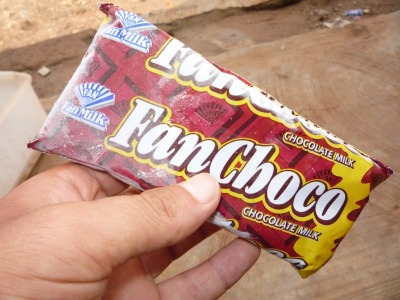 Fang Dongo. Orange ice candy. (0.5 cedy, about 35 yen)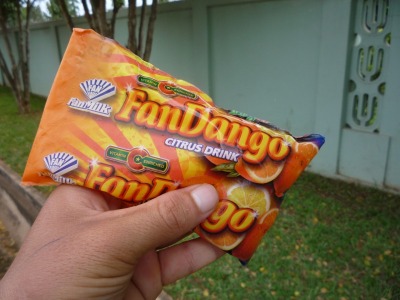 Fan pop. Here is an ice candy too. (0.3 Cedy, about 20 yen)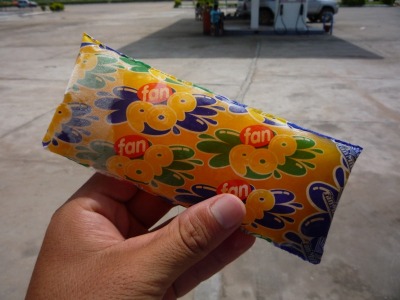 In the city there is an ice cream station with such a freezer.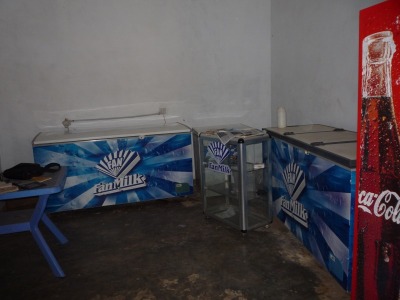 They are packed in this bicycle, rear car, or wooden box and sold at bus stops and markets. Of course you can buy directly where there is a freezer.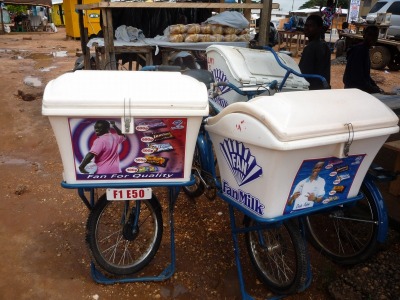 "Ice cream in Ghana was delicious" and that can not be over. The ice cream that is everywhere represents a good power situation. I can not keep cold ice cream if power outages occur frequently. Ghana ice cream represents the strong Ghanaian economy outstanding in West Africa. I will tell you the charm of such a Ghana economy.

Pesticide signs. People from Guinea and Sierra Leone do not agriculture first. Mari and Burkina Faso were surprised that they are doing agriculture. Because it is pesticide in Ghana on that. When I was running I attached something like misting to the poly tank and I often saw people who sprayed pesticides.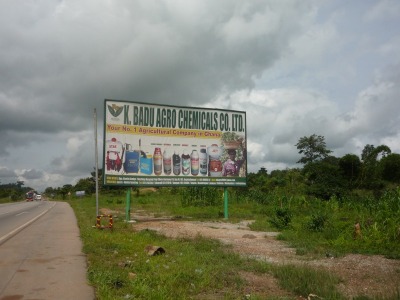 British Vodafone is on the mobile market. In addition, MTN also from South Africa. In West Africa with a population of approximately 23 million people you want to keep the market of Ghana next to Nigeria. Competition is being conducted by several other companies.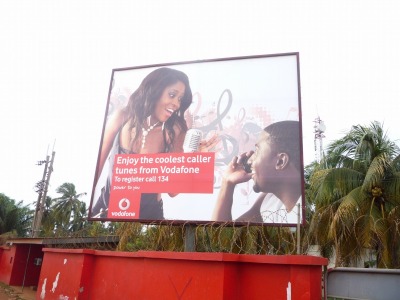 It seems that I make movies in my country.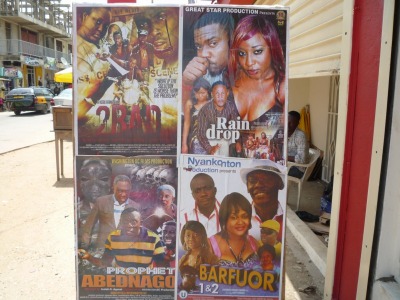 Ghana has a department store Melcom of domestic capital. There were department stores of domestic capital such as Matahari in Indonesia and Marujan in Morocco as well. Ghana, like those countries, is one step in developing countries.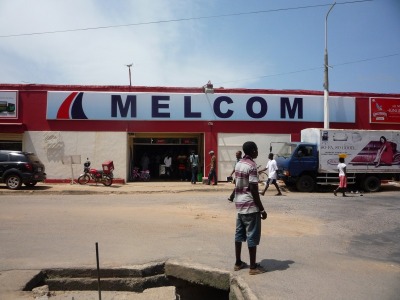 In the capital city Accra there is a supermarket "shop light" of South African capital's capital and a discount store "gum". It was a place like a European shopping mall. I feel like Ghana if McDonald's will be the first to advance in West Africa south of the Sahara desert.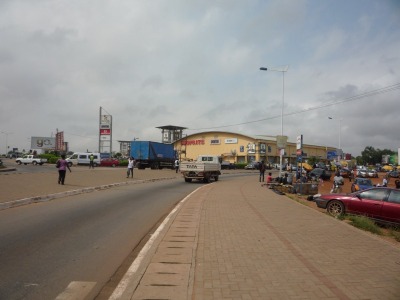 It is also the strong point of Ghana that democratic politics is functioning. A military coup occurred in Guinea and Niger. There is no way that the economy will stabilize in such an unstable country of politics.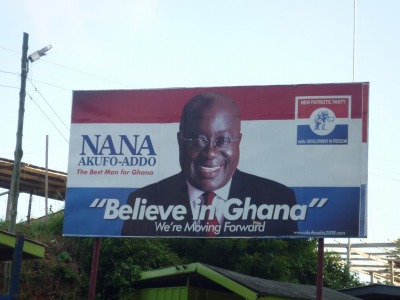 Signboard calling for voting.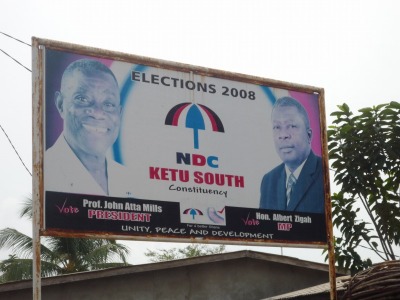 And, as oil came out, economic development will accelerate. The benefits of oil are written on the Everyone can invest (which everyone can use) and on the signboard.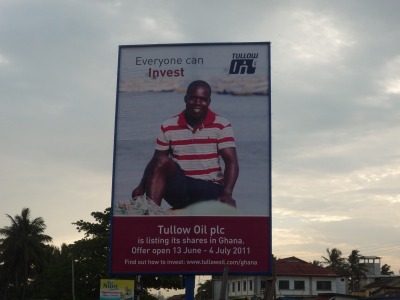 There is this groundwork, and although it is Ghana which can be expected from now on, there is one concern only one. That is that people are rougher than anywhere in West Africa. When I was running I tried to stop until I uttered a strange voice, I picked up the hands that I was walking on, and the guests attracted me, the poor handle was West Africa, the people in Ghana did not like me. If that alone, the car is overturning often whether driving is rough. Even after a car hit a guard rail, I never saw a beautiful thing. This social consciousness frustration does not feel like pulling one's foot anyway.

I have been moving south since I entered Africa, but from here it will proceed east to Cameroon. Togo and Benin are nice, what about Nigeria? It seems that everything is dangerous.

(Sentence / picture: Takuya SAITO @ Charriderman
Cycling around the world for a bicyclehttp://shuutak.com)