Popular voice actor Koishimizu Ami and Sugita Tomokazu spontaneously speak live-action movie "KOF"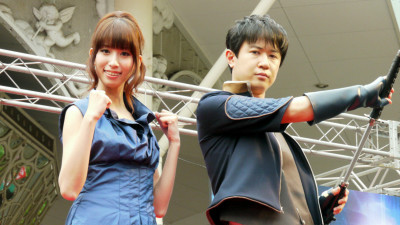 Shiranui dancer who was in charge of dubbed Japanese version at The King of Fighters' movie released on July 2, 2011 in theatersAmi KoshimizuAnd Mr. KusanagiTomokazu Sugita"Cure Cosplay Festival Vol.3We will deliver the state of the talk show at.

Two people who appeared in the cosplay appearance talked about hot feelings to the game version KOF which became the original and the episode at the time of recording, but, "How about KOF becoming a live-action movie in the first place?" It was a content that suggested an answer to the question.

The King of Fighters presents Cure Cosplay Festival Vol.3 - New sensory cosplay event sponsored by Cure

The movie "THE KING OF FIGHTERS" Official website July 2, 2011 Theatrical release decision

Ami Koshimizu who appeared on the stage.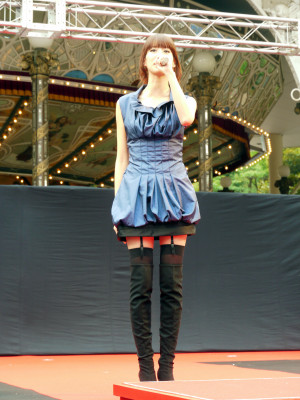 Tomokazu Sugita will decide the sword as soon as it appears.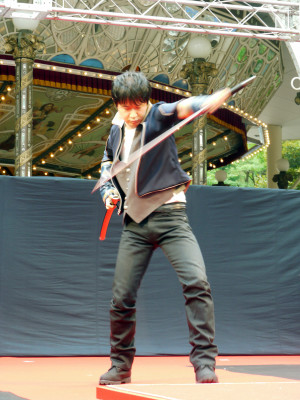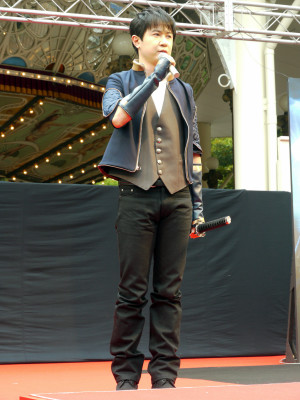 Moderator:
How was it after Mr. Sugita did the dubbing?

Tomokazu Sugita (hereinafter Sugita):
It was a lot of fun. What I was particularly pleased with is that almost all of the performers are engaged in KOF games, are not they? I was able to talk with "I do not say such things here" or "I'm Round One Fight" after all, I will not say "Start game", and it was a scene where I got respectfully respected to the original work. The scene was very good.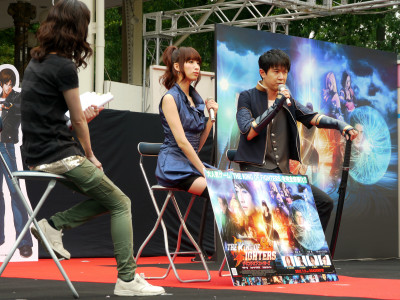 Moderator:
Mr. Koshimizu, are there any episodes that were especially fun during dubbing?

Ami Koshimizu (hereinafter, Koshimizu):
When I was doing dubbing, it was almost in the state of your voice, but I am dubbed in Japanese on the play done by the American version of the actor I heard that "You guys are playing with such nuance". Depending on who you are, the way you dub a little bit differently, there are also places quite far from the character. That was fascinating. And there are ad libs in there (lol)

Moderator:
Are you ad lib?

Koiseui:
Yes. In such a place, it was a dubbing while letting me make it a bit of a shit. But I wanted to record with you.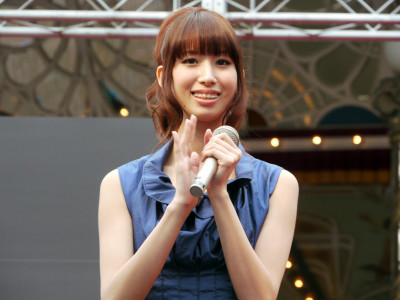 Sugita:
No, there are various circumstances.

Moderator:
Mr. Sugita, how was it? It was especially fun place in the field.

Sugita:
It is a deep affection for performers' works. It was possible to record while playing ideas with everyone, such as a play or dialogue that was conscious of the original character.

Koiseui:
It is truly.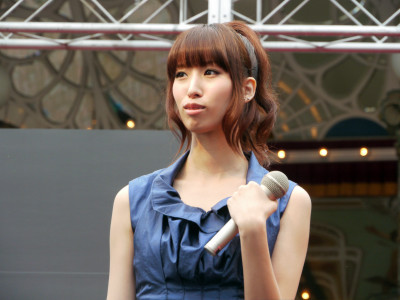 Sugita:
Such a strange deep meeting began.

Moderator:
Because it's a big deal, I would like you to tell me if there is a dubbing story that you can talk about because this is the place, but is there anything?

Sugita:
The topic of the costume I wear in the stage greetings and events during the recording went up. And, as a result of thinking "Which one should I wear," it became the movie version of Kusanagi Kyo. Initially I heard the story that the appearance of the game version was listed as a candidate, "I wonder what you do if that happens", though.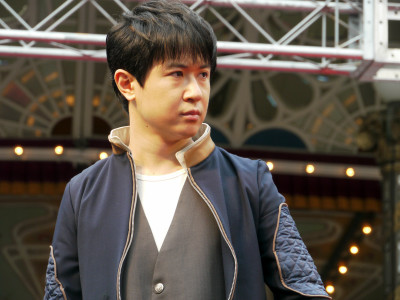 Koiseui:
After telling me the after-recording of the movie, I also said, "There are various events from now on, but if you do not mind, would you please put on costumes?", And two costumes were coming up. This and the red one.

Sugita:
Oh, it's a costume when you fight.

Koiseui:
In fact, at the office with the lady manager and two people, I was worrying a little, actually (laugh) As a result of suffering, after all I have to break your image and dreams. I get too much (skin), and it does not come out as I get out (laugh)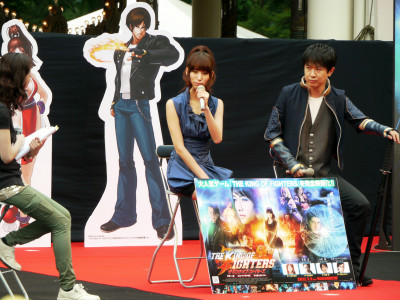 Moderator:
The "red one" is the pop guy behind it?

Sugita:
I agree.

A classic costume of Shiranui Mai.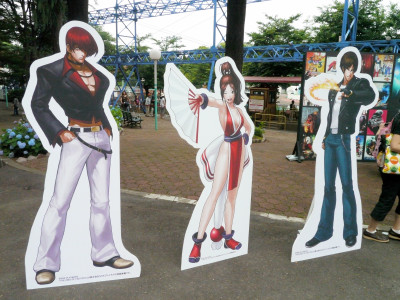 Koiseui:
Yes, it is. Because it was a feeling that it could not be hidden completely, in the end I wonder if I could make it the same costume as Mai in theaters version. But it was said to everyone, 'I know, I knew it' (laugh)

Sugita:
It would be so. However, Mr. Koshimizu had a history of doing cosplay of various works in the past.

Koiseui:
Well, for some reason. What will be the first time, "LEMON ANGEL PROJECT"And?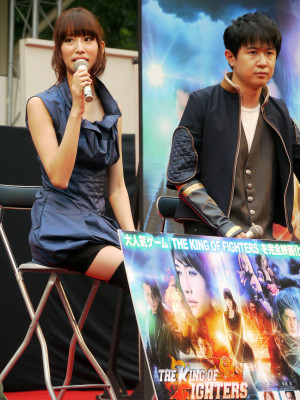 Sugita:
Oh, nostalgic.

Koiseui:
Also, even with Code Geass, actually you are wearing a uniform a little.

Sugita:
Oh, there was. It is a secret to know why.

Koiseui:
Did you see it on TV?

Sugita:
Do not be afraid of what to know why, that kind of place.

Koiseui:
I understand (laugh)

Sugita:
Because I will have to destroy our hard disk recorder.

Koiseui:
Please destroy, now!

Sugita:
However, refusing. ...... I did not worry about the combination with Mr. Koshimizu. However, if it becomes other than that, what is it? Well, as you can see, Kyanagi Kyonno (worn in costumes different from the game version). We only have to make sure of it in the movie. First of all, it is "Kusanagi sword". It is not "Kusanagi no Ken". I managed to make it as KOF somehow. Now, at the cinema.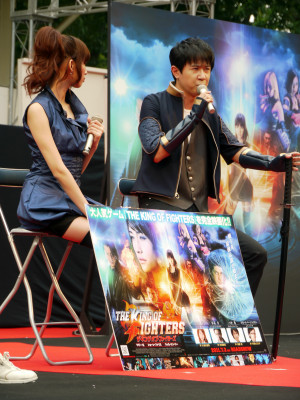 Moderator:
How was it when Mr. Sugita wore a cosplay costume?

Sugita:
First of all, I feel affection for those who made this. Make details tidy. Because I think cosplay is basic, patience and love.

Moderator:
Really? Everyone.

Sugita:
However, wearing costumes is pretty hot.

Moderator:
Is it hot?

Sugita:
Because there is something that you can do your best by surrendering there. Everyone who is coming today, I can do my best even at the depth of love of the staff. Above all, motivation is considerably high because the theme is "KOF".

Moderator:
Originally Mr. Sugita says that KOF likes it.

Sugita:
Yes, I love it.

Moderator:
You can tell me anywhere, are not you?

Sugita:
I played since the first '94. Personally including the memories the most favorite thing is '94.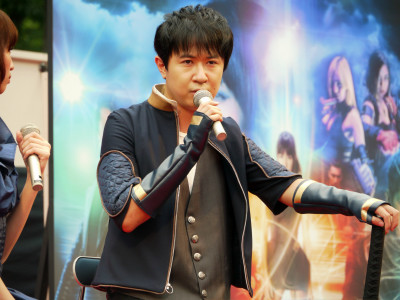 Moderator:
Does anyone like '94 in the hall?

Sugita:
My memories are not exhausted ....

Moderator:
Because there are some people who seemed to be very talkative. Koshimizu is also full of atmosphere ... ....

Koiseui:
Cell, there are cells!

A cell that was visiting.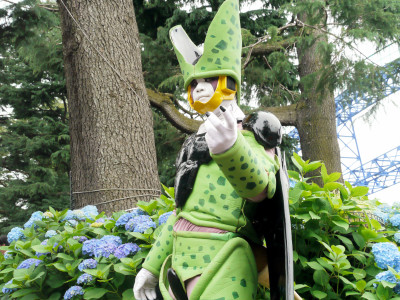 Sugita:
Although it is Toshimaen, it is a complete body. Next to that is Inazuma Eleven, where is England representative?

Koiseui:
I'm sorry, I have broken down my talk.

Moderator:
I was surprised at the facial expressions, so I wondered what had been.

Koiseui:
"Oh!"

Sugita:
Wow, that is amazing.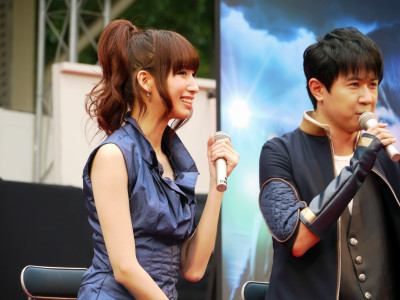 Moderator:
I do not think I can tell from the audience side, but from the stage it is amazing.

Koiseui:
Really awesome.

Moderator:
Mr. Sugita seems to have played KOF well, but is the movie made alive of the fun of the game as well?

Sugita:
Well, as the former is a fighting game, the action scene is absolutely charming, but the fun of the game is alive after all. "It moves nice, people of this role". CertainlyLugarActors on Star WarsDarth MallI am doing it.

Koiseui:
Wow.

Sugita:
Speaking of a dozen malls, it is a weapon like that stick. I mean ... that's it. "Rugal is a stick, yeah, every martial arts can be used, so it's OK" I came to an unknown conclusion. I hope you can see it later.

Moderator:
Are there any people who saw the preceding screenings held in the morning of today? ...... There are quite a few. how was it? People who look forward to continued applaud. (Clap your hands from the audience and the audience)

Sugita:
Great, great!

Koiseui:
Thankfully, really.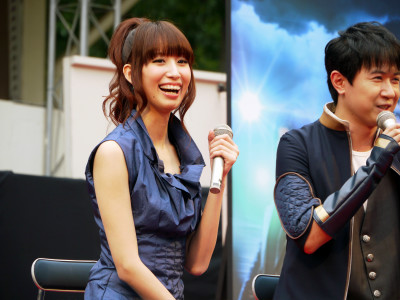 Moderator:
I think that there are many highlights of the movies, but I think if you have a place to see this especially if you can tell us.

Koiseui:
There are quite a lot of impressive scenes. There is an interesting conversation between Terry and Mai. So, it is a feeling that you want to see there, after all it is an action scene.

Sugita:
Three kinds of sacred treasures come out in the story of KOF, but the entanglement around that is done properly in the movie. The rest is Yagami - an 's that was '97. I think that it is the point of note that the reason why we are included of course. Sometime with Mr. SudoBeelzebabI co - star in anime called, but there was intense that I could not show there. He is usually quiet, he's amazing. "Oh, it changes quite a while, it's okay, it's okay! Role of LugarTezukaHe is usually a casual comedian like a comedian, but when he is in Rugal it makes him feel like Lugar.

The game version of RugalShinko ShinkaiThere is an image that Mr. was doing, but on the wayNorio Wakamoto"Why? Well, it's okay," instead of Ms. In the intonation of the Kaiser Wave, "Why does the pitch go up suddenly!" Anyway, because I like the original KOF, there are parts that can be enjoyed, something to boil up ...... I can not say something to be boiled up. But there are real intention that you want movies to be enjoyed in movies, including such things.

Moderator:
I think that he has been active in various works so far, Is there anything that Koshimizu was aware of this time because he is the role of this time?

Koiseui:
Mai of this time was different sexiness from the game version, so is that kind of place. After that, when listening to the original version of the original version of the original version of the American version, when I heard the voice of the Shiranui Mai in the game as expected, I heard that there was a sense of incompatibility if I listened to it, so that only a few Maggie Q I was able to play according to. Is there anything else?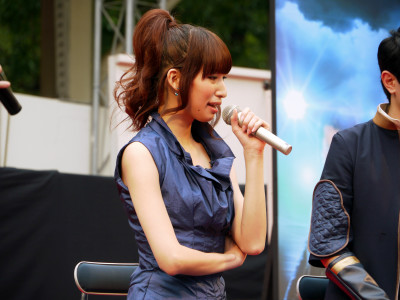 Sugita:
Mr. Koshimizu said "Well, Amimea ..."

Koiseui:
A little! I, that's not the way it is (lol)

Sugita:
Oh my gosh, I gave up a little bad karma. This is scary after .... There is nothing like that. Hey, look Koshimizu. "the wolf and spicesThat's it. (Overlooking the venue)

Koiseui:
Oh, Holo. There is also Lawrence.

Horo who was in a fashion show.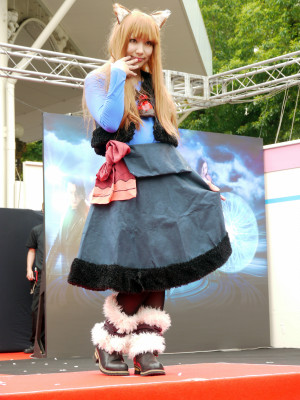 Sugita:
Instead of instigating a child like this, instigate what is good. Leave it to me!

Koiseui:
Did you roll it now? Me.

Sugita:
No, no such thing ...... Look, pretty cure on that side ... ... Are not there any?

Koiseui:
Where where? True, it's pretty cure, oh.

Cure blossom was on the fashion show.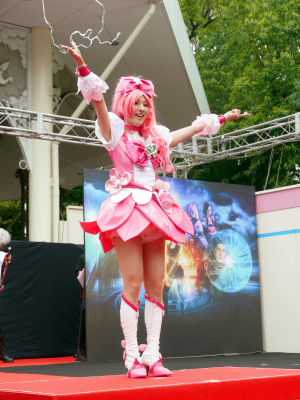 Moderator:
I will ask Mr. Sugita again, but are there any points that I thought of this unique career, or what I remember?

Sugita:
Because it is Kei Kusanagi after all. I first touched KOF when I was a junior high school student, but I am full of charm. Is it a skin glove? Also dressed in short runs that are particular about it. Fire is coming out of my hands. You confront 'Destiny', it's super cool. And rivals are purple flames. I feel like I was waiting.

At that time, KOF was accompanied by related books,Hao Magazine"King of Fighters Kyo" who was doing atBoy AceI was doing it.Shinji Temple TatsuyaI liked teacher's comics and I was reading. In that sense, I believe that there was a lot of media development of the first work as SNK. alreadyFatal legacyYaRyuuji fistAlthough there was, KOF has become a long series that continues after that. It is a work that I hit directly when I was having fun with animation, manga and games. "Well, what do you do?" There are some parts that can not be forgiven by myself playing.

Moderator:
What is the place like?

Sugita:
Since it is different from the original game sound, it was complicated honestly. Just watching the materials I received, "Wow, hmm ... ... I will do my best, I will take responsibility!" I think that there are movements that can be taken because there is a feeling for KOF, so I packed it as much as possible. But I have some saying that I can do Kyorinagakyo really in my mind, so I was happy with that meaning, it was a great pressure.

Moderator:
I'd like you to tell us the place where you would like to see "from here" for everyone to watch. How about you, Mr. Koshimizu.

Koiseui:
Well?

Sugita:
It's not "oh yeah," it's just like the recommended scene.

Koiseui:
This time, Mai is said to be a very popular actor, because it also includes a scene that tempts men for a while, I think that such place is one of the highlights.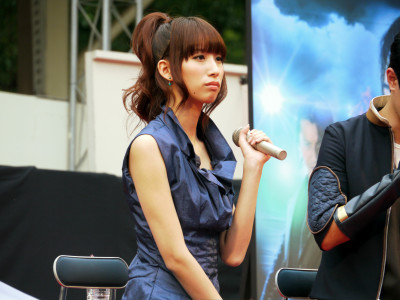 Sugita:
"that,AndyWhere have you been? I guess you'll get it.

Koiseui:
Is that so! Andy will not come out this time!

Sugita:
Do not say such a thing.

Koiseui:
Hahahahoh (haha)

Moderator:
Mr. Sugita?

Sugita:
... ... Kyo Kusanagi. As I thought, the relationship between Yagami-an and the movie will not change even if it becomes a movie. There are reasons for the two to collide properly. Of course there are family stories too. Three kinds of sacred treasures have to seal Orochi so we have to cooperate as a team mate, but personally I am a little bad. Is it interesting if you can see the neighborhood? Afterwards, suddenly when I grabbed something with Rugirl and started suddenly like something like baseball is like American Joke.

Koiseui:
There was.

Sugita:
Lugar who saw the sword of Kyo said "I do not like that, is it nice?" And it's like "Let me call something, this is it." At first, the nail bat fly, after that, ordinary bat comes out and baseball starts suddenly.

Koiseui:
It seems so.

Moderator:
Well.

Sugita:
You do not understand, do you? Just saying that. "Why is baseball?"

Moderator:
Why is baseball?

Sugita:
Speaking of football at SNKScorerThere was a game called "Baseball ... ...." Oh, it looked like it was ". The reason why the fighting battlefield is prepared is also explained, so I would like you to look around as a point of the movie. "Oh, this would certainly be KOF." In terms of enjoying.

Moderator:
As it is before the screening, I can not spoil it much, but I wonder if you could let me hear the dialogue of the character, but how is it? (Clapping of the audience)

Sugita:
What's wrong? Ami, I was nervous!

Koiseui:
That's why I am not like that! (Lol)

Moderator:
If you do not mind.

Koiseui:
Then how about the brief lines? It was just a little bit of a trade with Kyoto.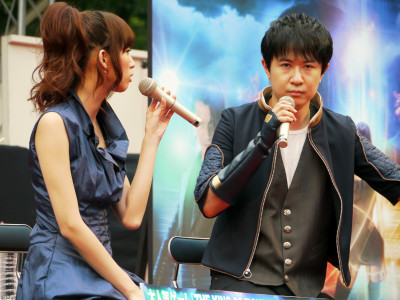 Sugita:
I was quite talking with Yagami.

Koiseui:
Yes, that's right. There were many talks with the animal, but there are many words that make believe in the story.

Sugita:
That's right.

Koiseui:
Is the game version more pleased?



Sugita:
Indeed, as the game version is also official, Koshimizu is.

Koiseui:
"Yo, the best in Japan!" I did it earlier. In the movie, I am in an unexpected place that "I entered" Japan's best! "In such place. I think I'm happy if you see it, though. Mr. Sugita, is there something?

Sugita:
I wonder what .... Do you mean a bad one?

Moderator:
That is just here rare serif.

Sugita:
Well, you say the same lines as the game ... Hey .... Well, what should I do? Koshimizu, rather it might be a good technique name.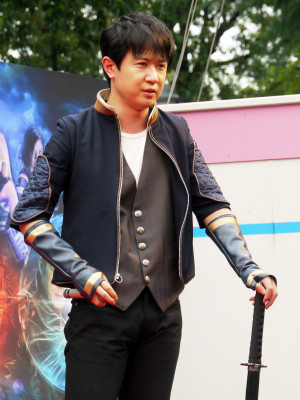 Koiseui:
Well, can I do something like that? To go. "Flirting fan! Mai dragon spirit!Is it okay with such feeling? (applause)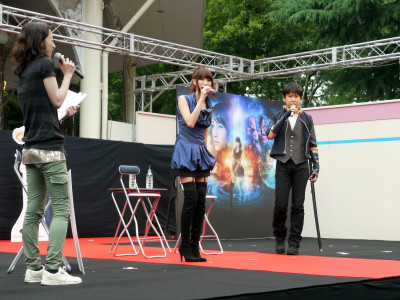 Moderator:
Thank you very much. It is amazing! I was standing when I heard it, truly me. It's amazing. Wish greetings from Mr. Sugita at the end.

Sugita:
It is hot with lighting. But beyond that, your motivation for the venue and the work is even hotter. It 's flaming, because it' s a fire of Kusanagi. This time about two-thirds are work but there is a place where the remaining one-third is coming forward.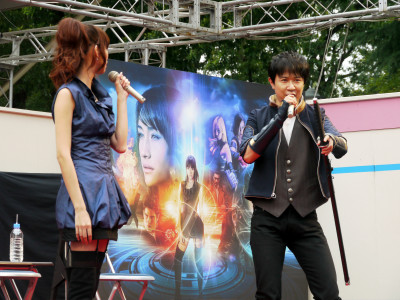 Moderator:
Thank you very much. Well, Mr. Koshimizu, please.

Koiseui:
Before going up to the stage of the event, we casually crammed around the neighborhood ... ...

Sugita:
Yes, I thought it was gone, and said "Where are you going".

Koiseui:
I said, "I went to look for the layer of the work I was doing" (laugh)

Sugita:
"What is it".

Koiseui:
Do you say that you are going to take pictures with you or saying "Do you mind putting it on your blog?", Saying "It's okay" that you are very pleased. It was really nice and gentle, and it looks like a real thing and it got a great tension. It is still fun.

Sugita:
It truly takes care of our existence. Sugita-kun, that's right,Card Captor Sakura"And"HakuokiBecause it sees as "It is" if it enters into the eyes ".

Koiseui:
Yes, the eyes will go. But I feel that I am truly happy when I think that the work is loved by so many people. Of course I am a voice actor, but I'm thinking of keeping my cosplay going in the future, so please keep going on cosplay as well. Thank you very much.

Moderator:
Thank you very much. Mr. Shiranini Shimei, Ami Koshimizu, Kyoso Kusanagi, Tomokazu Sugita. Please send us big applause. Thank you very much.

Sugita:
Thank you very much.

Koiseui:
"Body is good!"

Sugita:
"Well, Japan's best!"

Moderator:
Two people, really thank you.