UQ WiMAX expands underground area, finely grained maintenance at "ultra-small WiMAX base station"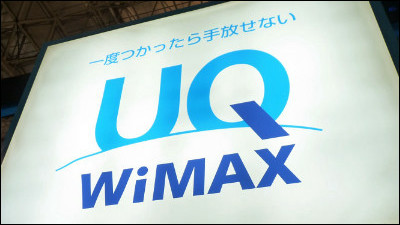 UQ Communications, which provides UQ WiMAX, a high-speed and large-capacity communication service with a downlink maximum of 40 Mbps, uplink maximum of 10 Mbps, and unlimited transfer volume,Free wireless LAN service "UQ Wi-Fi wide" which expanded the area greatlyWe announced that we further expanded the basement area, although we informed you that we would like to provide the underground area.

UQ WiMAX Service Introduces Ultra-compact WiMAX Base Station to Expand Underground City Area | UQ WiMAX - Provides high-speed mobile communication data communications card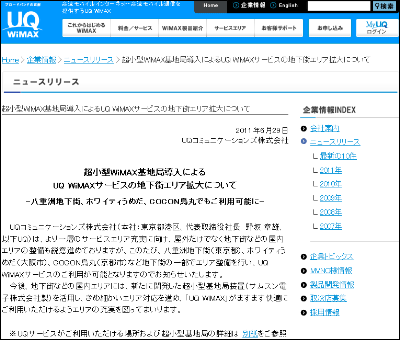 According to the press release of UQ Communications, the company is currently developing indoor areas such as underground malls as well as outdoors towards the enhancement of the service area, but the new Yaesu underground shopping district (Tokyo), Whiti Umida (Osaka city) , COCON Karasuma (Kyoto city) and so on underground shopping area "UQ WiMAX" It seems to be able to use "UQ WiMAX".

In the future, we are planning to utilize a newly developed Samsung Electronics's ultra-small base station equipment in indoor areas such as underground shopping malls to promote detailed area compatibility, so that "UQ WiMAX" can be used more and more comfortably, We are trying to enrich it.

This is the ultra compact WiMAX base station device developed this time



Body size 190.3 mm × 150 mm × 47 mm Weight is about 1 kg. It can be mounted on walls and ceilings, driven by a 100 V AC adapter. Power consumption is about 15W.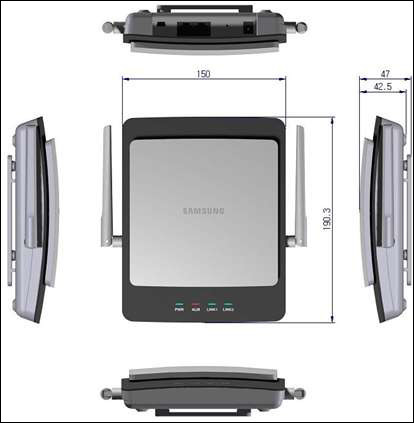 The underground shopping mall that can be used at the moment is like this. Ultra-compact base stations have made great progress, including being able to use not only the free public wireless LAN service "UQ Wi-Fi" but also UQ WiMAX itself.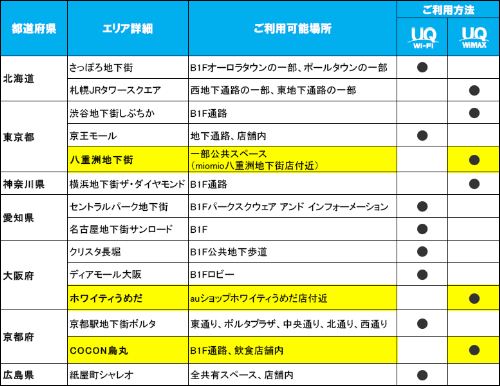 The area guide that explained the area correspondence situation in the spot such as railroad, airport, underground shopping center, exhibition hall etc. below.

You can use UQ WiMAX, UQ Wi-Fi even in such a place! | UQ WiMAX - Provide high speed mobile communication, high speed mobile Internet data communication card

in Mobile, Posted by darkhorse_log