Business partnership with KDDI and Rakuten, Improve user convenience such as "Edy | au" birthday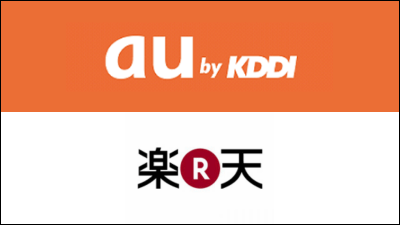 We announced that KDDI and Rakuten will make business alliances.

Conclusion of basic agreement on Rakuten business alliance with KDDI | 2011 | KDDI CORPORATION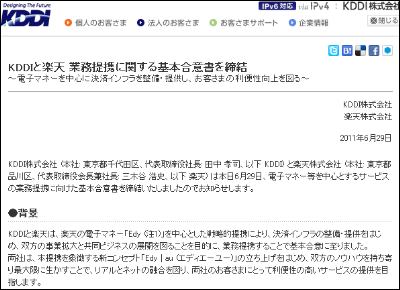 According to the press release of KDDI, Rakuten and Rakuten will expand the business of both parties, including the development and provision of settlement infrastructure, through strategic alliances centered on Rakuten's electronic money "Edy" It seems that we have reached a basic agreement by doing business alliance for the purpose.

Following this business tie-up, we will launch "Edy | au (Edie Au)" newly and will be able to charge Edy in "au simple settlement" from 4th August 2011, 2011 From September 27, "au Easy Payment" will be available for "Edy Auto Charge" service on smartphone which can charge online automatically.

In addition, as part of measures to improve user convenience, "au simple settlement" will be introduced to "Rakuten Ichiba" to Medo this autumn. With smartphones taking root in their daily lives and the number of users is expected to increase, the two companies have set up a common vision of providing new services and functions to meet the needs of users, creating business opportunities abroad, including Asia, We are aiming for business expansion through the construction of a new business model.