Yahoo! And GREE collaborate in comprehensive business tie-up, social game and content utilization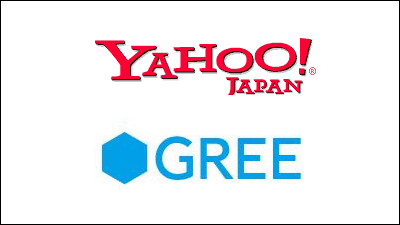 Announced that it has entered into a comprehensive business tie-up agreement with Yahoo! Inc. which operates portal site "Yahoo! JAPAN" and Glee Co., Ltd. which operates SNS "GREE". From now on, both partners will cooperate with each other through mutual utilization of social game areas and contents and joint support.

GREE INC. | News Release | Press Release 2012 | Yahoo Japan Corporation and GREE Agree to a Comprehensive Business Alliance
http://www.gree.co.jp/news/press/2012/1108_02.html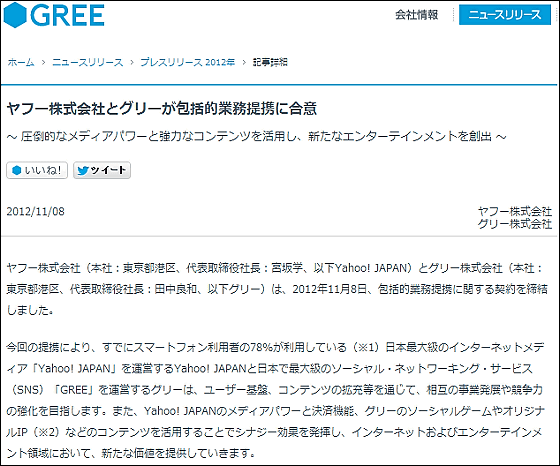 Yahoo! JAPAN is Japan's largest Internet media site accessed by 78% of smartphone users. One GREE is also the largest SNS in Japan. Through this comprehensive business alliance, the two companies will cooperate in the social game area and mutual utilization and joint support of contents.

Coordination in the social game area
· Induction from "Smartphone version" "Yahoo! JAPAN" top page etc. to "GREE" social game
· Adopted "Yahoo! Wallet" as one of settlement methods of "GREE Platform"
· Promotion of new development of developers on "GREE Platform"
Have been mentioned,
· "Yahoo! Points" cooperation
· Co-establishment of corporations aimed at joint development and development of social games
We are planning to discuss the two points.

In mutual utilization of contents and joint support,
· GREE contents and original IP Yahoo! JAPAN Discussion on utilization in various services
· Yahoo! Cooperation between various contents of JAPAN and GREE, discussion on global development through "GREE Platform"
· Consultation on co-establishment of corporations aimed at investing in video digital contents
· Consultation on jointly starting a new entertainment project
It is scheduled.

Also in CSR activities
· Consultation on co-sponsorship for social contribution activities in Japan
· Joint support of various activities for the development of Internet technology and engineers and creators supporting it
Are listed.

Both the signing of business alliance agreement and the start of business started from November 8 today.

By the way, Yahoo! JAPAN partnered with GREE's rival Mobage (DeNA) "Yahoo! Mobage"Is provided.