Google swiffy public that can convert FLASH to HTML5, also supports iPhone and iPad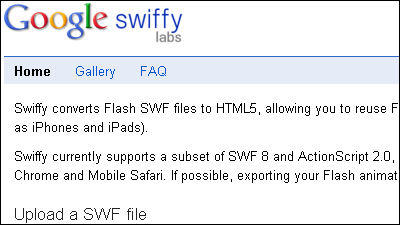 Google and Apple are promoting "HTML 5" as an alternative to existing rich content distribution platforms such as Adobe's "FLASH" and Microsoft's "Silverlight", but at last it will be possible for Google to automatically convert FLASH content to HTML5 contentGoogle swiffy"Has been released.

For FLASH content, correspondence is divided between Apple that does not support unsupported in its own products such as iPhone and iPad, and Google that officially supports from Android 2.2 or later, but "Google swiffy" can also be used for iPhone, iPad, etc. It is possible.

Google Swiffy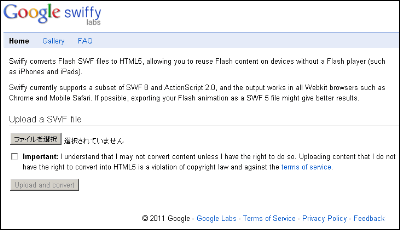 Google's new service "Google swiffy" released on Google Labs experiment site by Google engineers seems to be able to convert it to HTML5 just by uploading FLASH content.

The service is available on models not compatible with FLASH player, such as iPhone and iPad, if it has Webkit compatible browsers such as "Google Chrome" and "Safari", and supports SWF 8 and ActionSript 2.0. Simply select the SWF file and select "Upload and convert" to convert it to HTML5.

By the way, looking at "Google swiffy" on a browser not using Webkit looks like this.