World's smallest and lightest single lens reflex camera digital camera "CHOBi CAM ONE HD"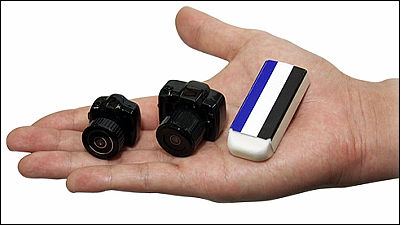 JTT Online Shop "CHOBi CAM ONE HD ~ Chic Viccum One Hide ~ Single-lens reflex toy digital camera"
http://www.jtt.ne.jp/shop/product/chobi_cam_one_hd/index.html

Nippon Trust Technology launched today an unusually small single lens reflex camera-like digital camera "CHOBi CAM ONE HD" featuring 3.4 cm in width x 2.8 cm in length x 3.1 cm in thickness from June 21st.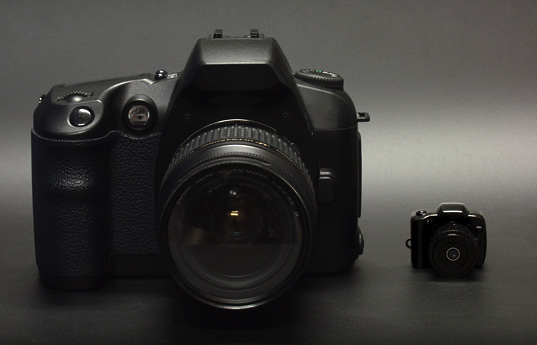 surface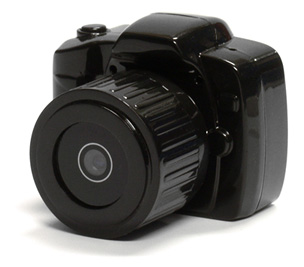 Back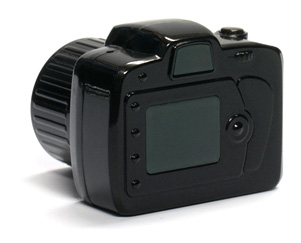 Certainly small



With a hand and like this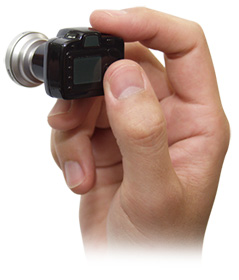 It looks like this when I see it in the movie.

YouTube - CHOBi CAM ONE HD Cha Vicam One Every Day 1280 x 720 p


The lens is magnet type, so wide angle, telephoto and fisheye shooting are possible by replacing.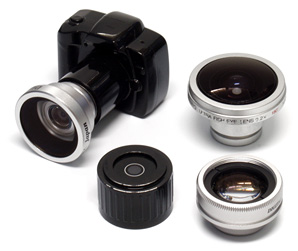 In addition to the standard lens type, it is 2.0 times telephoto lens · 0.5 times wide angle lens · fisheye.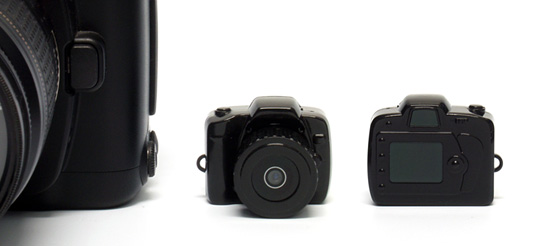 Also supports micro SD / micro SDHC card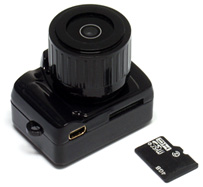 It is possible to transfer images and charge the battery with USB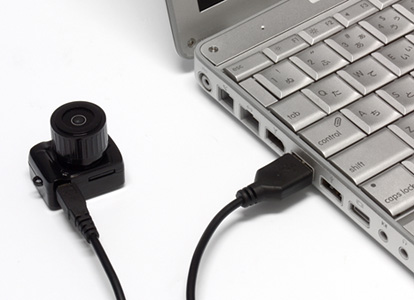 The price and detailed specification of the product are as follows.

Product name: CHOBi CAM ONE HD ~ ち ょ び カ ッ ク ワ ン エ デ ィ デ ー ~
Model number: CHOBICAM1HD
Price: 9980 yen (tax included)
Warranty period: 1 month from purchase

Size: 3.4 cm in width × 2.8 cm in length × 3.1 cm in thickness (Excluding the protruding part)
Weight: Approx 18 g
Color: Black
Supported memory: microSD, microSDHC (Capacity maximum 32 GB)
Movie resolution: 1280 × 720pix (maximum 30 fps)
Movie format: AVI (motion JPEG)
Movie file size: 1 file created every 3 minutes 240 to 260 MB (varies depending on the video content)
Movie recording time: about 25 minutes (continuous recording state)
Still image resolution: 3264 × 2448pix
Still image format: JPEG
Speech: Monaural
Power supply: Built-in battery (charged from USB terminal)
Charging time: about 1 hour
Input / output terminal: USB 2.0 interface (USB 1.1 compatible)
Supported OS: Windows XP / Vista / 7, Mac OS X 10.4 or later
Date and time display: Set date and time, switch display hidden
Accessories: Camera body, lens cap, USB cable, strap, instructions (warranty included)

In addition, the following official site has actual sample photos and sample movies.

JTT Online Shop "CHOBi CAM ONE HD ~ Chic Viccum One Hide ~ Single-lens reflex toy digital camera"
http://www.jtt.ne.jp/shop/product/chobi_cam_one_hd/index.html