"ATM with lie detector" that realized protection of steel wall appeared, developed by a company related to successor organization of KGB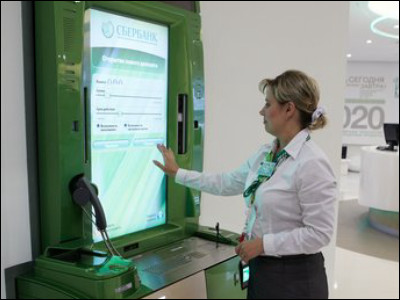 ATM that uses IC card and fingerprint authentication for identity verification is becoming popular in Japan, ATM equipped with a lie detector that can determine whether the user is telling the truth or not has appeared.

Furthermore, it combines face authentication and fingerprint authentication, etc. to realize just the iron wall protection.

Details are as below.
New Russian A.T.M.'s Are Built to Detect Lies - NYTimes.com

According to the American New York Times newspaper, Russia's largest commercial bank, "Sberbank Rossii (Russian savings bank)" under the umbrella of the government, newly installed a lie detector to prevent fraud and the like It seems that ATM is being tested.

This not only combines traditional face recognition, fingerprint authentication, passport scanning, etc., but also by integrating speech analysis software into ATM, ATM himself / herself can tell the operator whether it is faithful to answer the question It makes it possible to judge without intervention and confirm the identity.

This speech analysis software was developed by a company called "Speech Technology Center" whose main customer is "FSB (Russian Federation Safety Agency)" which is the successor to the KGB (National Security Committee), and it is a function of the lie detector function Some have been designed using databases that recorded the voices of those who were actually interrogated by the police that the Russian government keeps.

New ATM body currently being tested. The face recognition camera seems to recognize existing users and greet them brightly, calling "Hello" because users who are not recorded are not so bright.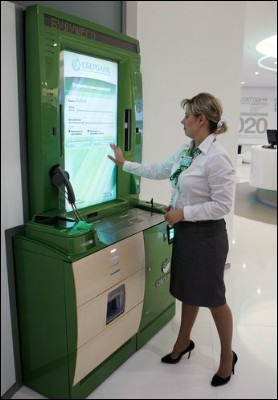 Although the timing of commercial use of this ATM is undecided, in order to protect the provision of 'Russian privacy law', 'enterprises should not keep database of voice information of users', personal credit of users It is planned to record a voice print on the chip mounted on the card.

Incidentally, the product of Speech Technology Center has already been introduced to the customer call center of the Russian state railroad, and the computer judges the anger contained in the voice of the customer who made the call, and the color pattern of red, yellow, green and blue , And a system is urged to respond to the call judged to be red as "a user's strong anger".

"We do not trust 100 percent of such technology," of course, Slobsky executive Orlovsky said about introducing such speech analysis technology, "after all, the user told the truth We are only trying to find out whether there is anything to do, not do things that threaten the user's thoughts and personal lives, and we can not find a reason to receive a warning (such as privacy violation) " I will.
in Note, Posted by darkhorse_log