A giant Eclair "Ecrest" with a total length of 1 meter is the centerpiece, a luxury buffet where you can eat foie gras, truffles, crab and crab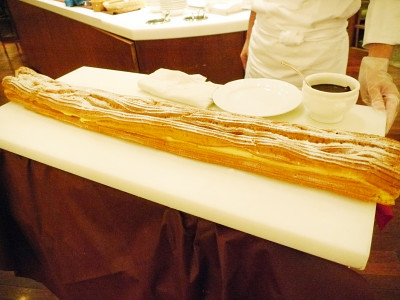 For dinner of Restaurant "World Biking Etoile" in "Hotel First Tokyo" located in Shinbashi, Tokyo, Eclair "1 meter long" as a limited time menuEcrest"Has appeared.

It should have visited the huge Eclair for the purpose, but high-ranking ingredients such as foie gras, truffles, king crab and abalone appear one after another until it appears. Although Eclair is the main subject, I have eaten high-quality ingredients for the time being.

The whole picture of the giant Eclair "Ecrest" and the foods that can be eaten in the buffet are as follows.[B1F] World Biking "Etoile" - Restaurant Information - Dai-ichi Hotel Tokyo - Hotel & amp; Resort | Hankyu Hanshin Dai-ichi Hotel Group

Arrived at Shimbashi · Daiichi Hotel Tokyo.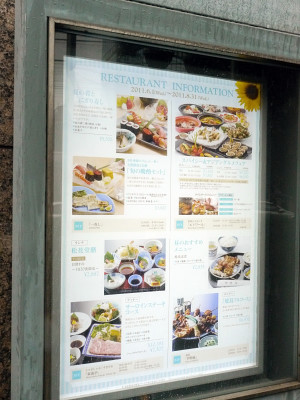 The huge Eclair was properly written on the poster as well. The giant Eclair "Ecrest" is one type of service menu for dinner to the end, "Taraba crab" "Taraba crab" "Foie gras Teppanyaki truffle sauce" "Beijing duck" will be offered in addition to the time difference. This time we have planned from 17 o'clock to 19 o'clock so we will miss the time of Beijing duck, but that amount is discounted.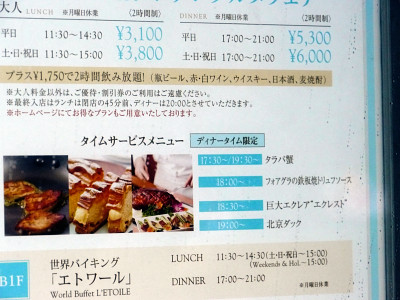 This is the "World Biking Etoile" which provides "Huge Eclair" Ecrest. It is a buffet restaurant as its name suggests. Hotel First Tokyo is the Hankyu Hanshin Hotel Group and it seems that the name of the shop is taken from there as the actor appearing at the beginning of the finale of the Takarazuka Revue group which is the affiliated company is called Etoile.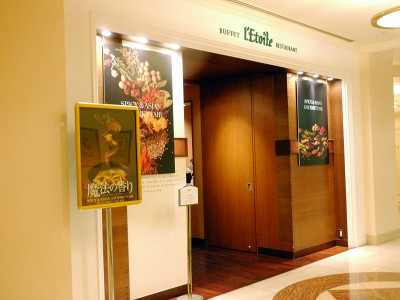 The number of seats is 130 seats, and we can handle even a considerable number of adults.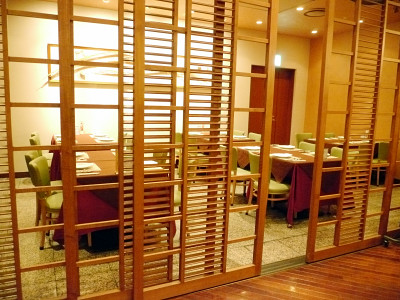 When I arrive at the seat, this setting is set like this. Regular price is 5300 yen for weekdays dinner, 6000 yen for weekends and congratulations, but it is a price that has a little courage, but discounts apply mostly at any time when you book over the internet.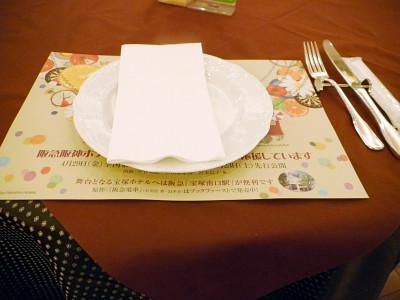 Since there is considerable time until huge Eclair comes out, first of all we will look at the contents of the buffet.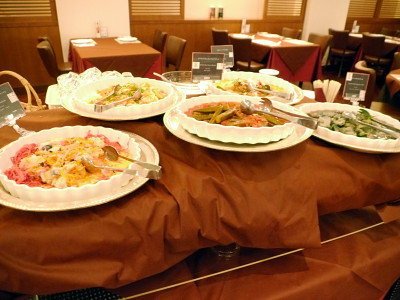 "Mackerel hibiscus source marinade"



"Okra's Mexican Salsa Marinade"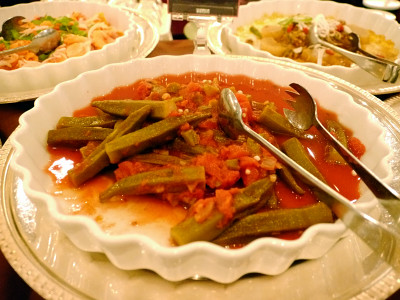 "Fried out wind of eggplant and tofu"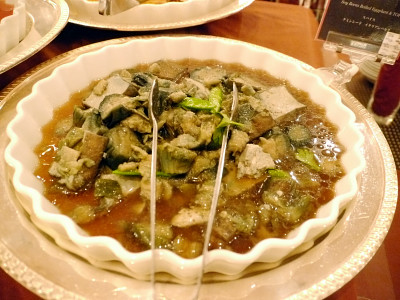 "Ticker masala style of radish"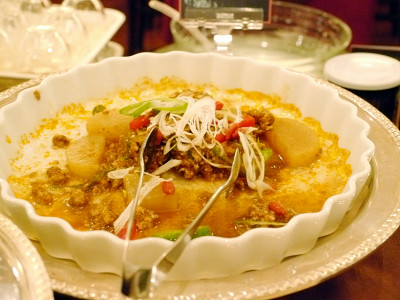 "Cold peach soup" was a pretty unique taste. It was rainy and chilly on this day, so it seems that it will be a good leisurely season if the season comes a bit more summer.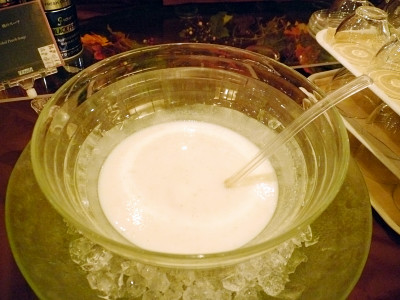 It was common to see the warm "corn cream soup" going away.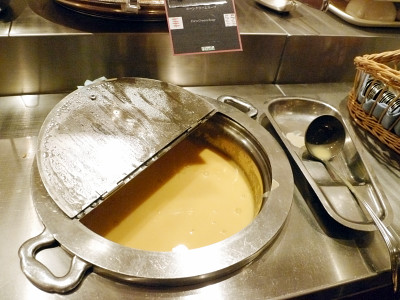 "Steamed snow crab and red crab crab"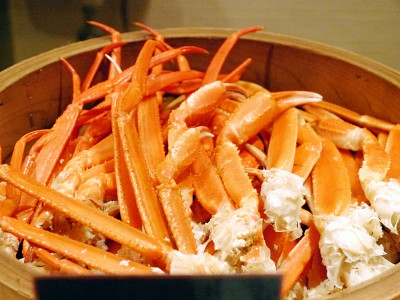 "Today's dim sum" was a rice ball.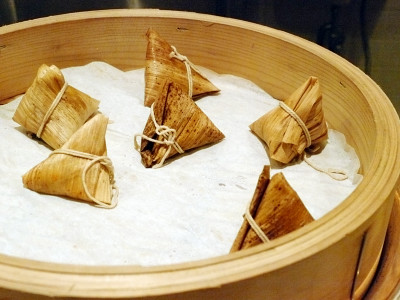 "Pork with boiled domestic beef"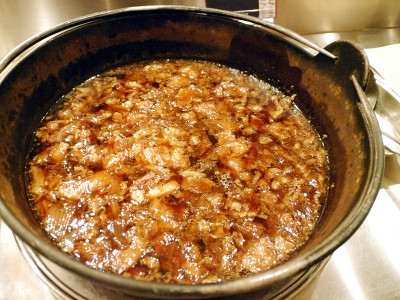 "Chinese style of white fish and akaika"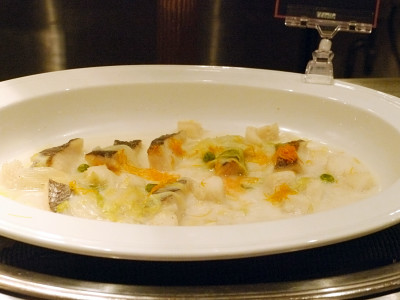 "Crab cream fly"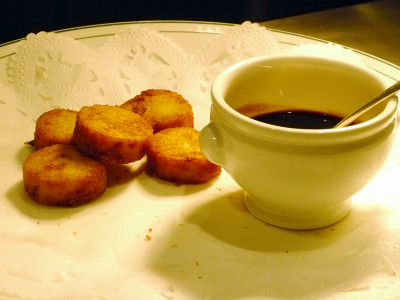 "Tacho no Tsujimi"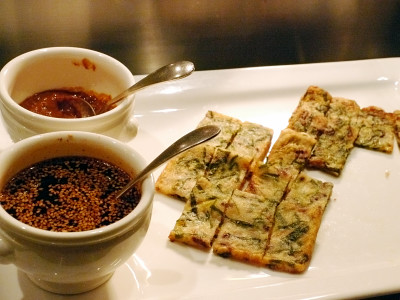 "Grilled skewers of young chicken Thai style spicy satay"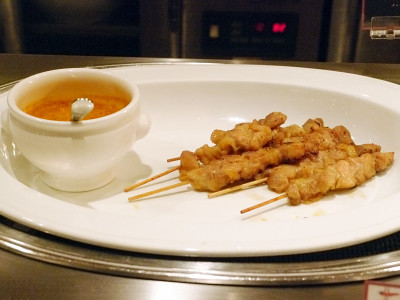 "Today's pasta" is a meat sauce.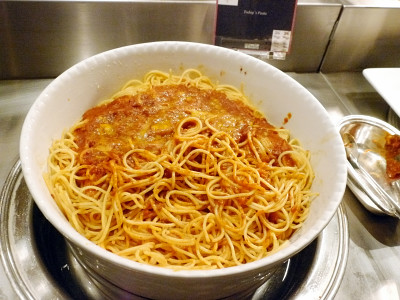 "Soft Shell Club and Shrimp's Green Curry"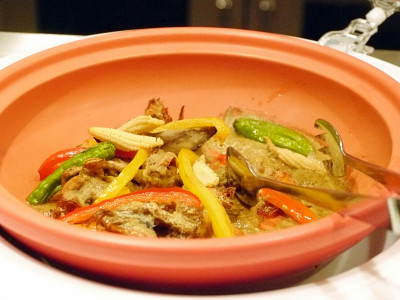 "Gratin of Gnocchi and Keema"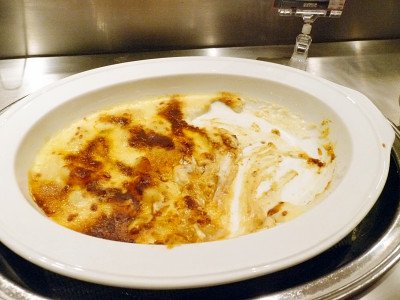 "Etoile specially made Pakistan curry"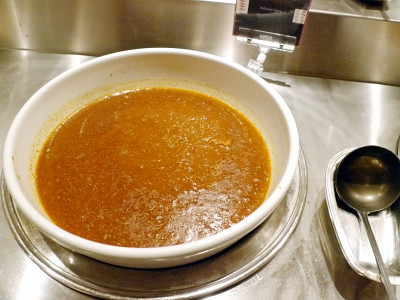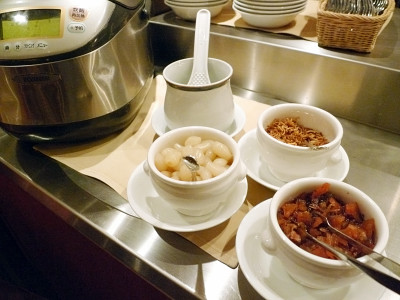 "Saute Tom Yang style of pork peach meat"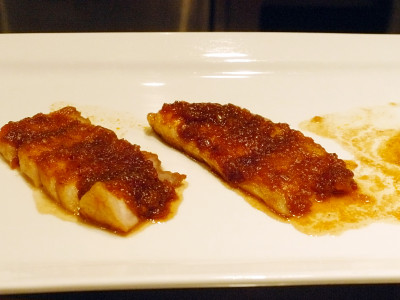 Pepper paste that can be applied to various dishes is also available.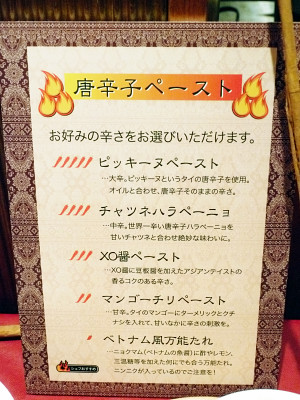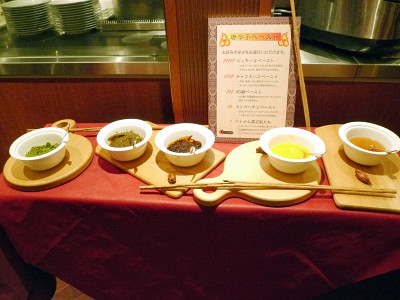 Several breads of Hotel Maid are also available.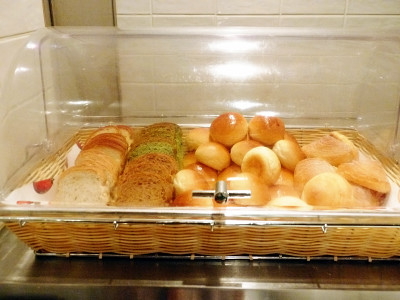 The drink bar is almost the same as what is prepared in Karaoke etc. It was a bit disappointing as the food was luxurious.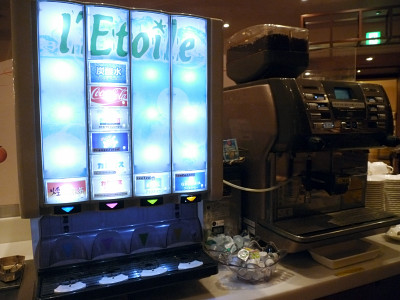 Hot drinks include coffee, tea and infusions. Tea is a tea bag.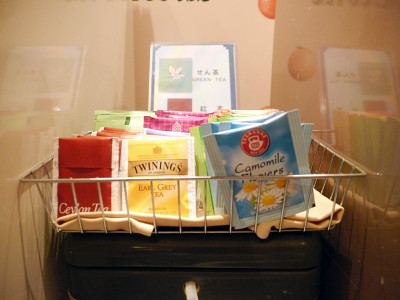 Continue to the corner of cold weather. "Korean style cold noodles" toppings Kimchi and quail eggs.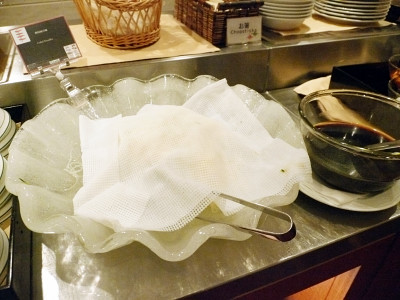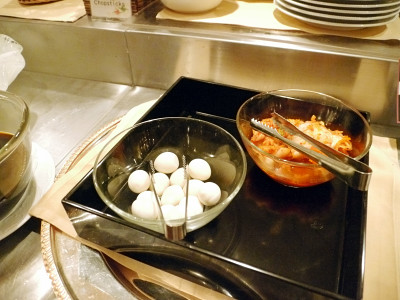 "Thai style small shrimp and vermicelli salad"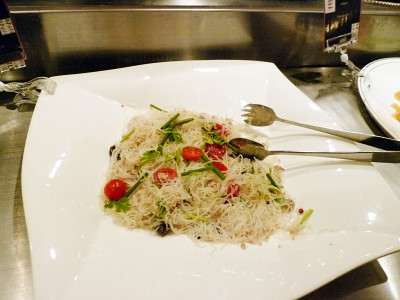 "Chinese appetizer"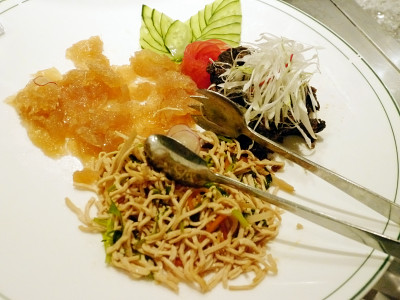 "Andalusian Tomato Salad"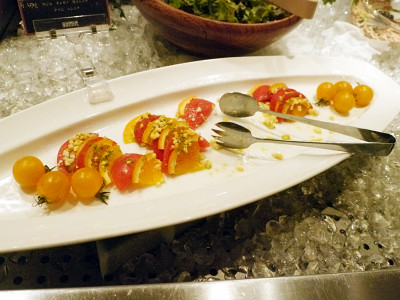 Besides tomato salad, raw vegetables and dressing are spreading in salad bar form.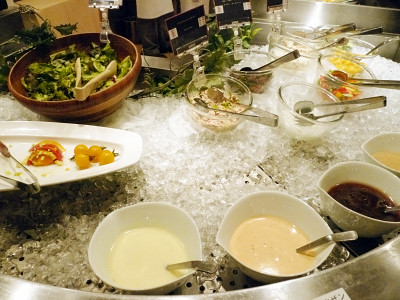 The time of "Steamed Taraba Crab" which is the first time service menu came in while coloring various things. I can eat without soiling my hands as I pass the spoon and scissors exclusively for crabs. The snow crab's body was softer, she quickly scooped herself out of eating.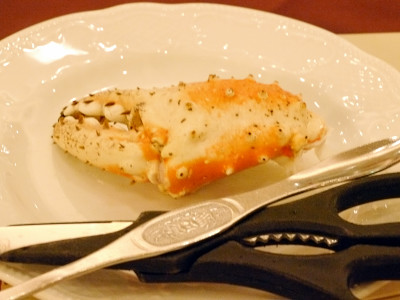 This is not a time service, it is usually sauteed "Australian abalone abalone" in the menu. Instead of fetching side by side items, ask the chef to bake them.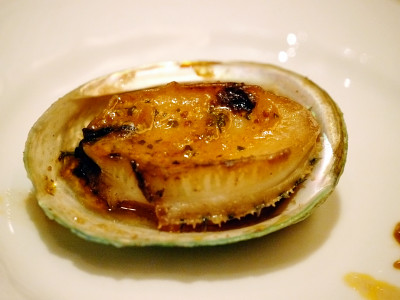 She was noticeable about salt and her body was soft and small enough to eat enough. It is a taste like condense of seafood's umami.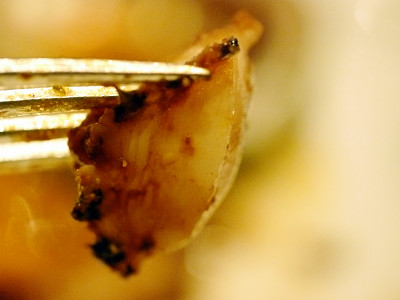 I inadvertently looked at the alcohol menu on the table at this timing, but I endured much because these are extra fees.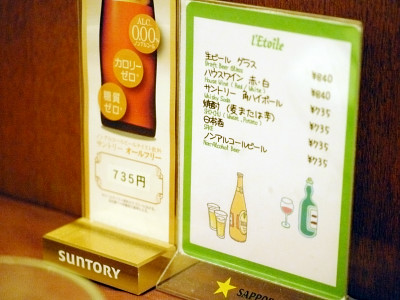 Next, "Foie gras Teppanyaki truffle sauce" at the time service menu. The truffle sauce is based on cranberries.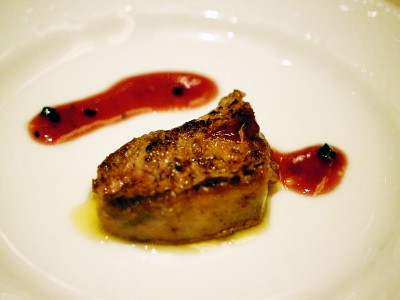 On the surface are baking and baking colors.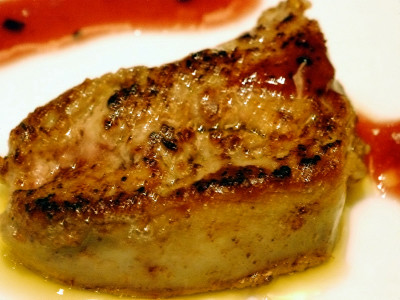 The foie gras are quite soft, so it collapses from the side where you put the knife. The deep richness of sweet and sour sauce and foie gras exquisitely matched.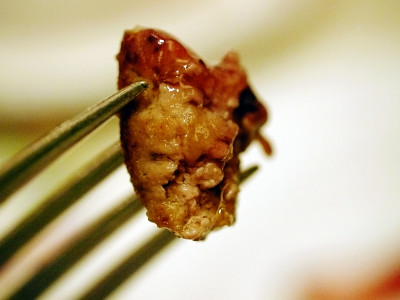 When I strike a luxurious ingredient for a single time, I usually check the menu's dessert before huge Eclair appears. First of all, "cut fruit" which is a staple of dessert.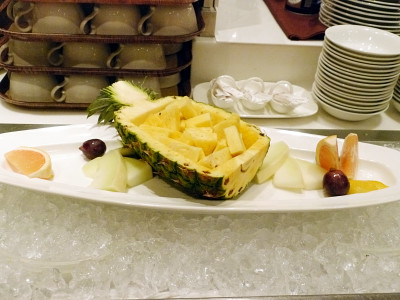 "Panna cotta of soy milk" with berry sauce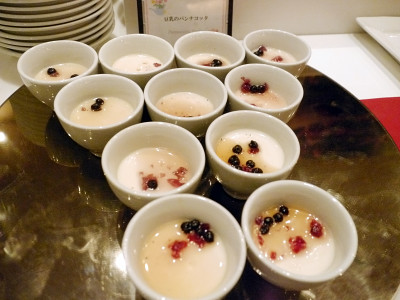 "Chocolate cake"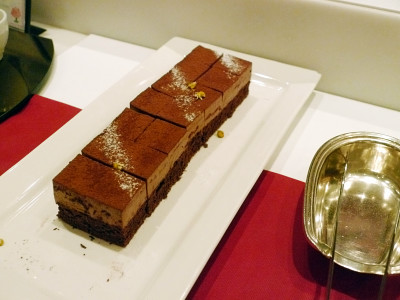 "Shortcake". This area is a classic cake.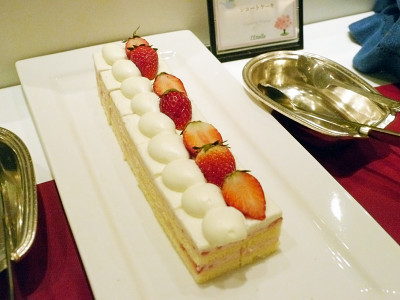 Sweet and sour "Cherry mousse"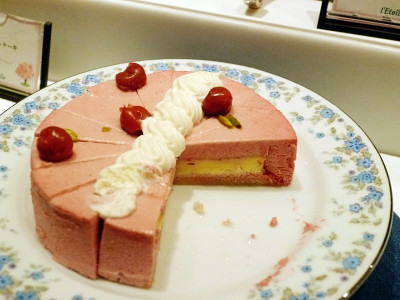 "Momota's Bavaroa and Sencha Jire" is the only Japanese style sweetness in the dessert menu.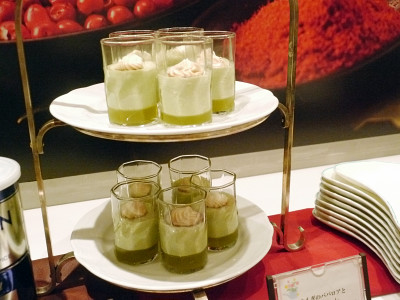 "Strawberry crafty" firmly burned in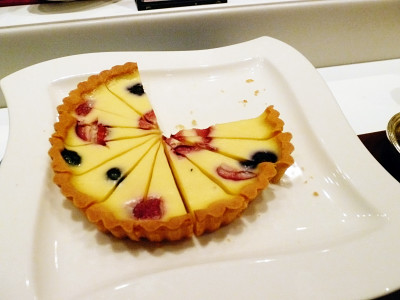 Four types of ice cream are also available. "Strawberry ice cream" on the left upper side, "Yuzu sherbet" on the lower left side, "Vanilla ice cream" on the upper right side, "Chocolate mint ice cream" on the lower right side.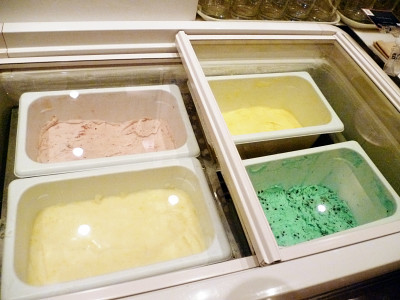 In the meantime, finally the huge Eclair "Ecrest" for you was brought.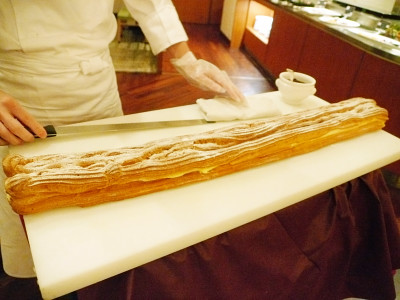 Compared with the hands of dishes and chefs, you can see the enormity. It has a total length of 1 meter, and it looks like French bread etc. rather than sweets.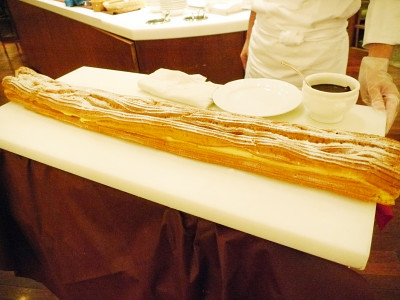 Viewed from the side. Sandwiched between sponges, 1.5 kg of custard cream is used.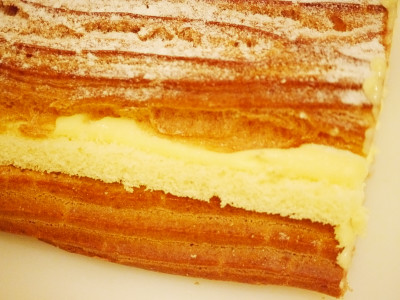 It is the chocolate that comes to mind when I hear Eclair, but I will add a chocolate sauce to "Ecrest" later.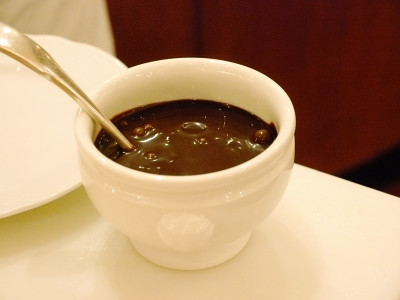 The chef cuts on the spot. It seems that Eclair from one to about 50 people can be cut out.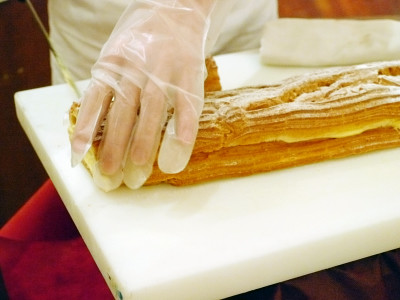 Here is the state where you got separated. Chocolate sauce is styled topped like a strip.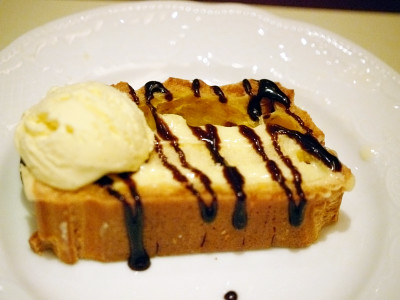 Since it was "Recommending to eat with ice cream recommended", I tried vanilla ice from ice cream that was in the dessert corner.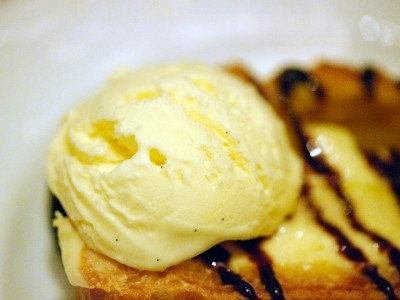 The outer shoe fabric and custard cream are the same as ordinary Eclairs, but because of being too big, a layer of sponge is caught in the middle.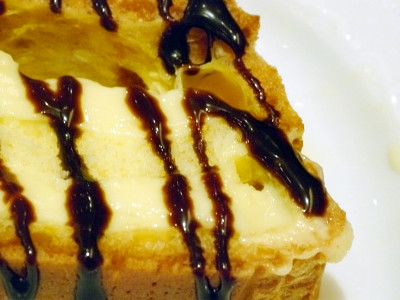 When I ate it, the taste was a bit less for chocolate than for a trailing shoulder, or rather close to a cream puff. The compatibility with ice cream is still exquisite, and it also seems topping is necessary because it showed work that supplements the shortage of cream.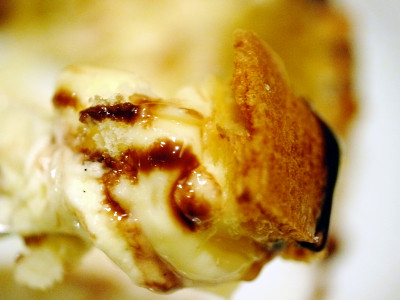 Huge Eclair "Ecrest" will be served daily from around 18:30 as a dinner time service menu until August 31. Menu other than Eclair is fairly substantial, group reservation of up to 30 people can also be accepted. There are discounts on internet reservation, so please try taking a reservation from the following reservation page when you want to try a little luxury or want to eat sweet things.

Dai-ichi Hotel Tokyo World Biking 'Etoile' Restaurant Reservation