Windows Phone 7 smartphone "OMNIA 7" movie review, past "Windows Mobile" and the difference of clouds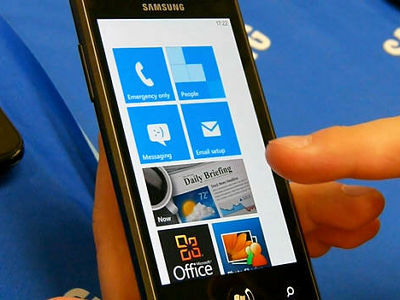 Photo review that we deliveredFollowing on, we will deliver movie reviews of smartphone "OMNIA 7" which adopted Microsoft's latest OS "Windows Phone 7" for mobile phone.

It realizes a very pleasant response and easy-to-understand interface, and compared with past smart phones adopting "Windows Mobile", it is a degree of completeness that can be said to be the difference of clouds.

Details are as below.
First of all, the camera function. Response at the time of shooting is good, and it is smooth to move to the gallery.

YouTube - I tried the camera function of "Samsung Omnia 7"


Subsequently, the photographs taken are switched one after another by the gallery function.

YouTube - "Samsung Omnia 7" gallery


Then enter characters. I have not been able to support Japanese input yet, but I have been typing with crispy.

YouTube - Character input at "Samsung Omnia 7"


Finally I tried to touch the whole thing to check the whole response. Unfortunately because it is a global model that does not pass through Japanese skill, we could not use any function that required communication, but despite having the first generation Snapdragon processor, Impression that it moves comfortably without coming.

YouTube - The response of "Samsung Omnia 7" looks something like this


Although it was impressed by touching, it worked smoothly, the interface was well organized, and it was easy to operate intuitively. It is excellent compared with the operability that at least the smart phones that adopted past Windows Mobile had provided.

As Microsoft collaborated with NOKIA,"Windows Phone" series that is expected to expand to the platform for the second smartphone next to AndroidAs expected, expectations are likely to rise in what direction it will grow in the future.