"The last Windows Phone pulls the iPhone away," a survey company predicts surprise, Android ranked number one with overwhelming share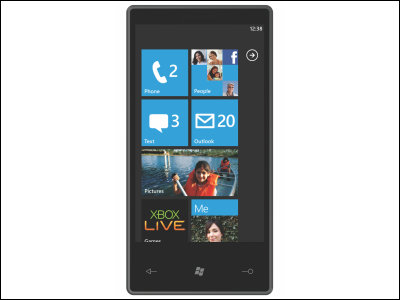 Although it was deployed largely ahead of other companies, the release of "Windows Phone 7" which revamped the platform without compatibility with past software assets was delayed,Pessimism is also coming from terminal manufacturersMicrosoft's smartphone OS "Window Phone (formerly Windows Mobile)However, the survey company announced the surprise forecast that it will pull out Apple's iPhone which is leading a lot.

Incidentally,Android became the world's largest shareThat means that we will continue to grow like this and boast an overwhelming share.

Details are as below.
IDC Forecasts Worldwide Smartphone Market to Grow by Nearly 50% in 2011

According to a press release announced by a US research firm IDC, the smartphone market in 2011 is expected to grow by 49.2% by incorporating more individual users and corporate users.

Specifically, it is said that the number of smartphones shipped in 2010 was 300.4 million, compared with 450 million in 2011, compared with the growth pace of the mobile phone market as a whole And the growth pace of the smartphone market is expected to be more than four times.

Also, as manufacturers have continued to release new smartphones over the past two years to compete for users, competition among smartphone OS's has been spreading, IDC said the future market trend, Windows Phone to Android We are forecasting that it will be the second largest platform in the world.

By the way, Windows Phone is expected to grow rapidly, but due to the release of OS for smartphones that provides usability that moves user's mind one by one from other companies, Microsoft released Windows Phone 7 release Although we steadily lost market share by the time we arrived,Partnership between Microsoft and NOKIA, the world's largest mobile phone maker announced in February 2011IDC predicts that it will have a huge impact on Windows Phone.

IDC predicts that NOKIA's Windows Phone-compatible smartphone will be released in 2012, but by releasing the smartphone, Windows Phone expects to grow to the scale next to Android by 2015 .

Shares of each OS in the future predicted by IDC. Windows Phone is expected to win second place in the world by 2015 instead of losing the share of "Symbian OS" adopted by NOKIA on its smartphone. Android's share is expected to reach 45.4%.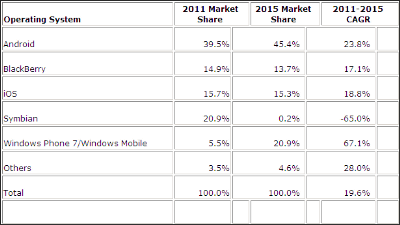 "Windows Phone 7" smartphones are not yet released in Japan, but as of March 2011 as of March 2011 they have not realized even Japanese-language, so there is a sense that there is a faraway presence, but it can compete with iPhone and Android sufficiently It seems that it will take a long time to become recognized in the Japanese market as an existence.
in Mobile, Posted by darkhorse_log