It is as if it is a Photoshop built-in digital camera, "DMC-FX 77" which can recognize the face automatically after shooting and give esthetic and makeup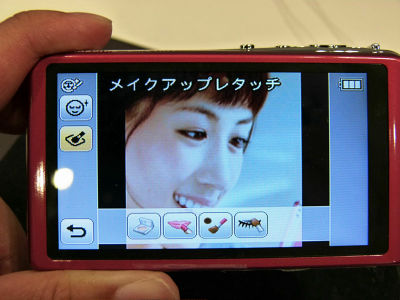 PhotoshopIf it is saying that it is impossible to process as much as possible on the photograph, it can make beauty absurdly, realize beautiful skin that is impossible, and it is working greatly around the world to feel like a tremendously nice body Although it is photo retouching software, a powerful compact digital camera that makes it almost fully automatic is "CP + (シ ー ピ プ ラ ス) 2011"It appeared in the Panasonic booth.

That camera's name is "DMC-FX 77For details on how strong it is from below.
DMC-FX77 | Digital Camera LUMIX (Lumix) | Panasonic
http://panasonic.jp/dc/fx77/index.html

This is the topic of digital camera, "DMC - FX 77".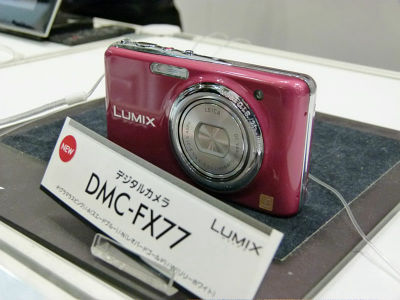 In terms of specs like this



Scheduled to be released on February 25, 2011.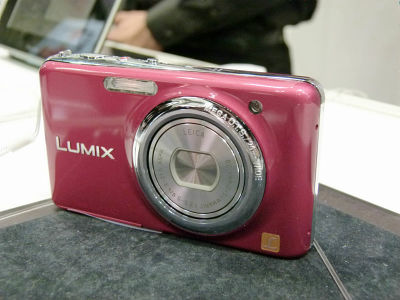 There are 4 colors.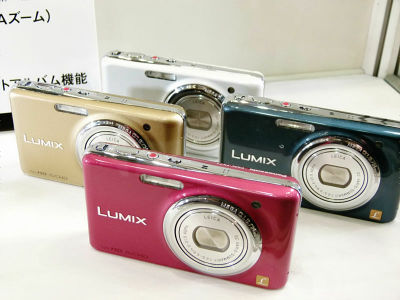 An operation button etc. at the top.



Newly developed · Ultra thin Leica DC lens installed. Wide angle 24 mm / iA zoom 6.5 times (optical 5 × zoom).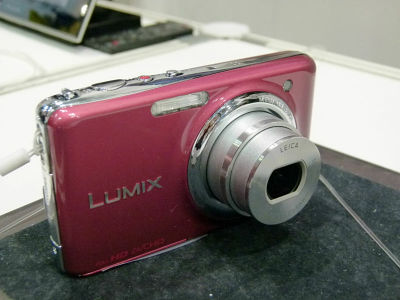 Each television station was shooting with curiosity and waiting queue was in place so we decided to approach.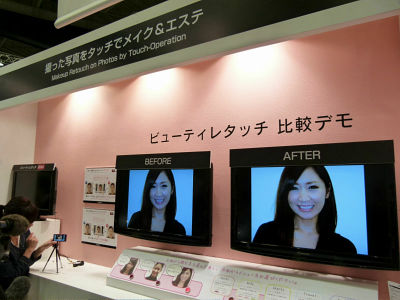 Choose from these 3 people ...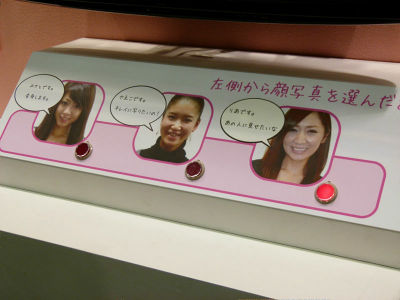 It seems to be a demonstration that makes beauty and make-up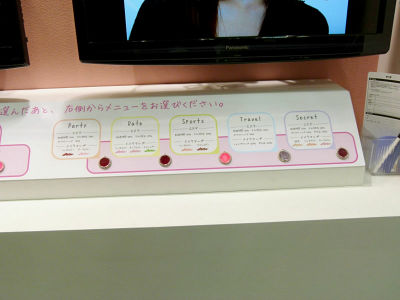 Actually operating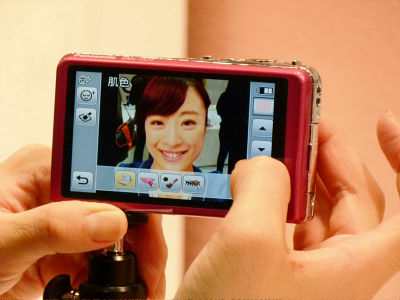 My complexion has changed a lot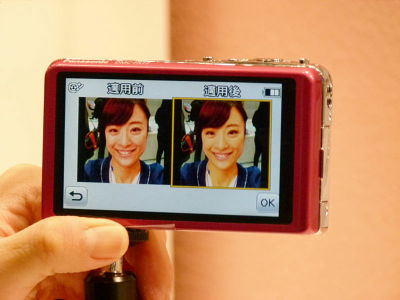 The operation method is like this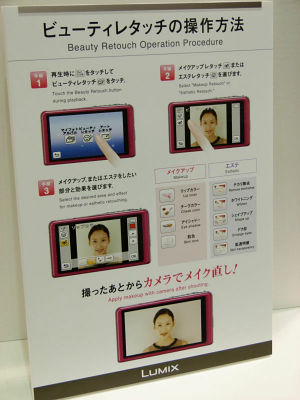 Retouching with "touch" the skin base and anxious anxiety.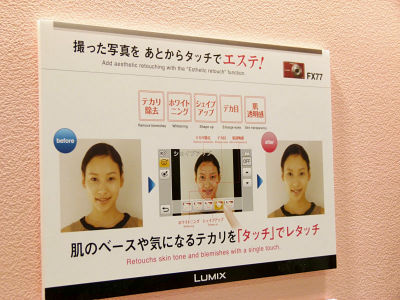 Make a makeup with a camera after taking a picture.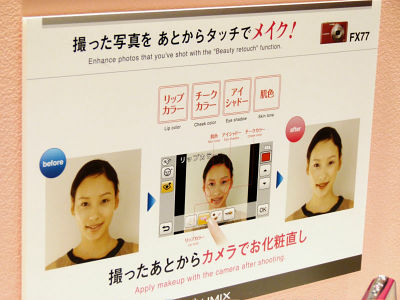 So I decided to actually do it. First shoot as usual. Big chatter.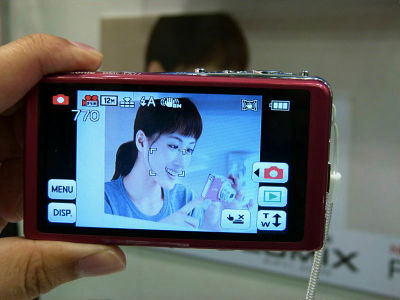 After shooting, select "Beauty Retouch" from the menu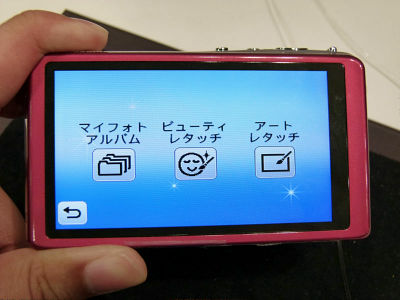 Select an image and click "OK"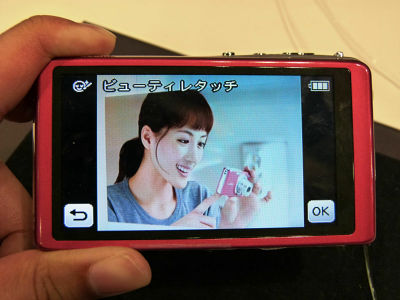 It seems that you can retouch by touching the face of the person whose arrow is displayed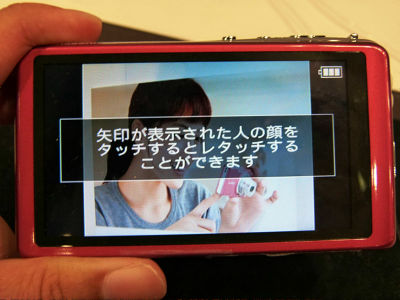 Succeed in automatically recognizing the face of this person, let's touch it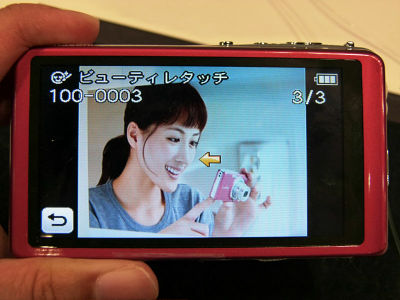 Icon in the upper left, Aesthetic on the upper, Make up on the lower



Esthetic retouching is like this, and five of the skin transparency, shininess removal, whitening, shape-up, and deca eyes are applicable.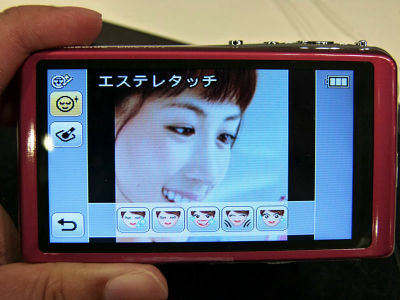 With makeup retouch like this, four of skin color, lip color, cheek color, eye shadow are applicable.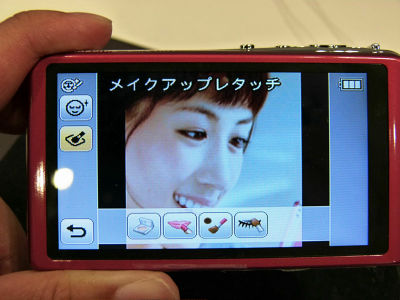 I chose a flesh color. You can change the skin color by touching the arrow in the upper right.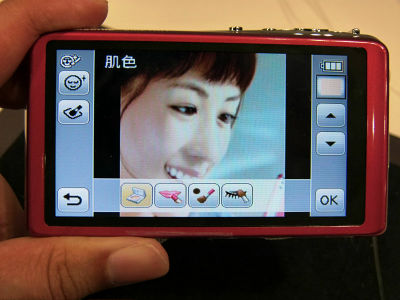 By choosing "OK" you can preview the before-after in this way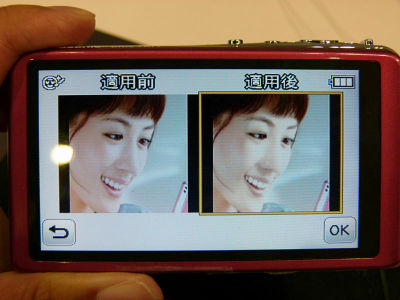 In the case of eye shadow, it looks something like this, it automatically recognizes it accurately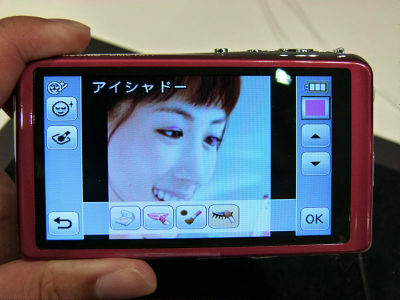 Before after check, if it seems okay "save"



It will take up to 120 seconds to complete saving, but this is due to the setting of the photo