The annual sales number of PSP overtakes Nintendo DS for the first time since its release at the top of all game machines


Among the game machines sold in 2010, it became clear that PSP became the top annual sales volume for the first time.

Although Nintendo DS was keeping the top position of game machine sales in the past, it is the first time that PSP overtakes Nintendo DS for the first time since PSP was launched.

Details are as below.
This week's ranking | Media Creation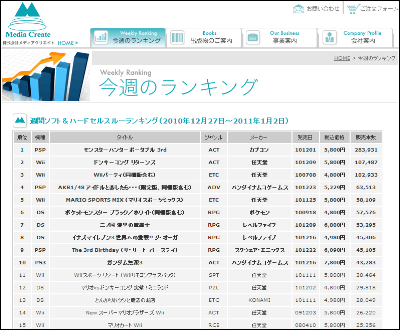 According to the survey of game software and game machines sold by December 27, 2010 through January 2, 2011 conducted by Media Creation, which mainly deals with game business, Media Creation, PSP sold 89,703 units , It seems that it became top sales volume.

This is the breakdown of unit sales. By the way, the total sales of the PSP series (PSP + PSPgo) totaled 100,8786 units, and the total sales of the Nintendo DS series (Nintendo DSi, DSiLL, DS Lite) totaled 95,578 units.



The number of game machines sold during the year from January 4, 2010 to January 2, 2011, but for the stationary machine, Wii was 167.4 million, PS8 had a difference of 88,000, top for the fourth consecutive year In addition, in the handheld game machine, the PSP series is said to have become the top among all game machines by selling 2907 thousand units exceeding the sales number of the first time for the Nintendo DS series for the first time.

The background of the change of the leadership of mobile game machines this timeWe will sell 20 million units domestically as of 2007It is thought that already the Nintendo DS series has already been fully distributed to each family and that the purchase of an existing model has occurred due to the announcement of the new game machine "Nintendo 3DS".

However, in 2010, the year when the biggest killer title of the popular series latest work "Monster Hunter Portable 3rd" and the "Pocket Monster Black · White" which will be the first new work for the first time in 4 years really driving the sales volume of game machines is greatly collided But considering that there was, this reversal play is very interesting, is not it?

It is now visible that next month Nintendo 3DS will be on sale and it will attract very high popularity from various new functions such as naked eye 3D function and the ability to play past game boy software, I'm also wondering if Sony will come forward with "the next one" anytime.
in Game, Posted by darkhorse_log