The PSP main body sells over 100,000 units in one week by the monohan effect, while "PSP go" drops to 107 units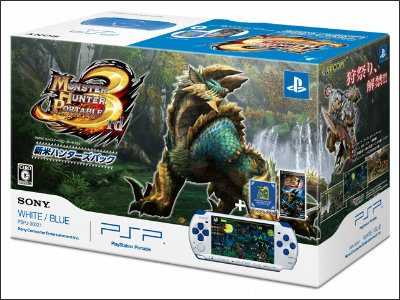 It was sold last December"Monster Hunter Portable 3rd (MHP 3)" ships 4 million pieces in 1 monthWe recorded a huge hit since Capcom was founded,Push the sales volume of PSP main body to the top of the yearAlthough it was doing, etc., The sales of the same work are maintaining a good condition even now more than two months have passed since the release.

And as a result of the newly released "Beginner Hunter's Pack" that bundled "MHP 3" and PSP main body, PSP's weekly sales volume exceeded 100 thousand units, while the derived model "PSP go" It was revealed that the number of units sold decreased to 107 units.

Details are as below.
Weekly Soft & Hard Sell-through ranking (February 7th - February 13th, 2011) Ranking this week | Media Creation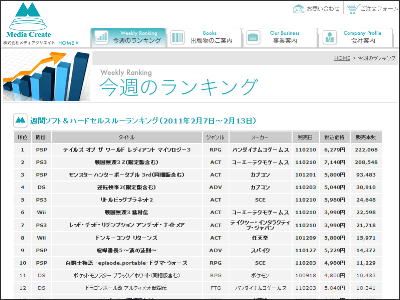 Based on software and hardware sales rankings February 7th - February 13th 2011 published by Media Creation, which mainly deals with game business, media creation, PSP main body is 350.75% compared with the previous week 100,000 It sold 6893 units, and it seems that the number of "Monster Hunter Portable 3rd" selling has reached 93,483.

This is one that received sales of 74,000 "New Rice Hunter's Pack" 2 version of limited quantity production "Monster Hunter Portable 3rd" and PSP body was bundled. The digestibility of the pack (the ratio of the number shipped and the number actually sold) exceeds 90% in both versions.

"Bunny rice hunters pack" released on February 10. Black / Red PSP body and software, original cloth is attached.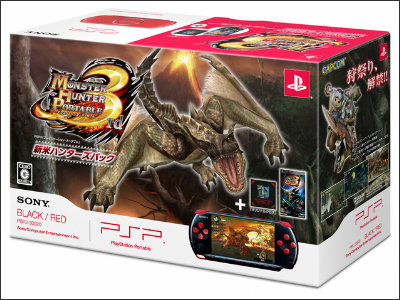 White / Blue included version.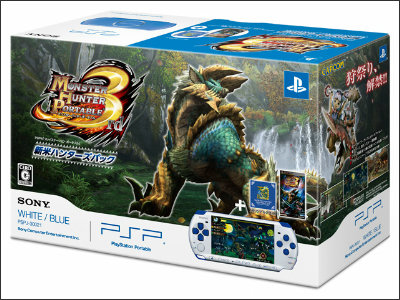 The number of units sold in the game console.Even at the ranking of January 24th to January 30th 2011, it remains at 280 vehiclesThe number of PSPgo units sold was down to 107 units.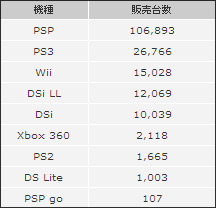 Incidentally"Monster Hunter Portable 3rd" has been decided to download download versionWill this increase sales of PSPgo body as well?
in Game, Posted by darkhorse_log