"Noragakeki!" Additional scene cut release, on January 19 the director's talk session also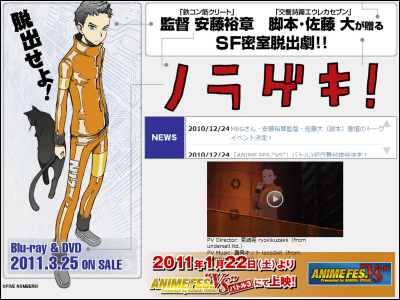 Event screening planning held at 5 theaters nationwide since November 2010 "ANIME FES. "VS" (Anime Fes Versus)". The second series is showing from December 25, 2010, and the third screening starts from January 22, 2011.

The additional scene cut of the screening work "Norageki!" And information on the talk session to be held on January 19 arrived. Ticket tickets are said to be on sale on January 8.

Details are as below.
Norageki

The OVA event screening project that Bandai Visual is doing at 5 theaters nationwide since November 2010 is "ANIME FES. "VS" (Anime Fes Versus)". The screening is divided into three parts, the first from November, the second from December, and the third from January 2011, and the screening work is different for each.

Through the first bullet through the third bullet will be screened ".hack // Quantum"When"Mazinkaiser SKL". This shows a total of 3 episodes per episode each.

In the first and third bullets, each single piece is supposed to be screened, the first release released "Koi St.", and the third is released in the third releaseEscape play from a mysterious prison "Norageki!"is.

".hack" and "Mazinkaiser" are both popular series, but "Norageki!" Is a complete original. Hiroaki Ando directed by "Iron Confucius Cleats" directed by the director, and Mr. Da Sato of "Symphonic Psalm Eureka Seven" in the script are being taken.

The added scene cut is here. What is "CODENAME: ENPLEIN"?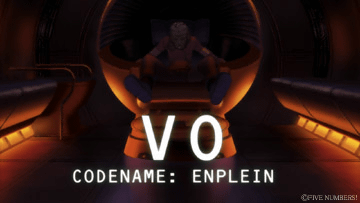 Characters. "Young man who seems to be honest" (CV: Freedom Irino)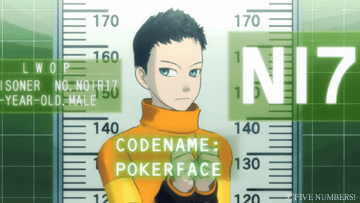 "A wonderful woman" (CV: Takako Honda)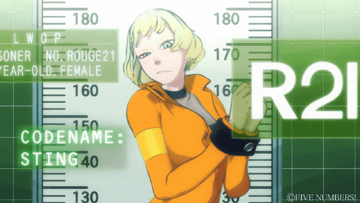 "Middle-aged Man Raising a Military Person" (CV: Kazuma Mori)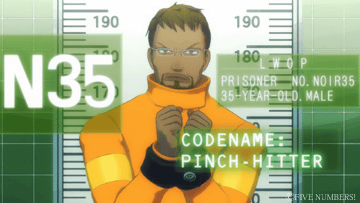 "Child-like geek woman looks like" (CV: MEG)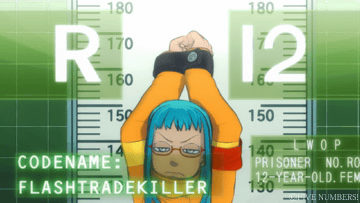 Besides this, a mysterious old man and a cat appear. They are imprisoned in a prison where they do not know where they are, but one day, the facility will be out of power and be able to leave the prison. However, those who tried to escape can hardly find an exit, and in the midst of a mysterious old man taking a strange behavior, a sudden incident happens to the facility suddenly.

この作品の公開前、1月19日19時30分から、オタク女役を演じるMEGさん、安藤裕章監督、佐藤大さんの3人によるトークセッション「【Amani】トークセッション MEG meets 『ノラゲキ!』」が新宿バルト9で行われます。当日はトークだけではなく、「ノラゲキ!」の先行上映、そして「コイ☆セント」の上映も行われるとのこと。チケットは1月8日から一般発売されており、全席指定で2000円となっています。トークセッションのチケットはチケットぴあインフォメーション(0570-02-9111またはhttp://t.pia.co.jp/)へ問い合わせてください。

Please check with the screen actually what kind of work is "Noragakeki!" That it is a SF sealed room escape play. "ANIME FES" VS "including" Norageki! "Battle 3 starts screening from January 22.
in Anime, Posted by logc_nt