Sci-fi 2000 year festival SF love comedy, Manginger, cancer - katata, newborn. Hack, "ANIME FES." VS "preview preview report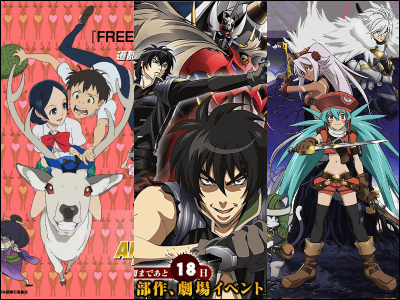 From November 27 at Shinjuku Baltic 9 and other 5 nationwide theaters "ANIME FES. "VS" (Anime Fes Versus)Event screening will be held. This is an attempt to open theaters ahead of the sales of OVA artworks, screened "Koi St."Mazinkaiser SKL".hack // Quantum"NoragekiIt is 4 pieces of work.

The screening is divided into three periods, the first of which is "Koi St", "Mazinkaiser SKL 1 st story" and ".hack // Quantum 1 st story". Since this first blogger preview was held in Tokyo on 9th November, I participated quietly. Watching animation with 3 sets is like a "Toei manga festival", but what kind of works will appear?

The report is from the following.
The venue is Coco,Theater N ShibuyaIt is the same building.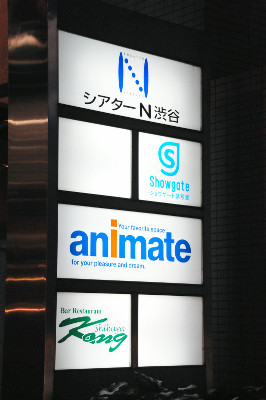 ◆Koi St.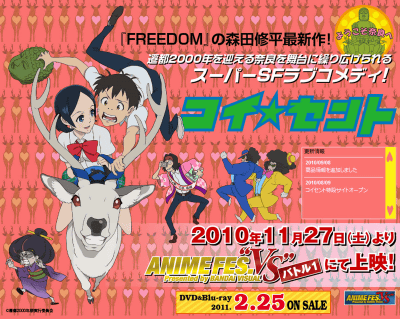 The first one is "Koi St." 700 years from now, Shinichi of the second grade of high school who visited Nara on a school trip on stage set in Nara where the capital 2000 year festival is held encounters a mysterious beautiful girl Toto.

The animation was produced at Sunrise Ogikubo Studio, and the director was "FREEDOM"Shuhei Morita, staff members are also reunion with many members of" FREEDOM ". The image shows 2D shader to CG and it shows it like 2D, and it has become a work thrown out the technology cultivated in "FREEDOM" without comment.

It is Mr. Yukiko Kotobuki who is playing Toto of the heroine, and at the same time I am in charge of opening, ending and inserting songs of the work. Because this is "I want to do the story of Diva with a popular voice actor", I thought that Mr. Kun was selected from many candidates as a result of thinking about compatibility with Kenji Ono of the role of Shinichi .

Why did you set up in Nara? Although it is said that the current capital is currently rising at the 1300th festival, it seems that the director was from Nara. According to the idea that "Why do not you try talking about the future of the 1300 festival's future?", It was said that it was settled in such a work.

It is a slightly unusual style of OVA, which is a one-story 25 minute completion, but technological conditions such as the state of the near future of the 2700's, which has not changed too much from the present age, will pierce a lot of points. If there are children like Toto, I want to go to Nara right now.

◆Mazinkaiser SKL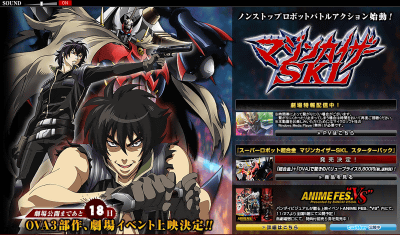 The second one is "Mazinkaiser SKL". The first episode of all three episodes was screened. Characters that pulled Mazinger saga, such as Kabukoji and Ken Teruya, have become the story of a completely new Mazinger, and the design of the robot is even more evanescent than the previous Mazinger It has become a design. On the other hand, the two protagonists of this work is a piece that comes with pins if you are a fan of Nagai, a work that you do not know about Mazinger or you can enjoy fans of Nagai Toru's work.

Violence elements have also appeared considerably, and as a personal impression quite considerableNew Getter RoboImpression that is close to. Also, Mazinger is equipped with a new gimmick, about the actionGun KataWas adopted. This seems to be done by saying that "Mazinger is a Mazinger Musou" that one knocks down hundreds of robots, so it should surely be surprised by that massive Mazinger 's cancer - kata action. Weapons are double knives and big swords, they are easy to understand and interesting.

According to the producer, he seems to be daringly pointed out two points, "attack on cockpit" and "trampling", which had been supposed to be done as a tacit consent in previous robot animation. However, it is not to show themselves to cruelty, but by shedding them off, it is said that they are expressing their intention "we do not have taboos". Regarding this point, Tsukkom enters "What is it about robot animation to shout out the name of the technique?", "I can not afford to scream the technique name in Mazinger Musou, but I will be looking forward to such a scene in the timer battle I want you to have it ", suggesting that there is fun after the next time.

◆.hack // Quantum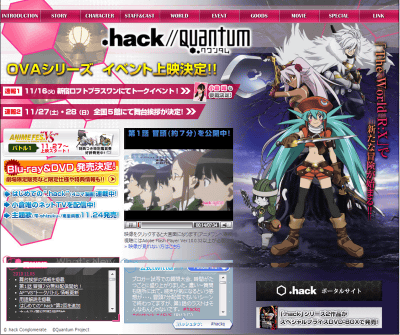 A number of TV series and OVA have been produced by OVA based on the game ". Hack" series which sold 3 million cumulative total, but this work has been produced for PSP game software released in March this year ".hack // Link"The world view is the same, and in time series it is a sequel of the game.

The point I noted in creating Quantum is when I made three girls as the main character. It seems that it was made by lowering the hurdle so that even those who do not know the. Hack so far can see it, that "anyone can easily see. Meanwhile, I will also express motifs from the TV series such as "unreleased people" and "PK" so that old fans will be pleased. By the way, I switched from Bee Train & Director Koichi Masashi who was in charge until now to Director Cinema KITRASS & Tachibana Masaki, but when I talked to Mr. Masashi when I was making this time, / SIGN "and" .hack // Roots "flow, so why not try young people try it? That is why director Tachibani who is a director of the direct supervisor will be in charge.

The product composition is a particularly changing point, and at the theater release of DVD and BD with CD drama on sale. Also, Amazon.co.jp and animate seems to come with a CD drama with different contents depending on corporation (This is BD only and can not be used for DVD). For example, in the theater version, it means supplementing the character of three people, although the details can not be said in detail, a story like playing entering the world like a super famous RPG, in the Amazon.co.jp version The World In the situation that you go to Amazon in MMORPG that appears in the work, the animated version is also going to animate in The World as well, and it seems that it is configured to make it laugh even by listening to the CD.

The title "Quantum" has the meaning of "quantum", and since quantum mechanics will come out as the back theme of the work in the future, it is said that it is a work that you can enjoy watching even a dense SF fan.

As Masinkaiizer SKL is also composed of all three episodes, this episode which is the first episode ends in a very good place. It will be quite amazing to wait one month from now ...

By the way, "Noragakei!" Which is the screening work at the third round is directed by Hiroako Ando who served as CGI director at "Steam Boy" and "Iron Confucius Cleat". Screenplay is Mr. Sato of "Symphonic Psalm Eureka Seven". Character designGotbo ☆ MasaruMr. The title seems to be an abbreviation for "stray cats and 5 escape plays", as well as "Koi St." is produced by Sunrise Ogikubo Studio.

".hack // Quantum" and "Mazinkaiser SKL" as OVA are released for three months from January, "Koi St." in February, "Noragakeki!" Is not released yet, so at the cinema You will be able to see the video ahead of the release about 2 months ahead.

On November 27 (Saturday) and November 28 (Sunday), a screening greeting by the director & cast will be scheduled at 5 theaters screening. I will sell tickets for this stage greeting round only for Ticket Pia (exclusive 2500 yen for all seats). The stage greeting schedule is as follows.

November 27 The speaker
Miyuki Sawashiro & Director Tachibana Masaki (.hack // Quantum), Shintaro Asanuma & Director Atsushi Kawagoe (Mazinkaiser SKL), Mitsuko Suto & Shuhei Morita (Koi St)
Yokohama Burk 13 9: 00 After screening, before 11: 20 screenings
Shinjuku Baltic 9 12: 30 After screening, before 14: 40 screenings

November 28 The speaker
Kanaka Hanazawa & Masaki Tachibana (.hack // Quantum), Shintaro Asanuma & Director Atsushi Kawagoe (Mazinkaiser SKL), Mitsuko Suto & Shuhei Morita (Koi St)
Umeda Burk 7 10:40 After screening, before 12: 55 screenings
T · Joy Kyoto 14:25 after screening
Fushimi Million seat 17:00 after screening

Also at the 5 theaters screening special tickets special tickets are on sale from September 1. Advance fee is 4000 yen and it is a special illustration specification. Those with .hack // Quantum pattern are original B2 poster, Mazinkaizer SKL pattern ones have 3 original copy card benefits as a bonus. In addition, a special viewing ticket of "ANIME FES." VS "Battle 2 to be released from 25th December is on sale from October 16th. This is an advance sales charge of 1000 yen, with benefits of the original mini poster (.hack // Quantum or Mazinkaiser SKL selected).

ANIME FES. "VS" (Anime Fes Vassus) Official Site
in Anime, Posted by logc_nt