McDonald's 'Big America 2' 2nd, 'Idaho Burger' tasting review with hash browns sandwiched boldly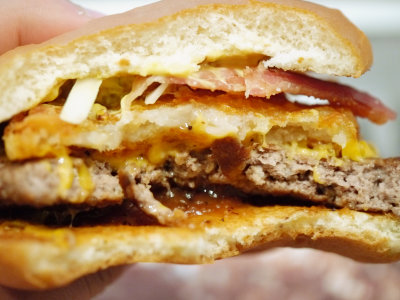 Following the first '
Texas 2 Burger
', we will send you a tasting review of the second 'Big America 2' campaign '
Idaho Burger
'. The sales period is from late January to mid-February 2011 (planned). Hash browns, which are usually served as a side menu, are the centerpiece of the ingredients.
I think it's not uncommon to eat hamburgers and hash browns together, but I'm sure there aren't many people who have eaten 'hamburgers with hash browns sandwiched between them.' It seems that mustard and pepper sauce are added to other ingredients such as bacon, fresh onion and cheese, but I'm wondering what the taste is like.
'Ida Hoburger' tasting review from the following. Next is the second 'Aida Hoburger'. The sale period is from late January to mid-February 2011 (planned).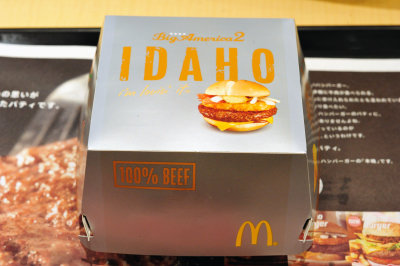 The feature is that 'potato and beef met in a hamburger'.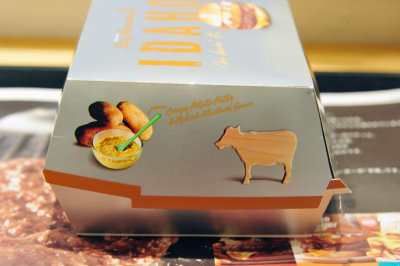 It looks like this. Compared to the previous 'Texas 2 Burger', there are two buns, so it feels a little smaller.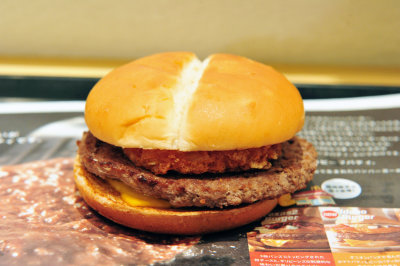 Turn the buns over and it looks like this. You can see bacon, fresh onions and mustard.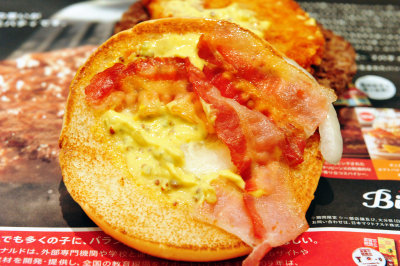 This is a hash potato. Mos Burger's 'Salt Butter Chicken Burger Pepper Flavor' also included potatoes, but in 2011, will it be a good idea to use potatoes as a burger ingredient instead of a side menu?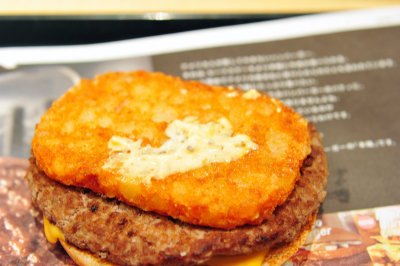 The 1/4 pound beef patty (about 2.5 times the normal beef patty) is still overwhelming.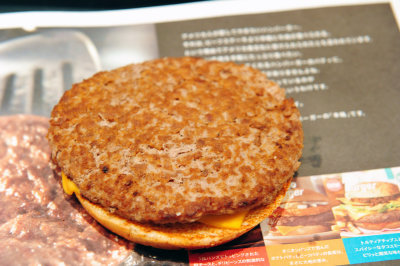 Cheese sticks to the back of the beef patty.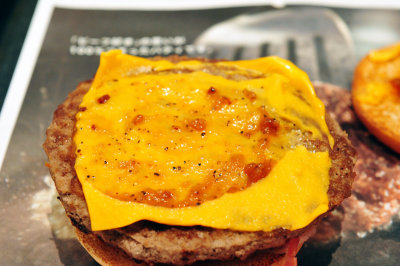 Pepper sauce is applied to the bottom buns.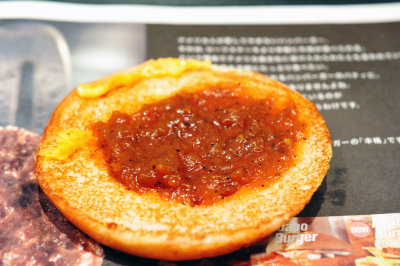 Hash potatoes show a pretty strong presence at a glance. With a crispy texture, it strongly insists on its existence as well as beef patty. It is intertwined with ingredients such as bacon, cheese and fresh onions, and the buns that prepare the onions put everything together.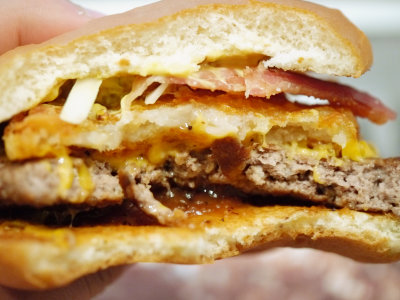 Thanks to the grain mustard and rich pepper sauce, you can eat more and more without feeling too persistent. If you like McDonald's hash browns, it might be a good taste.

Next, let's move on to the 'Miami Burger,' which is full of taco ingredients.

・ Continued
McDonald's 'Big America 2' 3rd, 'Miami Burger' tasting review packed with taco ingredients --GIGAZINE