Facebook founder Mark · ザ ッ カ ー バ ー グ is chosen for "Person of the Year" of TIME magazine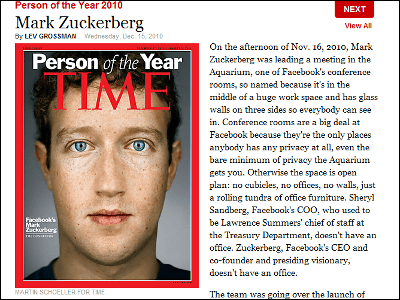 World's leading news magazine "TIME"Person of the Year" who selects the person who was most active in that year, SNS "FacebookMr. Mark Zuckerberg, the founder of Mr. Mark Zuckerberg.

"Facebook" began in 2004, but it has expanded every year, and in July of this year the number of active users exceeded 500 million people worldwide, and until Mr. Zuckerberg made Facebook The movie 'social network' that I drew (although Mr. Zuckerberg is not involved in the content) is a big hit overseas, it seems that it was rather late to be chosen.

Details are as below.
Mark Zuckerberg - Person of the Year 2010 - TIME

Facebook, originally created by Mr. Mark Zuckerberg, was originally a SNS designed for students and has been open to the public since 2006. At that time, as the largest SNS in the English-speaking worldMySpace(Over 200 million accounts in 2008), Facebook overtook this in 2009, and on July 22, 2010, it reached 500 million worldwide active users worldwide. It is used by many users as the world's largest SNS.

The Japanese version started in May 2008, and seems to have increased the number of users recently, but due to the influence of preceding mixi and late Twitter, it seems quite difficult to overwhelm others like other countries is not.

In 2009, Person of the Year was Benjamin Shalom Bernanke (Bernanke) chairman of the Federal Reserve Board and in 2008 he was the President of America in Obama. In 2006 it was the time of Web 2.0 and it was sometimes chosen the earth that was exposed to the crisis due to "You" in 1988 and "Planet of the Year" in 1988.
in Note, Posted by logc_nt