Software that saves ink just by installing "inksaver free version"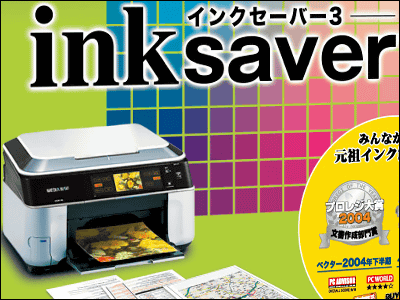 Paid software that reduces the amount of ink used just by installing itInksaver"ofFree versionHas been released. The ink will last about 1.2 times longer than usual printing without changing the print quality.

There is also a function to calculate "saving amount (estimated value)" by putting the amount of ink and expected number of annual use, and so on, at the dedicated site from December 2, 2010 (Thursday) to January 31, 2011 It is free for a limited period of time up to the month (Monday). The usage period after downloading is unlimited. It is compatible with 32-bit and 64-bit versions of Windows OS starting with Windows XP.

Those who want to save ink for New Year's card season from the following.Free software "Save ink! Reduce printing cost! Inksaver - Ink saver | Home"
http://free.inksaver.jp

Click "Download Now" on the above page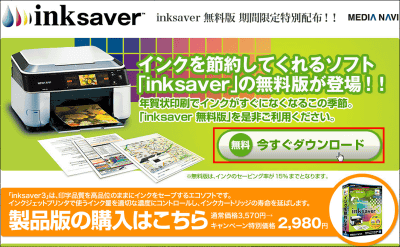 Check the check box under "Register e-mail address", enter the e-mail address in the input field below and click "Download now"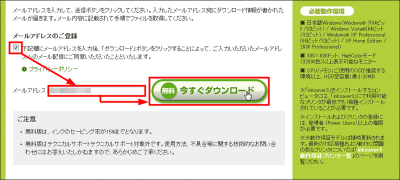 Then you will see such a screen. Since the mail with the download URL is delivered to the e-mail address you just entered, clicking on the URL in the body of the e-mail will start the download.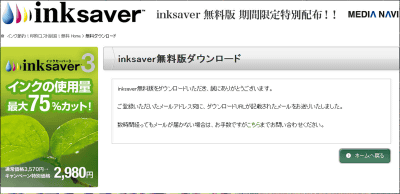 Since the installer is on the desktop click




Click "Next"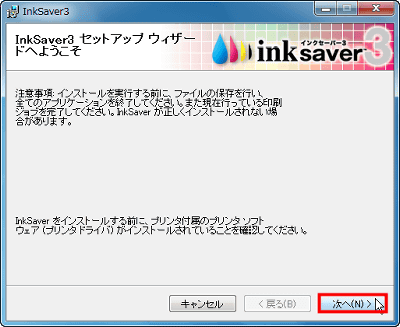 Check "I agree" and click "Next"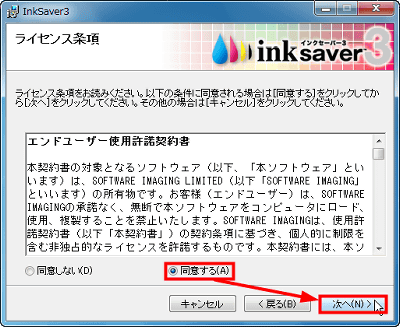 Click "Next"



Click "Next"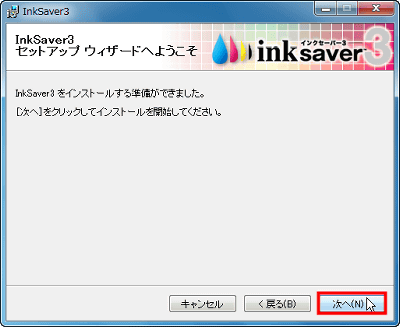 Installation is in progress. Let's wait for a while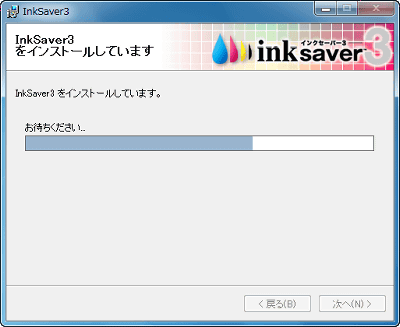 Click "No" if you do not want to register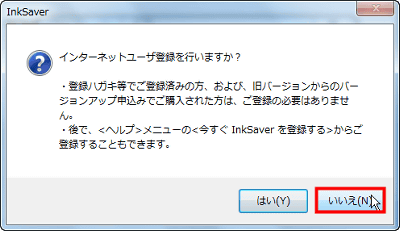 Click "Close" to complete.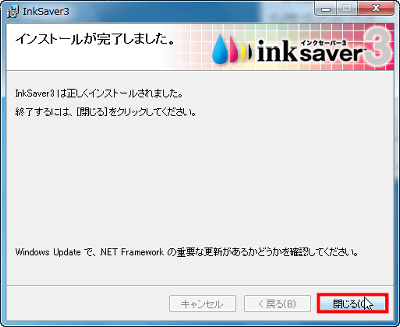 Then this kind of window appears, so please check the printer to be ink saved, then click "OK"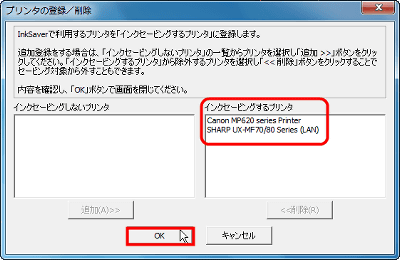 Click "OK"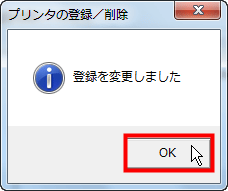 Click "Close"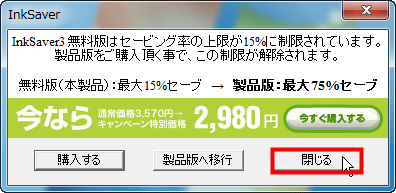 Next, select "All Programs" from the Windows start menu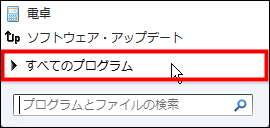 Click "InkSaver" in "InkSaver"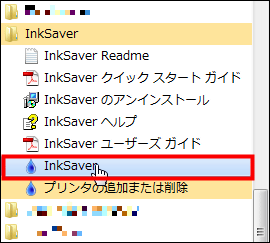 This is the start screen.At this point already 15% ink saving has been applied.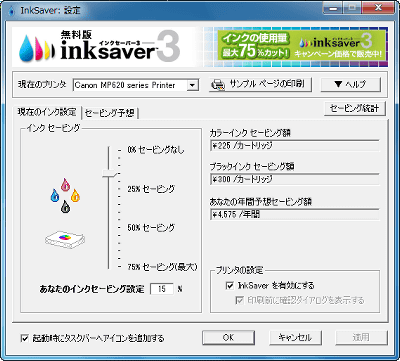 ◆ Various functions and settings

You can select a printer to apply the ink saving function from the right pull-down menu of "Current Printer"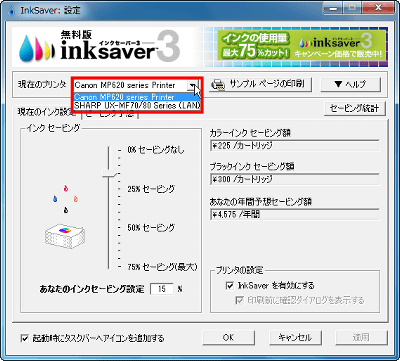 Click "Print sample page" to print the sample page. It is convenient to adjust the ink saving ratio.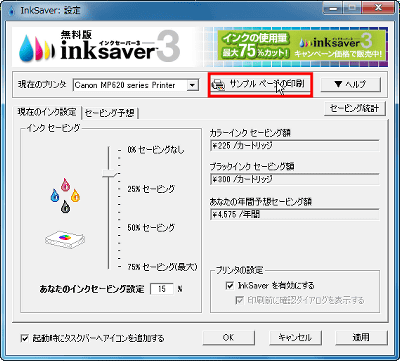 In "Help", you can view the help file and cancel the warning message.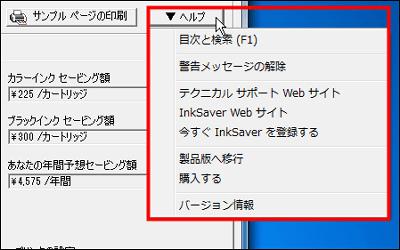 When printing on paper other than "plain paper", a warning screen "Print on special paper" appears and you can select whether to print with inksaver enabled as it is or to disable it on plain paper only . At this time, putting a check in "Save setting" will save the setting and the dialog will not be displayed afterwards. However, if you choose incorrectly or want to change this setting later "Warning Release message "to return to the initial state.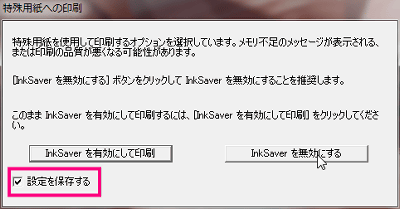 Click "Release warning message"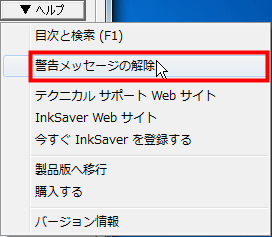 Click "OK" to complete.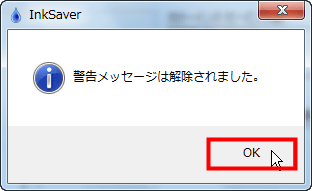 The current ink saving rate status is displayed. In the free version, 15% is the maximum.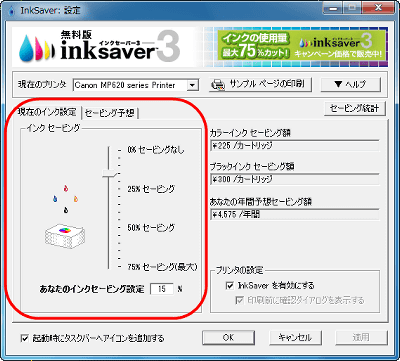 You can see how much you save by using this software. It seems that it is profitable for 4575 yen a year if it is the current saving rate.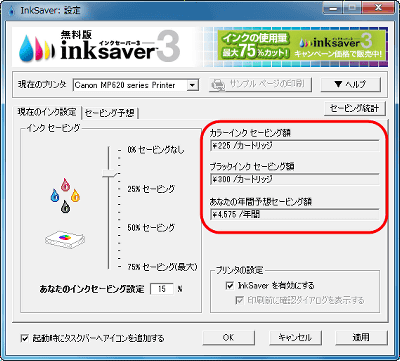 I tried to make the saving rate 75% which is the maximum of the product version. It seems that 22875 yen can be saved by what a year. It's 4575 yen for the free version, so the difference is really 18300 yen.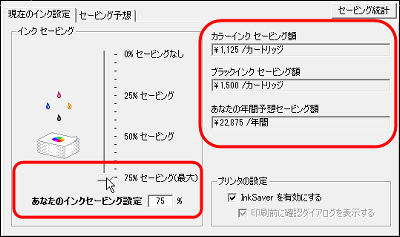 Try pressing "apply" with this 75% setting.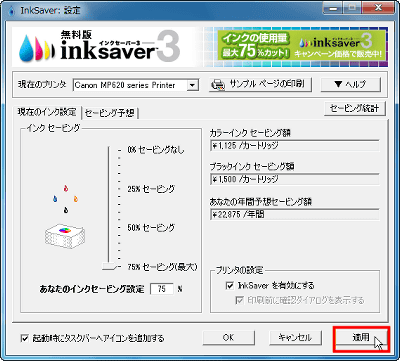 Then I was advised to buy the product version with such feeling.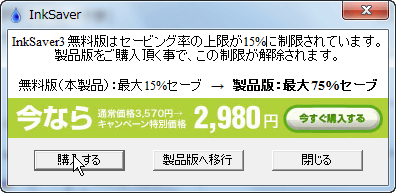 Click 'Saving Statistics' to see statistics on the amount saved so far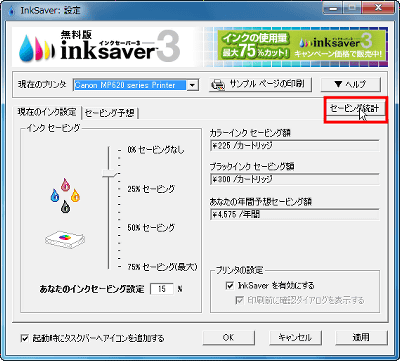 In this way, the average save rate and the saved amount are displayed. Currently it just installed, 0%, 0 yen.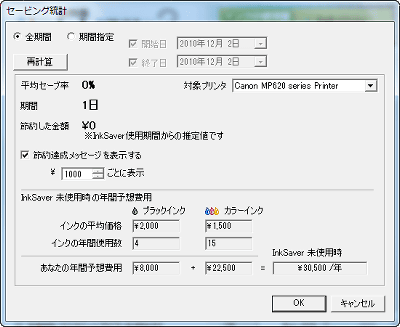 You can tell if this software is enabled by checking "Enable InkSaver".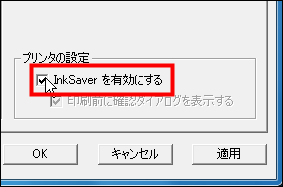 If you want to display the icon to the task bar at the same time as starting up the software, check "Add icon to task bar at startup".




When you want to input accurate price of ink and make saving prediction more convenient, click "saving forecast"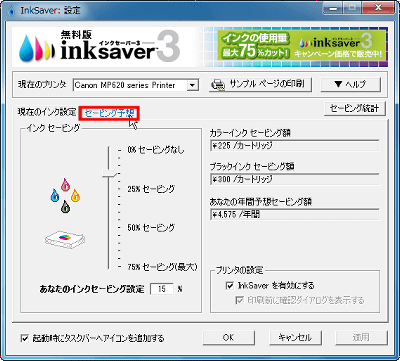 Let's enter the average price of ink and the number of annual use.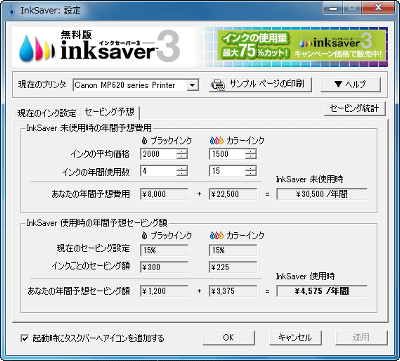 It is compatible with A3 / A4 / MFP ink jet printers on sale from Canon / EPSON / Ricoh / HP and other companies.
* It may not operate normally due to compatibility of printer driver.