Key release date known as "CLANNAD" "Little Busters!" Release date determined "Rewrite"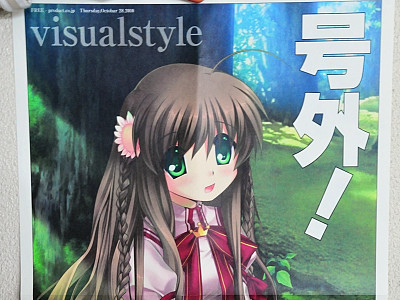 Game brand that has made popular games such as "CLANNAD" "Little Busters!" "Kanon" "AIR"KeyThe release date of the latest work "Rewrite" was decided in the leaflet distributed at Akihabara and Nihonbashi.

The story of neta started in 2008, and it seems that fruiting will finally reach finally after it took more than two years.

For details such as flyers, details are below.
Rewrite | Key Official HomePage

The leaflet is pretty big, with one of the heroines on the surface, Kobe small bird's visual and "Rewrite release date decision !! 2011.4.28The character of.



On the back side, 5 heroines and manufacturer information etc. are posted.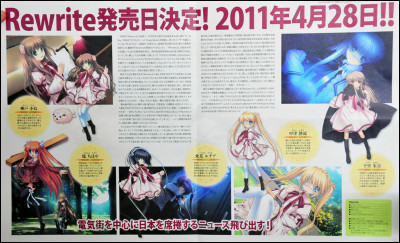 "Rewrite" on April 1, 2008 "I decided to produce Key completely latest work "Rewrite"! It is!"The title was announced along with the news that it was.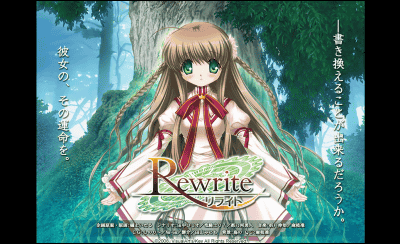 April 1st April Fool's DayAlthough there seems to be not a few people who judged "It will be true" at the very beginning, there is a key staff the following dayShingji OriidoByStart up serious instead of storyIt became clear that I did.

On April 1, 2010 the same work "18 Prohibited decision! It is!It was announced. This was a April Fool's lie and announced that it was the whole age version the next day.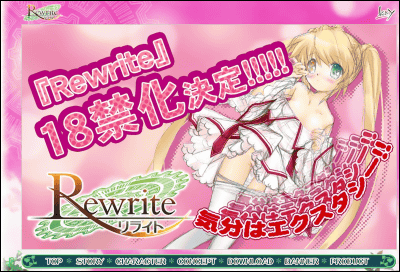 Here is the staff list.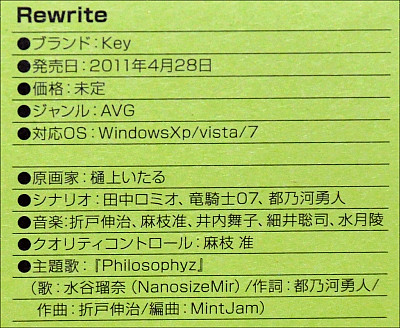 Brand: Key
Release date: April 28, 2011
Price: TBD
Genre: AVG
Supported OS: Windows XP / vista / 7
Original artist: Higami Tadoru
Scenario: Romeo Tanaka, Ryuuki 07, Hayato Tokonogawa
Music: Shinji Oriento, Makoto Okue, Maiko Inoue, Satoshi Hosoi, Suigetsu Tomb
Quality control: Makoto Hanabu
Theme Song: "Philosophyz"
(Song: Mizutani Rira (Nanosise Mir) / Songwriter: Yuuto Tokinogawa / Composition: Shinji Otoito / Arranger: MintJam)

By the way, in Nihonbashi it became a distribution in a rainy season, the staff was feeling very hard alone.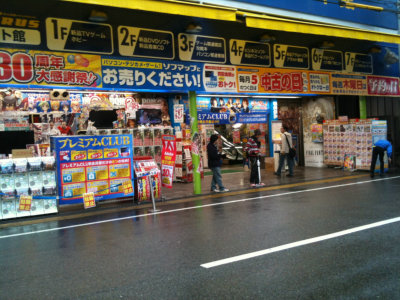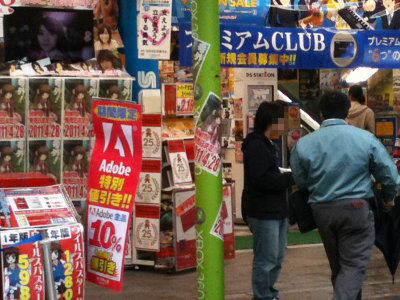 in Game, Posted by logc_nt