"Rewrite" postponed release in June, trial version ver 2.00 will be distributed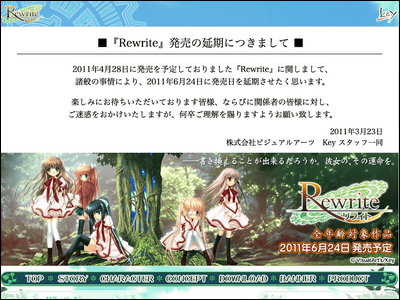 Release schedule on April 28, 2011Due to the influence of the earthquakePostponed to June 24, 2011The latest work of key which became "Rewrite".

For fans who can not wait for this, trial version ver 2.00 will be distributed from 0 o'clock on March 26th. The content is different from the previous trial version, it is said that it is closer to the product version.

Details are as below.
Notice of distributing "Rewrite" trial version ver 2.00 | Key Official HomePage

"Rewrite" is a game brand that has been sending out works such as "Kanon", "CLANNAD", "Little Busters!"KeyIt was scheduled to be released on April 28th, 2011 with the latest work of.

Production was going smoothly and various events were planned in the second half of March, but due to circumstances such as the problems in logistics and production system caused by Tohoku Region Pacific Offshore Earthquake that occurred on March 11, We decided to postpone the release to June 24th.

In the game industry, especially in PC games, adult games are often postponed release (note: key also has adult game but this work is a general work), as for RewriteBy the way Production Progressively as plannedIt seems likely that during this postponementQuality up, addition of partsIt seems that it may be done.

A trial version was bundled with "Kud Wafter" before, but this time things will be different from that,The file size is about 1.6 GBIt is said that. Distribution start is 0:00 on 26th, but probably the official site seems to be considerably heavy, so please make use of mirror site etc.
in Game, Posted by logc_nt