"Dead Sea Document" to publish full text online, Google and Israel tie-up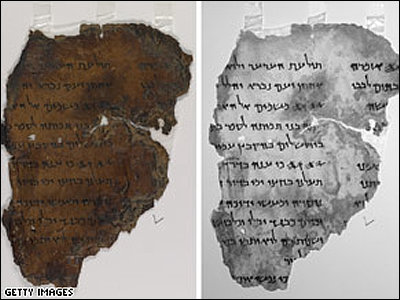 About 850 volumes of manuscript collection "Dead Sea Documents" written in parchment including fragments of the Hebrew Bible, found in eleven caves near the Kumuran fortress in northwest of Israel from 1947 to 1956 A partIt was released in commemoration of the 60th anniversary of Israeli founding in 2008However, it became clear that Google will publish the full text online.

The document, which is regarded as close as possible to the original of the Bible, attracted worldwide attention from its high historical and religious value, but that being able to see the full text online Does not it have a very big meaning?

Note that the above imageIn 2008, Israel announced that it would decipher the Dead Sea document using NASA's state-of-the-art technologyTime stuff. The part which could not be read normally (left) is also able to read the result using the latest technology (right).

Details are as below.
Google plans to offer Dead Sea Scrolls online

According to this article, The Israel Antiquities Authority (Israel Archaeological Authority) seems to have tied up with Google by digitizing the full text of the Dead Sea Document.

In digitization, using digital imaging technology using infrared, it is said that treatment that will be able to read parts that can not be read with the naked eyes due to aged deterioration is given.

According to Pnina Shor, who is studying Dead Sea Documents, the digitized images are as if they were copying real Dead Sea documents as it is, and you can see every fragment by clicking I am talking.

In addition, it is unnecessary to continue exposing the original dead sea document to a bright place by digitizing, so it seems that merit of being able to prevent deterioration due to ultraviolet rays or the like is also considered.

Digitization of the Dead Sea document will be started in 2 to 3 months, and a part will be made public on the Internet by Google around the spring of 2011, and in publishing it will be accompanied with information such as copy function, translation, reference list etc. That's right.