Dyson developed a dedicated head that can be used for pet grooming, starting today as an online store limited sale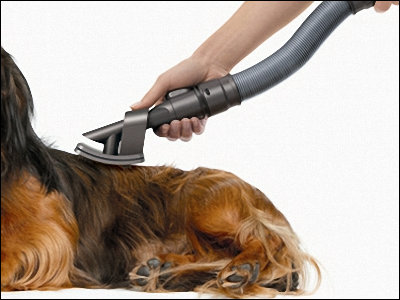 The change of the season, that is, the pet's hair change period, hair loss stuck in the room and cling to clothes etc, so may not some owner suffer from it.

Items that might change such a situation "Dyson Pet Grooming Tool"Announced today. This is done by setting a brush made of stainless steel on a vacuum cleaner and grooming it so that it can be processed without scattering pet's hair.

It can be used for grooming and cleaning, so it is quite useful item.

Details of the product are as follows.Dyson | Dyson Pet Grooming Tool - Features, Usage, Suitable Dog Types and Vacuum Cleaners, Examples, etc.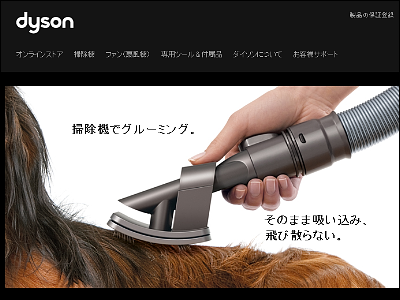 "Dyson Pet Grooming Tool" is attached to a Dyson vacuum cleaner and is equipped with a stainless steel slicker brush which removes hair loss and old skin horny dogs.

The length of the slicker brush and the flow of the sucking air can be operated by pushing the trigger with the thumb, and the grooming is performed with the trigger pressed. When you release your finger from the trigger, the brush retracts and entangled with the brush is sucked into the vacuum cleaner as it is, so it seems that aftertreatment seems to be much more extensive than grooming using ordinary brushes. By the way, the single item price of only the tool is 7350 yen including tax, although it is expensive, is not it a choice for those who are suffering from pet's hair?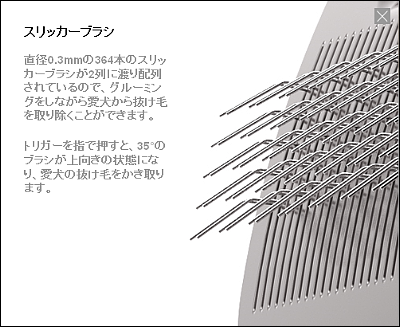 "Dyson pet grooming tool" is suitable for long-coat dogs from medium, so it is said that it is not suitable for pet with short hair type, so be careful. By the way, the correspondence / non-correspondence model is as follows.



* Applicable models: Dyson carbon fiber DC 26, DC 26, DC 24, DC 22 turbine head, DC 12
* Not applicable models: DC 31, DC 22 motor head, DC 16


Also, a special model attached to "Dyson Carbon Fiber DC 26 Motor Head Complete" "Dyson Pet Grooming Tool""Dyson Carbon Fiber DC 26 Motor Head Pet Care"(98,400 yen including tax)online storeSales will begin from October 1st and will be available from early November 2010 at home electronics mass retailers nationwide. It may be good for those who want to buy a Dyson vacuum cleaner for this machine because the price of "Dyson Pet Grooming Tool" will be reduced by approximately 2350 yen by buying it with the main body.

Although it is an item that the problem of pet keeping in a room is likely to improve considerably, some dogs run away even by listening to the sound of the vacuum cleaner in the world. Although it continues to be improved, it does not move to the operating sound of Dyson's vacuum cleaner, which has been said to have a lot of noise before, and I am concerned about how many petty pets are still standing still during grooming Is the place ...
in Note, Posted by darkhorse_log