"Companies loved by employees" and "companies not being loved" are released at once, the voice of employee's sadness too much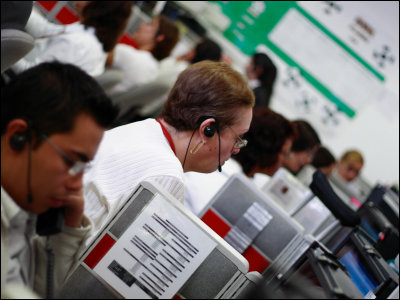 The old lifetime employment system collapses and there are changes in the values ​​of young people about working, etc. Although the word "love spirit" seems to be getting faded in recent years,Companies loved by employees and companies not lovedHas been released in ranking format.

Whether it is a company to be loved seems to be a big indicator in measuring the morale of employees, but what was the result like? The voices of employees who work in "companies not loved" are also made public.

Rankings and voice of employees are from the following.
Companies that are affiliated companies, companies that are not affiliated companies 133 major companies ranking | annual income, salary, reputation, corporate information inquiries Caribbean

According to the corporate information website "Calicone", based on the data registered in Cali Connie, "satisfaction with annual income", "job challenge", "fairness of career path", "work environment", etc. 7 The degree of satisfaction with respect to one indicator is digitized and tabulated for each company, it seems that the ranking of "enterprises being loved, companies not being a love company" has been released.

In summarizing, 133 firms with more than 10 registration data were extracted from all the companies, and total points of 7 indicators were totalized based on 3783 registration data on this 113 companies.

First of all, the top 15.1 of the companies that are lovedMitsubishi Corp., Second placeSumitomo Corporation, 3rd placeAsahi Glass, 4th placeMitsubishi UFJ Financial Group, Fifth placeMitsui & Co.And many trading companies are ranked in.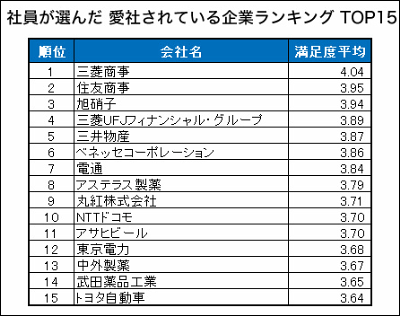 The voice of employees of Mitsubishi Corporation, No. 1, is below. It is contents that you can understand that it is a great treatment.

"The salary is satisfied, although assessment has some meritism, it is roughly rising in seniority system"
"I think that it is good overall as an employee dormitory (cheap), employee canteen (normal), business trip allowance (high)"
"Although overtime hours are honest, there are many things we can absorb, such as knowledge that matches the spirit, behavior and awareness as a business person, strength of mental health, etc."


Employees of Sumitomo Corporation in the second place also mention about the treatment and the challenges of work.

"The sales to overseas you are in charge now is an important factor that determines the future of Japan, so I always feel challenging."
"I thought that I wanted to work to reunite the world and I joined the company and my salary is very satisfied, I did not feel like I gotten here even if I asked a friend from another company."

Voice of third-ranked employee of Asahi Glass. We evaluate the air inside the company such as challenging and easy to challenge variously.

"I think that the process of trial and error, hypothesis verification and resolution on technical subjects who do not know the answer is a very interesting and rewarding work that can be tasted only by the technical staff of the maker. I am entrusted with a high problem and it is also an atmosphere that makes it easy for me to challenge so I can grow my own and I am satisfied with my job content high. "


And the top 15.1 of companies that are not lovedUSENIn second placeYamada Denki, 3rd placeOtsuka Furniture, 4th placeLeopalace 21, Fifth placeJapan System Wearis. Impression that USEN protrudes at low satisfaction.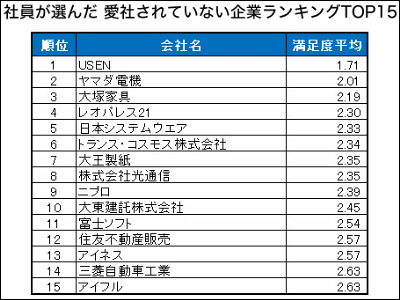 A low satisfaction level progressed, and the voice of USEN employees who became "No. 1 company not loved by employees". Dissatisfaction in every aspect, such as remuneration and work content, is erupting. When compared with the voice of employees of "loved company" it is different by 180 degrees.

"I think that my salary is really small, because it was a big deficit last year, there were significant restructuring and reduction, bonuses are quite small, overtime workers do not pay various allowances, I do not think I can expect expectations about compensation."
"Because every department also has the last train on the way home, toughness is necessary because of physical fitness, by the way, overtime will exceed 100 hours per month, but overtime work only lasts for 30 hours"
"There are no months when overtime is over 100 hours, but for workers on holiday work are also forced, of course there are no benefits"

Voice of employees of Yamada Denki, the domestic electronics mass merchandising chain in Japan that sold the second place. Because it is necessary to work on Saturdays, Sundays and holidays where customers are most frequented, it is thought that business days are often closed on weekdays, but it seems that it is very difficult for no further break.

"There is a paid holiday, but it is said that you can not use it.It is said that you should not use from the top.The holiday is only three consecutive holidays at best, even if you get married only a maximum of 5 consecutive holidays"
"I can not take a continuous vacation and I can not pay paid digits at all, working hours are from 8 o'clock to 24 o'clock, and holidays four times a day is too bad."

Voice of employees of Otsuka's furniture in third place. Although it is a company famous for high-end furniture, treatment for employees seems more severe than I thought.

"Because we are not a company that values ​​employees so much, we can not expect treatment." Compared with Nitori of the same industry, salary is about the same as famous men's clothing chain sold for sale at a price of about 100 Ten thousand yen is also cheap.


In addition, the fact that the management side does not correspond sincerely to the efforts and good fight of employees is common in "companies not loved", "The atmosphere in the workplace is not bad" "The employees work hard in cooperation While there is a positive voice such as "It is said that the current situation is not linked to loyalty to the company.

Finally, the comparison between the top and the worst 50 companies is like this. "Loved enterprises" are ranked by leading manufacturers, finance, communication relations, etc. "Companies not loved" include software development, retailing, real estate relations, automobile manufacturers suffering difficulties There are many ranked in.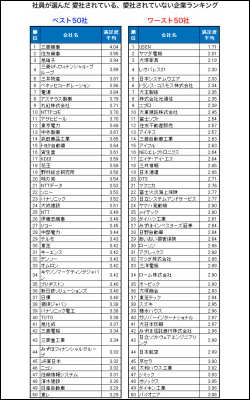 in Note, Posted by darkhorse_log