An hourly wage of 112,000 yen, an amazingly high salary short-term part-time job will be recruited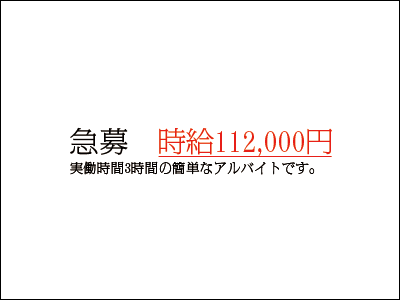 "Minimum wage" that refers to the minimum wage stipulated under law isAs of 2010, it is 713 yen per hour on average nationwideIt was revealed that an amazingly high-level short-term part-time job of 112,000 yen per hour, which is 157 times the minimum wage, is being recruited.

OnceA part-time job of 50,000 yen per day as a promotion of software for the Wii "King's story" was recruitedHowever, it will be much larger.

Details are as below.
Job information service "an" × movie "In situ Mill 7 days death · game" × Mobile site "aja.jp" Tie-up planning
~ Sublease! Wanted an ultra-high hourly wage byte "hourly wage 112,000 yen"! ~

According to the press release announced by "an" of job offer information service, the company announced the movie "Ryuya Fujiwara, released on October 16 (Saturday)Incite Mill 7 Days Death Game"As a tie-up promotion project, we are looking for a part-time job of 112,000 yen per hour from today until September 23 (Thursday).

"In-shitmill 7 Days Death Game" is a movie based on the original same-name detective novel by Yonezawa Hosonobu, for recruiting that participates in "Experiment of psychology over 7 days" to receive a remuneration of 112,000 yen per hour , The content that 10 men and women who need big money gather to psychological warfare.

Work place is in Tokyo, working period is 3 hours, 7th October 2010 (Thursday). Although the work content is "helping with the event", there is no dangers related to life. In addition, although qualifications for entry are unnecessary for age educational backgrounds, it is said that those who can go to TV, newspapers, etc. are eligible.

In addition, similar recruitment is done also on the recruitment information website "DOMO! NET".
DOMO NET × Movie "In situ Mill 7 Days Death Game"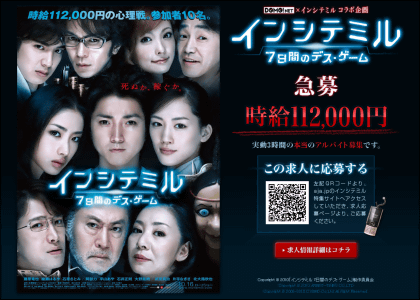 in Note, Posted by darkhorse_log