Nintendo 3DS will be released within the year or the possibility of starting a rocket at the end of the year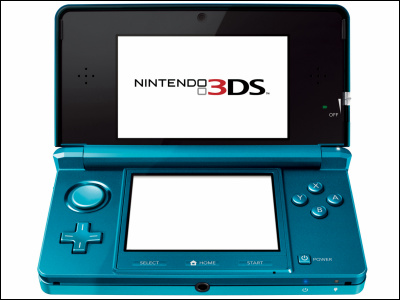 In June this yearNintendo announced the new mobile game machine "Nintendo 3DS"It is clear that there is a high possibility that it will be released within the year.

Release date and price will be officially announced at the end of this monthAlthough it is, if it really is released within the year, alreadyMobile game machines that sold more than 120 million units worldwideIt is enough to think of recording a rocket start just because it is a new model.

Details are as below.
Leaked: Nintendo 3DS to be released on November 20th? | Nintendo 3DS Blog

According to this article, 11 designers of Nintendo 3DS related products designed by the designer 's "Twitter" on their own Twitter, from the domestic manufacturer "Keys Factory" handling peripheral devices of game consoles, will be on November 20 ) It seems to have revealed that it will be released around the time.

Also, as these related items are said to be released simultaneously with Nintendo 3DS, if this statement is true, the release date of Nintendo 3DS will be around November 20th.

Screenshot of Mr. Noch's remark. UnfortunatelyCorresponding remarkYaMr. Tachi's accountIt has been deleted as of 13:45 on September 13th, 2010.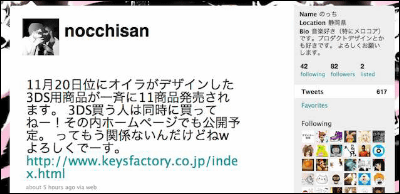 By the way, in recent years, Nintendo announced December 2 (Sat), December 2, 2006 (Saturday) December 2, 2006, "Nintendo DSi" on Saturday, November 1, 2008, "Nintendo DSi LL (Nintendo DSi XL overseas)" On Saturday, November 21, 2009, it seems that even if the release date of Nintendo 3DS is around November 20 (Saturday), it is not unnatural.
in Game, Posted by darkhorse_log