The selling price of "Nintendo Switch" will be displayed on Toys' R '' s website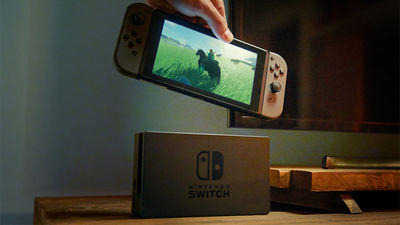 Nintendo's new model game machine announced in October 2016 "Nintendo Switch (Nintendo switch)". At the time of article creation, the sales price and software lineup of the same game machine scheduled to be released in March, 2017 are not revealed, but "sales prices of Nintendo Switch are displayed on Canada's Toys" R "'s website It has become a hot topic.

Nintendo Switch Price Listed by Canadian Toys "R" Us
http://wccftech.com/nintendo-switch-price-listed-canadian-toysrus/

Toys "R" Us reveals the price of the Nintendo Switch
https://www.neowin.net/news/toysrus-reveals-the-price-of-the-nintendo-switch

Nintendo Switch, which has not been clarified yet, except for saying "Scheduled to be released in March 2017", but Nintendo Switch 's product page is displayed on Toys' Us' s website in Canada. It is. The selling price on Toys' R '' s website is "CAD 329.99 (approximately 26,000 yen)It seems that it was.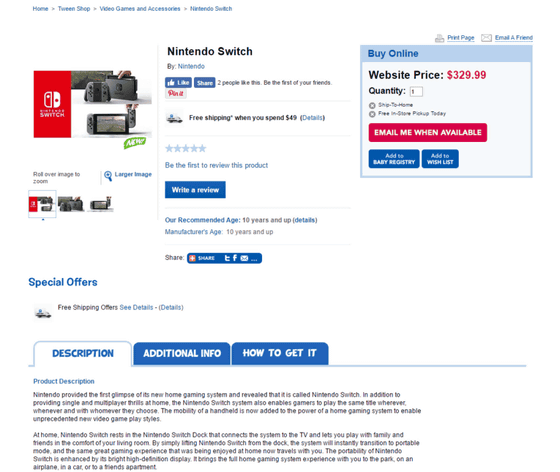 Of course thisPlaceholderThere is also a possibility that it is enough, but for that it is strange the price is specified, "It seems to be a price range appropriate for selling price" and overseas game mediaWccftechHe wrote. In addition, Wccftech says "If the selling price of the Nintendo Switch displayed on the Toys" R "'s website in Canada is correct, this is relatively inexpensive and many gamers will be able to purchase it" .

Also, Nintendo Switch will be equipped with NVIDIA's custom Tegra processorRevealedAlthough it was, NVIDIA made a performance announcement in the third quarter on November 10. Among them, CEO Jen Seung Huan said about Nintendo, which has established cooperative relations with Nintendo Switch, "We have been working with Nintendo for about two years and hundreds of yearsAccording to NVIDIA's official blog500 man-years) to the Nintendo Switch. It will be amazing how wonderful it is when you actually watch and play the Nintendo Switch. Of course Nintendo's brands such as game contents are also very wonderful, and the cooperative relationship between the two companies is expected to continue for the next twenty years, I am very excited. "

NVIDIA CEO says people will be "amazed" by Switch, sees relationship with Nintendo lasting two decades - Nintendo Everything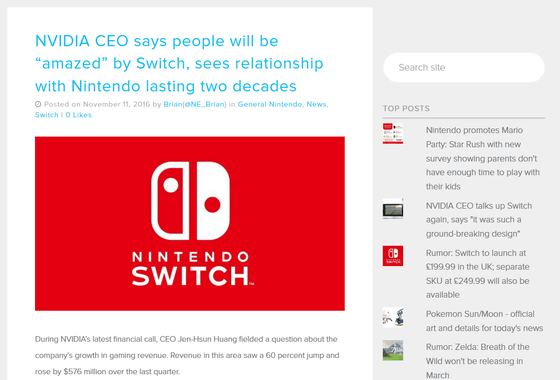 There are many other reports on Nintendo Switch, and "Super Mario Galaxy 3" and "Super Mario Sunshine HD" will appear as special gamerumorThere is also.

In addition, Nintendo will hold on January 13, 2017 "Nintendo Switch Presentation"It is considered to reveal the release date and selling price of Nintendo Switch, and on January 14th and 15th, Nintendo Switch 's general participation is also possible at Tokyo Big Sight" Nintendo Switch Experience Meeting 2017 " We are planning to hold a hands-on experience. In addition, it will be held on 11th and 12th February 2017Battle Meeting 2017"Nintendo Switch 's experiential society is scheduled to be held.