HP plans to withdraw a strong offensive in a stagnant netbook market, some manufacturers withdraw from policy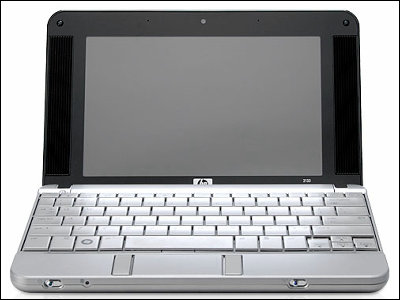 Acer's "Aspire Timeline"Hewlett-Packard" is a netbook market in which the current situation is not going on as it is pushed by the inexpensive high-performance laptop computer including the series and the hit by Apple tablet terminal "iPad", but It has become clear that we will develop a fierce offensive.

Prior to other companies in June 2008Netbook "HP 2133 Mini-Note PC" which is a model against ASUS's "EeePC"Although it is HP which had been releasing, etc., it seems that it intends to further increase the market share in the netbook market.

Although it is a netbook market with a feeling that it does not feel very much, where is the reason why HP positively develops? The image above is the one of "HP 2133 Mini-Note PC".

Details are as below.
HP aims for second place in netbook market in 2011

According to this article, HP says Intel ordered a dual-core processor "Atom N550" for use in a new netbook model. The unit price for "Atom N550" to manufacturers is usually 86 dollars (about 7300 yen) per piece, but HP has raised $ 65 per piece (about 5500 yen) by placing a large order.

Currently in the netbook market Acer, Samsung, and ASUS are the top three market share, but as we can see from this large volume order, HP will begin to move energetically to secure market share in the netbook market It is a policy and market participants reveal that in 2011 will be the second largest manufacturer after Acer.

IncidentallyNetbook "Wind Notebook U100" in July 2008MSI, one of the manufacturers that was aggressively developing to secure market share, such as investing in the netbook market with dual core CPU due to sluggish demand for netbooks themselves We are not focusing on preparing for withdrawal after continuing to sell mainly netbooks equipped with a single core CPU, and in 2011 will shift to a normal laptop computer.

Although HP, the world's largest share in the notebook computer market, is daringly focused on the stagnating netbook market,Acer has surpassed DELL in 2009 and has become second in the world share of laptop computer, and after that it is also pursuing rapidly aiming at first placeTherefore, it may be that HP wants to suppress Acer's growth by increasing its share in Acer's netbook market which is the strength of Acer.