It is also possible that iPad will destroy third-party tablet devices or take over the netbook market and win by itself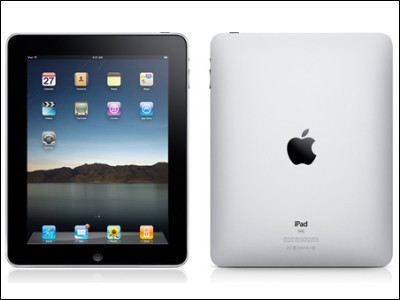 Release Android tabletAcer CEO "iPad's share will fall to the 20% level"To the extent that it is making sense,ISuppli announces the prediction that "Apple will continue to be the champion of the tablet market for the time being"Although it is a tablet terminal against iPad that various predictions about the future flies, the CEO (chief executive) of a leading manufacturer who handles contract manufacturing revealed a pessimistic prediction in the future.

Also, if it comes to this forecast, the situation will be worse than iSuppli's forecast,The possibility that the iPad takes not only the tablets of other companies but also the adjacent netbook market and conquers the terminal market for entry usersIt is also conceivable.

Details are as below.
Compal president pessimistic about non-Apple tablet PC shipments in 2011

According to this article, at a conference where investors gathered in Taiwan, Ray Chen, CEO of Compal Electronics, a leading manufacturer of contract manufacturing such as laptop computers and LCD TVs, said that for non-Apple tablet devices, 2011 It is said that the number of shipments of the year is less than 15 million, and it is said that the manufacturer who judged that profit can not be expected will withdraw immediately immediately.

Mr. Chen expects that the total shipments of non-Apple tablets in 2011 will remain at around 10 million to 12 million, rather than 15 million, even if Compal Electronics undertakes the production of one-fifth of the total Even if it could, it said it would not contribute much to the company's earnings.

ISuppli predictedShare of tablet devices by Apple's iPad and competitorsIn the year 2011, iPad is expected to hold nearly 70% of the market share, but if competitors decide to withdraw quickly, the market share of iPad as of 2012 will not decrease, There is a possibility of further growth.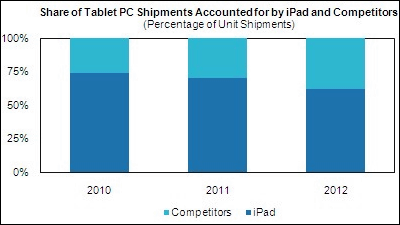 Mr. Chen said that for the netbook market which began to show shadow sales, Intel, which provides operating systems such as Microsoft and Atom processors, has become too obsessed with tablet devices, and measures and performance If we do not think about measures to improve, we will continue to say that the unit sales will remain sluggish in the future.

In addition, according to the manufacturers of parts manufacturers, Compal Electronics is cooperating to develop tablet terminals by Acer, DELL, and Lenovo, but at the same time it is said that Compal Electronics is actively working to contract the manufacture of iPad from Apple Is it that there is consideration for Apple in the background of this remark ... ....?

Whether or not the future of iPad counter tablet will be like this prospect is unknown, but if truly manufacturers withdraw from tablet market and netbook market continues to remain sluggish as it is,Terminals for entry users may be the exclusive place for the iPadThe possibilities are also fully considered.

However, mobile terminals adopting "iOS" such as Apple's iPhone, iPad, iPod touch etc. are 230 thousand units per day (As of September 2, 2010), Whereas the number of terminals that adopted Google's Android OS for mobile phones has increased to 200 thousand units per day (As of August 6, 2010It seems that the terminal adopting Android which is expected as a competing horse of the iPad is not necessarily disadvantageous, such as spreading at the speed approaching iOS, which is called "iOS".

Trend of popularization pace of Android terminal. In February 2010, it was 60,000 units per day, which has achieved dramatic growth such as 200,000 units per day in half a year, and from each company for the year-end shopping boutAndroid smartphoneYaAndroid tabletIn anticipation that many will be released, it is expected that it will continue to grow steadily in the future.

Google Activating 200,000 Devices Every Single Day, Says Eric Schmidt | TechSliver




However, because the number of Android handsets is the total number of manufacturers' manufacturer's terminals, the share of each manufacturer is extremely low compared to Apple, and the manufacturers withdrawing as Chen pointed out It is also a fact that it may go out. In order to break through this situation Android camp also,Windows camp scheduled to release tablet terminal alsoWill also provide an attractive platform that attracts users beyond Apple, and it is believed that there is no other choice but to further increase the total market share.

In addition, manufacturers have taken advantage of the reflection of netbooks that resulted in a model that has unusual specifications due to constraints by Microsoft and Intel, which has not resulted in a change in models of any manufacturers, It is something I would like you to release an attractive terminal that made the best use of the advantage that you can freely choose ".
in Mobile, Posted by darkhorse_log