"Three times the points on weekdays, six times on weekends" stores, no warning from the Consumer Agency because there is no "1 time" date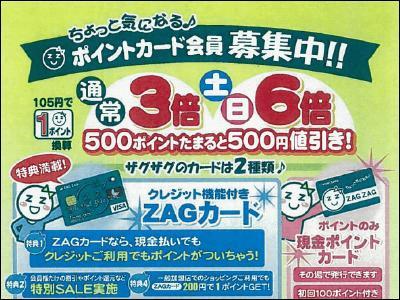 As various stores conduct their own point service as part of the service for customers,Points xx days are doubled every month!Although we may see a phrase such as "Weekdays 3 times the points, Saturday and Sunday 6 times the point, stores that did not have a 1 - fold day in the first place received a warning from the Consumer Affairs Agency.

Details are as below.
(PDF file)Warning about Zagzag Co., Ltd.

According to the press release announced by the Consumer Agency, concerning the indication on points given at the time of sale of goods to Zagzag Co., Ltd., which operates the drug store "Zagzag", Article 4, Paragraph 1, Item 2 of the Premiums Listing Act He seems to have warned that it may violate the provision of the issue (misleading advantage). This is the first case that the Agency warns based on the results of the investigation by the Fair Trade Commission.

Zagzag displayed about the points that the company gives to buyers, such as pops posted in the store from around August 2000 and newspaper folding flyers, "105 yen in 1 point conversion, usually 3 times Saturday and Sunday 6 times" etc. However, because the date of "105 yen at 1 point" was not real in the first place, it is said that the trading conditions of goods are misleading that general consumers are significantly more advantageous than actual ones I was admitted.

This is the pop that was posted inside the store. If you are surely making a point card, you can get 3 points for purchasing 105 yen on weekdays and 6 points on weekends on weekdays.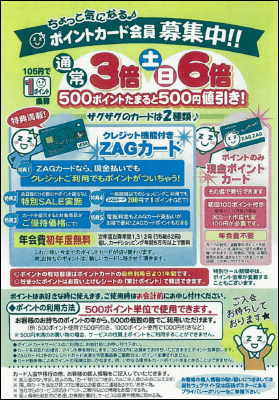 In 2008, it was written that "If you think that the PC is cheap, it was the price at the time of joining the provider at the same time as the provider" of the home electronics mass merchandiser "" The price is written with diagonal lines and "further discounts" etc. However, "I do not understand" "" Point reduction is hard to understand "Movement that industry groups urge self-regulation to eliminate confusing fliersI am awake.
in Note, Posted by darkhorse_log