To Yuyu, and to resurrection ... Nikkera kara will release nationwide from October 4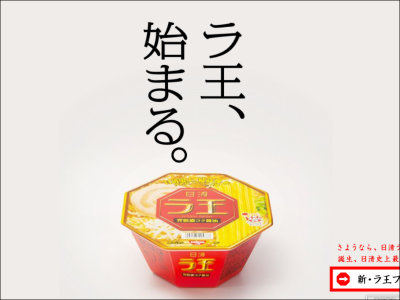 Mourning on the end of the production of Nissin "La King" "La Wang Yu Yu ceremony"Was held and "LA king" who was doing a great deal of goodbye appeal, but it was renewed completely and revived, "Nisshin Riko Tadanoyo Koku soy sauce"Nisshin Rao umami swine rice miso"Was released on September 6 (Monday) in Kanto Koshinetsu and Shizuoka Prefecture, and it was revealed that it will be deployed nationwide from October 4 (Monday) thereafter.

Raw type noodles have been used so far, but it seems that "next generation non-fried noodles" will be adopted for renewal. Also, there seems to be various changes such as using an octagonal cup rather than a round bowl shaped cup so far. It seems that it was preparing for this resurrection that made the "extraordinary crown ceremony" which is still the only impact so far, and the page of Yushui ceremony has been changed to a stubborn content celebrating the birth of the new King .

Details are as below.News Details | News Releases | Company Information | Nissin Foods


Nikima king, challenge to the resurrection
Under the theme "pursue authentic ramen", "Nisshin Rao" was born in 1992 as a raw type cup noodle. Despite being a high pricing at that time, we recorded a huge hit to sell about 140 million meals the following year. However, sales volumes continued to decline year after year due to internal competition with new products to be released one after another, and as a result, "Nisshin King" of raw type noodles finished production on August 2nd.
The magazine advertisement "La King, finished" developed at this time called up a big topic and opened a special website "Twice Otokuyu" using Twitter (Twitter). More than 200,000 voices have been gathered to repay the end of production of "Nisshin Rao" (Tweep).
However, this time, in order to bring a whirlwind to the instant noodles market again, we will devote all our technological innovation and marketing power to revive the "Nisshin King".

Although it feels a bit aggressive in the paradox part of "However", it seems that it will certainly be revived from soba, which Lara who was missed by many people was banished afterwards.

This is the package of the new La King. It becomes an octagonal quite unusual shape cup, and the product name is arranged with gold letters anywhere, making it a design that makes it easy to understand luxurious.


New development of "next generation noodles" beyond the limits of instant noodles
This time, we have newly developed "Three-layer thick straight manufacturing method" (Patent pending) combining "Thick straight noodle making method" and "Three layer noodle making method". So far
This innovative technology that makes it possible to express variegated noodles that could not be achieved was adopted for manufacturing "non-fried noodles" this time. As a result, we realized an unprecedented taste that is comparable to "raw noodle" of ramen shop.

He abandoned raw birth that was also the identity of the brand called La King, developed a non-fried noodle using innovative technology, he said that he realized an unprecedented taste. As a result of the thick straightening process, only the summer seasonChicken RamenNissin seems to introduce thickeners also to the King of La's this time, as well as Nisshin, which makes all the products thick. Personally I liked the straight noodle of moderate thickness of the former king, so I'd like to expect that the quality of the top of the temple will be finished higher than the thickness.

As a result of the release of this new product, there is a change in the page of "La Wang Yu Yu ceremony". Apparently "King LA" is like a place to be handed down from generation to generation, this time that the new product is "Successor to the throne ..."
The 'Successor to the throne' appears in the Japanese sunrise king Ra type!