Kiyoshiro Kato Shinobu occasionally, the film "Nintama Rantaro" 2011 summer road show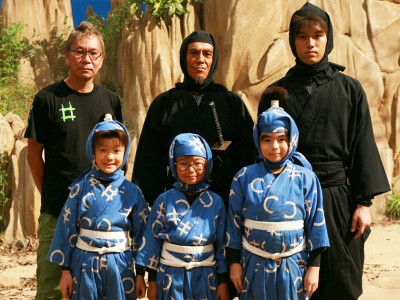 Over 25 years in Asahi elementary school newspaperLong-term serialIt has been, and also in NHK for 18 yearsAnimeIs popular work "Nintama Rantaro" (the original title is "Fell Ninja Rantaro"). It is popular not only for children but also for adult women, and in January 2010MusicalizationAlso played.

That "Nintama Rantaro" will be finally made into a live-action movie. The directorThirteen assassinsIn addition to being released to the public "Great Youkai War"Yatterman"ZebramanDirector Takeshi Miike says "Work is received in order of coming" in any work. Popular child role for the protagonist · Rantaro ·Kiyoshiro KatoIt is casting.

Details are as below.
Official site of the summer movie "Nintama Rantaro" 2011 summer
http://www.nintama-movie.com

The original of "Nintama Rantaro" is a manga "Ninja ninja Rantaro" of Nyiko nobu who serialized from 1986 in the Asahi elementary school newspaper. From 1993 it was animated as NHK, and it has become a popular series whose broadcasting continues for 18 years.

The story depicts Rantaro who was born in a third-ninja's house as a ninja (ninja's egg) as a ninja (ninja's egg) at Ninjutsu Gakuen with a son and senbei of a heavy-duty dealer, It is. In the movie, assassins appear in the house of Saito Taka Maru in the group for the fourth year of Ninjutsu Gakuen with his son and charismatic hairdresser Karato who runs a hairstyle, Yukitaka and Taka Maru "Shinkansen"It seems that it is being targeted for life by Ustake Ninja.It is the story that whether students of Rantaro and Ninjutsu school can save their friends.

The main character · Rotaro Inoka is playing the big drama "Heavenly personKoichiro Kato who became a hot topic by playing Rikuro (Nao Kaneto's early childhood) and is now well known as "Children's Store Manager" on the CM. For the same year as Rantaro, child groups of 8 to 10 years old are cast to the students of the group. Regarding the common point with Rantaro who plays, Kiyoshiro Kiyoshi says, "Somewhat similar to Rantaro is involved in trouble, personality is so alike." In addition, I will play Kiri MaruLian Lian FangKun is "Kiri Maru loves money, it is the opposite of his personality", he plays ShinbeKazuya KimuraKun said, "Shinbei loves to eat and I like Japanese sweets, but I also like Japanese sweets," I talked about each role.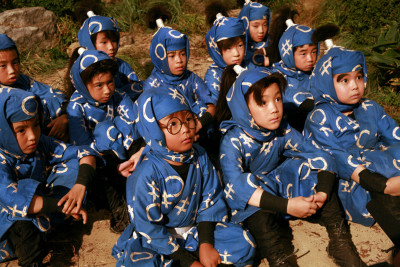 The fourth grader 's Saito Taka Maru who plays the role of "Tenchijin" played Kiheiji next (Uesugi Scenic late childhood) and co - starred with Kiyoshiro KatoTakaya Mizoguchi. Yoko of childhood era "I was not here like this" was about nominated for a 2009 New Year's buzz word, but this time, something with enthusiasm between Taka Maru and Rantaro Will the popular words pop out?

Is a group teacher teacher · Hitoshi Doi says "RAILWAYS The story of a man who became a driver of a train at the age of 49I made an actor debut withTakahiro Miura, Yamada, a teacher in charge of practical skills active in movies, dramas, and commercialsTadashi TerajimaIt plays. Mr. Miura was 24 years old born in 1960, and he said that "I was watching animation when I was elementary school student." "Since I am closer to children than my other teachers, I am thinking that I will be able to be at about the position of my older brother," he talked about his enthusiasm for doi Doi. Meanwhile, Professor Yamada played by Ms. Terashima is a character who frequently shows off a girls' appearance like 'tiger'. Terashima says, "It is still wrapped in veil (laugh)" about the dress, but what kind of women's clothes you are supposed to wear is probably better ...

Director Miike (left in the back row), Susuku Terashima (in the middle row in the rear row), Takahiro Miura (in the back row), and one year in the group students.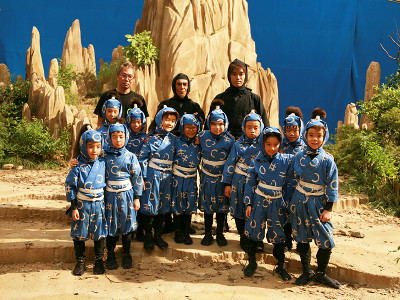 The movie will be a national road show in the summer of 2011.

◆ Information
Original: Nishikiri Masato "Fun Ninja Rantaro" (published by Asahi Shimbun Publishing)
Animation "Nintama Rantaro"
Director: Takashi Miike / Screenplay: Yoshio Urasawa
Cast: Kiyoshiro Kato Liao Hayashi Kazuto Kimura Takahiro Miura Susumu Terashima Other
Distribution: Warner Bros. Movie
Official website www.nintama-movie.com

© 2011 Literary version "Nintama Rantaro" Production Committee
in Movie, Posted by logc_nt