We tried comparing all 3 kinds of new products of "Chicken Ramen" for summer only when the noodles became thicker in summer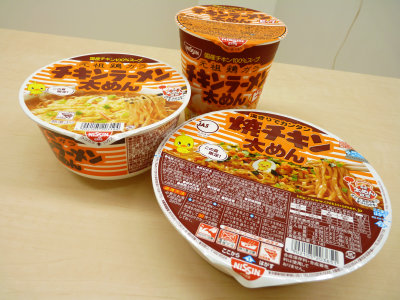 Recently, the Nissin Foods with section which is concentrating on thickening the noodles of all the products is made thick noodle to the classic "Chicken Ramen", and we have released three kinds of new items, so I bought it quickly I tried to eat and compare.

I made thick noodles for usual items "Chicken noodles bowl soup noodles"Chicken dumplings entered with a vertical cup like a cup noodle"Chicken noodles big cup squeeze", And" Yakisoba type "Grilled chicken cup squeezeAlthough it is based on the same chicken ramen, such as "it is a variation line rich line. Also, I tried to compare it with usual chicken ramen to see how thick the noodles became.

Details are as below.Chicken Ramen Big Cup Tightening | Product Information | Nissin Foods
Grilled Chicken Cup Tightening | Product Information | Nissin Foods
Chicken Ramen Bowl Sushin | Product Information | Nissin Foods

First of all, "Chicken Ramen Donbuten Senmen" (175 yen including tax) which made a standard bowl mold thick noodles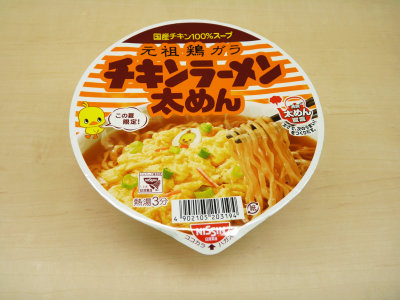 HIYOKO is appealing as "this summer only!"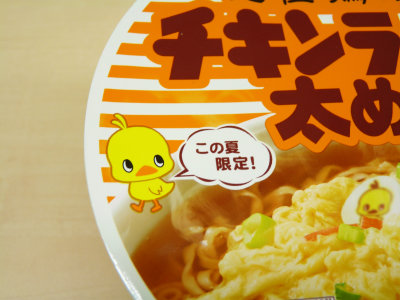 The logo "boiling thick noodle declaration" was on the opposite side of the chick. "Thickness makes the next good!", But why do you want to ask about once why you are sticking to thickening.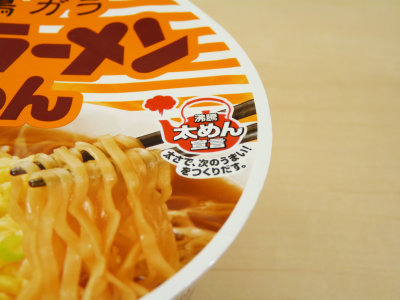 The character of "thickened" that was added to the usual logo. It is familiar to the surprise unexpectedly.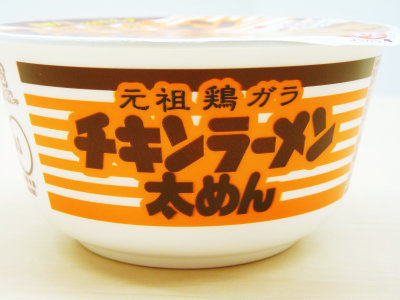 385 kcal per serving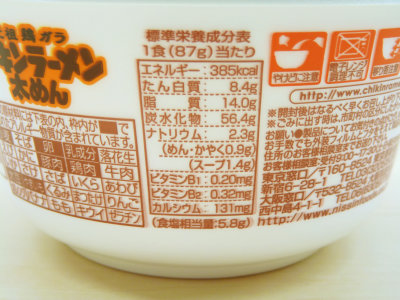 Because the type of just putting hot water is the characteristic of chicken ramen, the ingredients that are written in the soup part in other products are also written in "Fried noodle".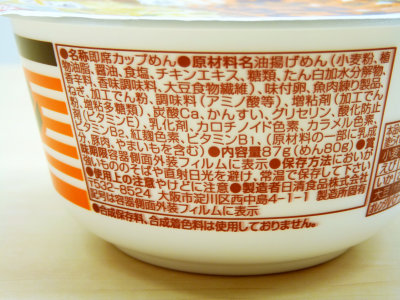 There are Naruto where illustrations of freeze-dried, chicks are drawn. This child seems to be pleased with this Naruto.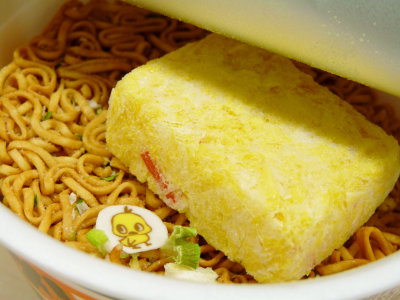 Completion after waiting for 3 minutes with hot water. Fluffy eggs are impressive, but the taste of soup is something that does not stick to usual chicken noodles. However, it is a level that you can understand at the moment you eat, even if you do not compare it with the basic noodle that noodles are very flat and thick. However, the noodles are getting thick, but because Koshi and texture are with the usual thing, it seems like it got somehow riddled, and personally it is just about half way between usual noodles and this thick noodle I thought that it might have been good to eat and respond if it was noodle thick.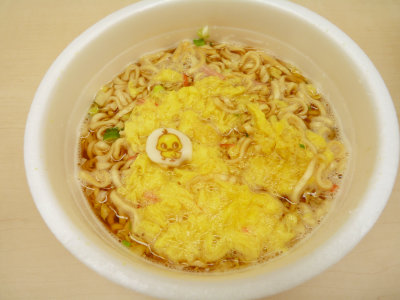 Subsequently, "Chicken Ramen Big Cup Senmen" (195 yen including tax)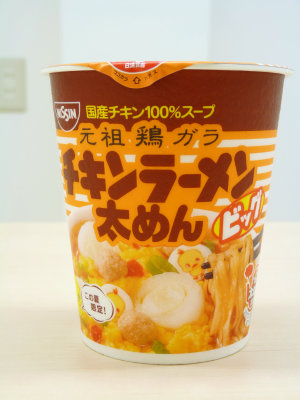 The calorie is 401 kcal per meal, it has a lot of volume feeling as it is named Big.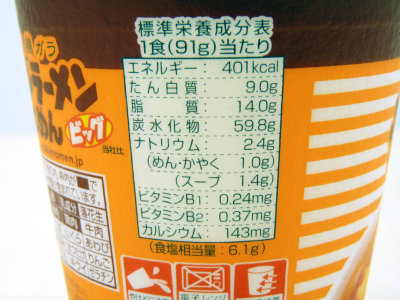 Raw material is not much different from bowl type.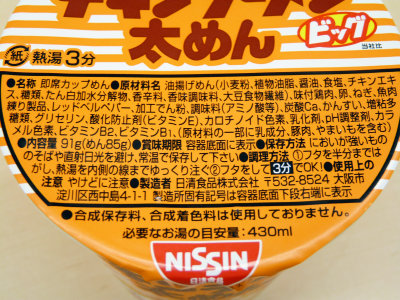 However, as I opened it, green onions and chicken dumplings had been burdened. Although I did not understand by the raw material name, it seems that there is a considerable difference in the ingredients.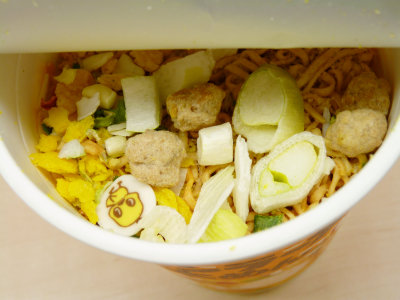 Also put water in 3 minutes and finish. When I tried to eat and bring my face close to the cup, I felt the smell of chicken duck, which is different from the usual chicken ramen soup. In fact, the taste of the soup is quite different from the basic one, more gentle flavor than usual, the scent of green onions are also working. The flavor of chicken dumplings does not overcome soup too, it is just too good afraid not to be defeated, it looks just as if it suddenly entered chicken dumpling pot with shime noodles. Because it was written as "Big", I had anticipated a pretty tasty thing before eating, so this delicate flavor was betrayed in a good way. Even if you do not bother to make it a lot of trouble, if you sell it in normal size or mini size, I feel like getting used for women's lunch and evening supper.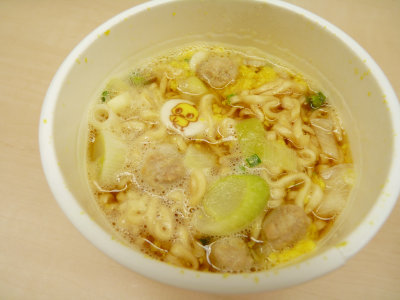 Finally, "Baked Chicken Cup Senmen" (175 yen including tax)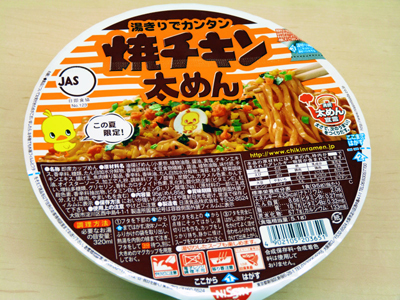 Although it is written as "hot water" although it is chicken ramen, there is a big discomfort.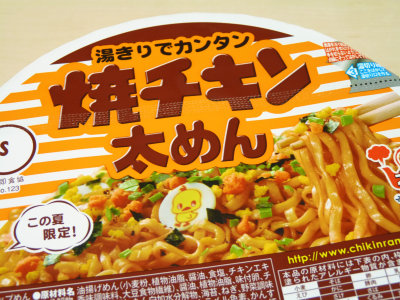 Is "oyster sauce" in the raw material used for sauce of yakisoba?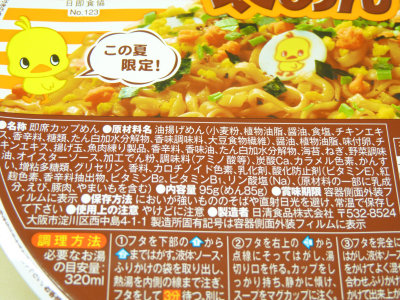 Calories are 433 kcal per meal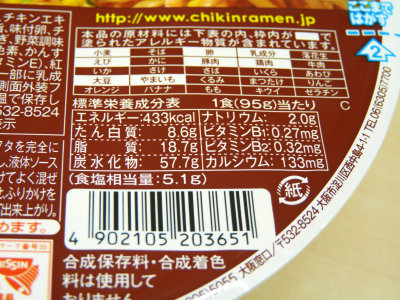 There was a sprinkle and liquid sauce inside.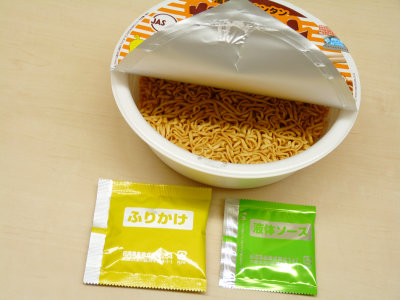 It is fresh that chicken noodles have hot water cuts.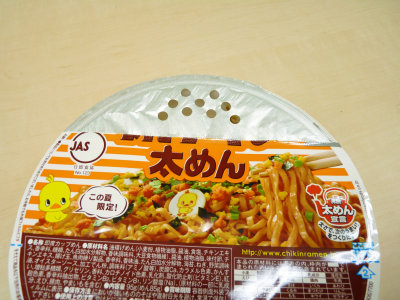 Because the chicken ramen extract is sticking out to the hot water that has been drained, pour it into a mug and make it a soup. However, since the explanation that you leave hot water without discarding is written very much, please be careful because it seems that you will inadvertently throw it away if you make it as usual like fried noodles.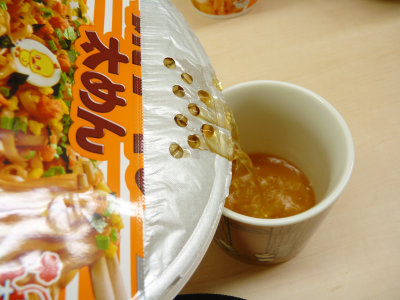 Mix the liquid sauce and sprinkle it and finish it. As soup with nature can be made as a by-product of yakisoba, the table becomes a little luxurious.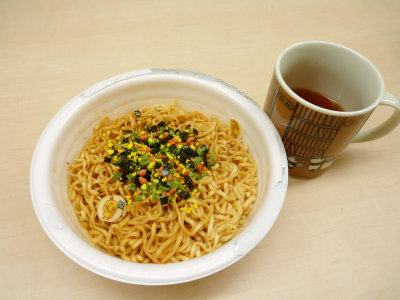 The colorful sprinkle, like the "sprinkle" which can be expected just like rice, is combined with the yakisoba which is based on oyster sauce, it feels quite junky."Nissin Yaki soba U.F.O. Columno Hot Chili taste"It is a taste that you can definitely recommend to people who liked it. By the way, the soup was the usual chicken noodle soup itself.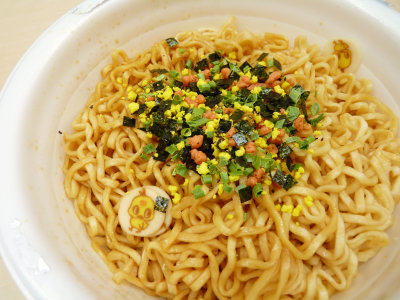 I also bought usual chicken noodles to check the thickness of the noodles. When arranging the packages side by side, the person of "Chicken Ramen Deng Big Senmen" understands that it keeps the character of "thickened" beautifully, while keeping the usual image unbroken.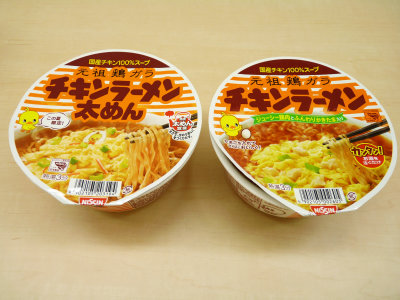 "Left" type on the left, thing with the normal thickness on the right.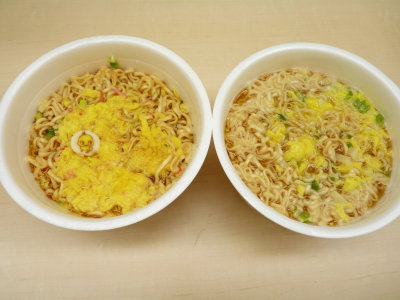 It is a bit confusing in a cup.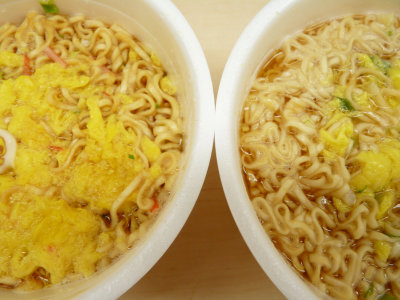 I tried arranging them on a dish there. Regular noodles on the top, thick noodles on the bottom. Although it is somehow understood level by visual sense, it brings a big difference in texture. Every new product was finished to be safe to eat, but personally I was very surprised at the completion of the soup of "Chicken Ramen Big Cup Senmen". I ate the chicken noodle in the review for a while, but I feel that this is just a taste that I think I can buy it and eat it again tomorrow. Because the standard taste of the base is solid, we hope that these arranged items will be delivered more and more in the future.