During the wanted taste and popularity, I have eaten 11 kinds of hamburger delivered by Denny's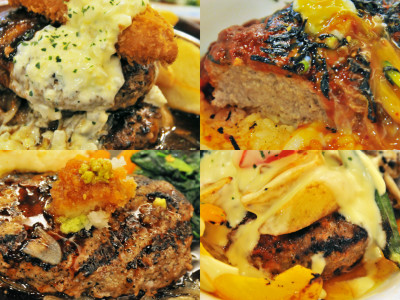 family restaurantDenny'sHas entitled "HAMBURG WANTED!" From July 20, "Because of overwhelming taste and popularity, hamburgers who became sluggish continue to run away. Let's capture those characteristics with their hands, with your hands!Since I started a hamburger fair called "I went to catch a hamburger steak.

Eleven of all 12 kinds were eaten because it appeared on August 3 (Tuesday), but with only a hamburger steak you could eat without getting tired with variety variety lineup.

Review from below.
★ HAMBURG WANTED! | Menu introduction | Denny's

Arrived in the evening at Denny's.



As the fair start date, the menu of hamburger was spread out before the shop.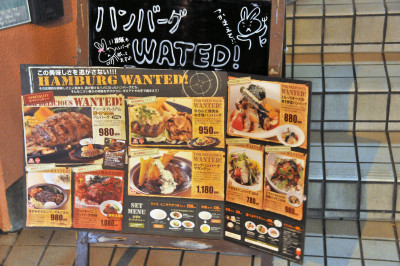 Rabbit character is more concerned than regretful expression "WATED!".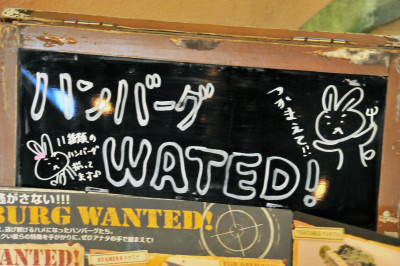 Hamburger wanned menu. It is the same as what was decorated on the table, why is the character of "First Curtain" ...?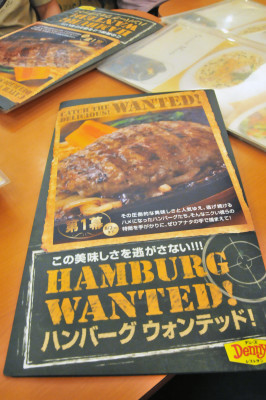 Main is this guy, Denny's premium beef 100% hamburg. It seems that August 3 (Tuesday) appears in the foie gras hamburg.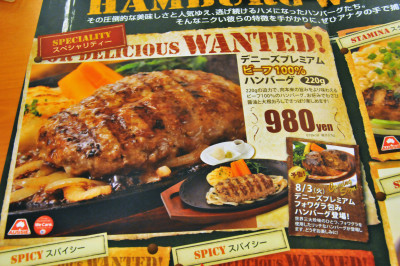 In addition, various variety rich lineup.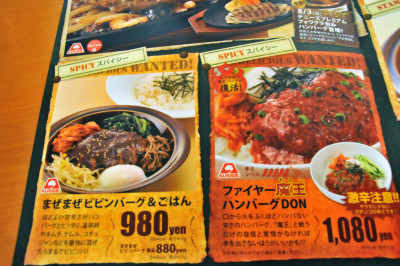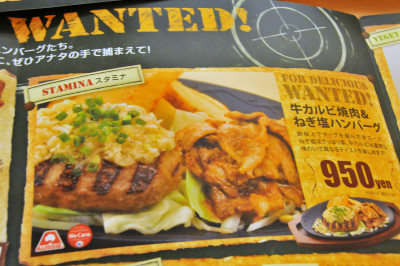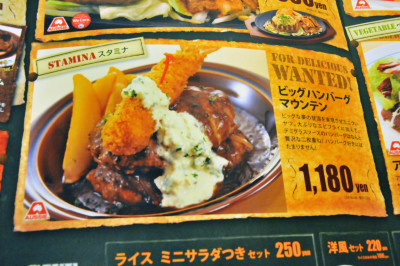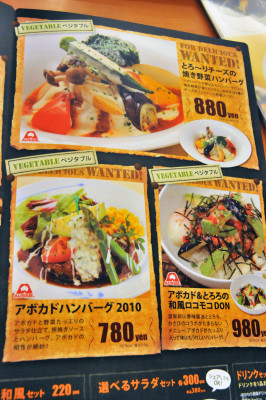 It seems that the hamburger wonted cheering group is formed for a limited time.



I will order all types immediately and eat it with Pakpaku. First of all, "Denny's premium beef 100% hamburger" 220 g, 980 yen.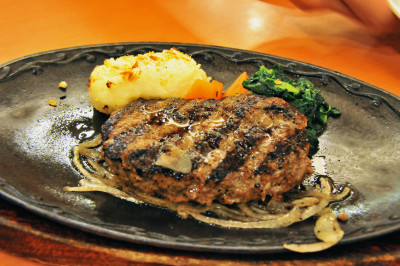 Garnish with mashed potatoes and carrots, spinach, onions.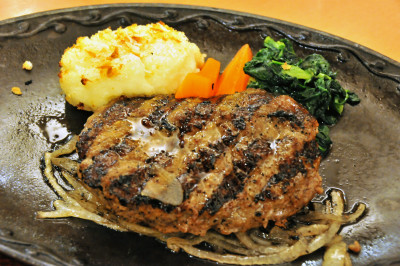 Place the Daikonori and get wasabi soy sauce. It's thick and thick hamburger, but thanks to wasabi-soy sauce it's unexpectedly delicious and flavorful. In addition to having the taste of the meat tightly confined, there are no extra gangs, so people who want to taste meat, in particular, let's choose this.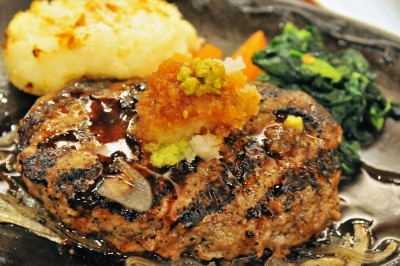 "Mixed bibinburg" 880 yen. Because bibimbap + hamburgerg, sweet sauce and mellow eggs, spicy spinach kimchi and meat are all blended together. It is a point to mix thoroughly. It is 980 yen with rice, so if you eat it with rice, it feels like to get rid of it.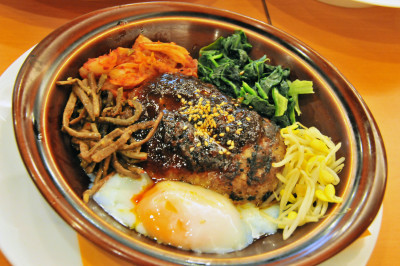 "Fire devil hamburger DON" 1080 yen. It is an item of spicy attention.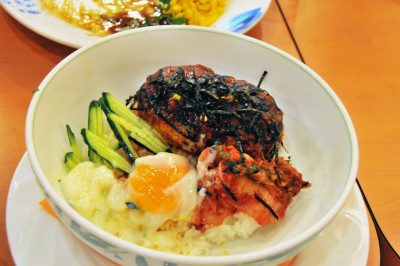 The outside of the hamburger steak is red.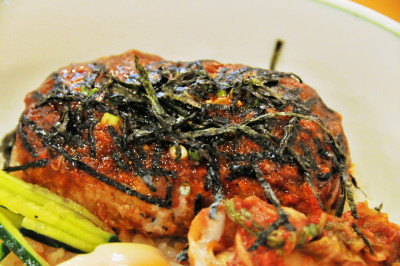 Even without eating hamburgers, the editorial staff who did not like painful things just by eating rice with a little bit of sauce was at the level of screaming as "impossible!", So when you let the children eat you should be careful ... who can not eat it It might be good. However, if you like spicy things you can eat delicious while sweating while saying "it is hot". Summer is good because such a hot menu is substantial.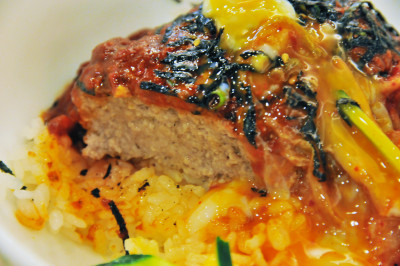 "Beef Caribi Yakiniku & Negishi Hamburg" 950 yen. BBQ and hamburger are on one plate and it is good deals.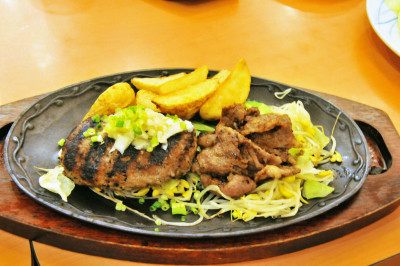 Salern flavorless hamburger without source, but this is also ant. It was a taste that I wanted a little rice.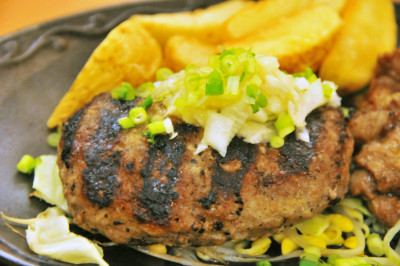 "Big Hamburger Mountain" 1180 yen.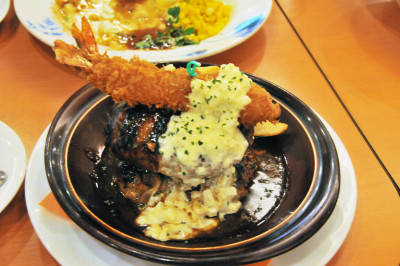 A huge luxurious dish that a shrimp is on a hamburger stepped pile.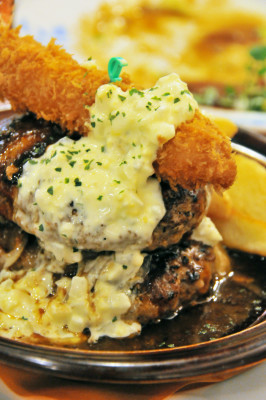 Hamburger is of course juicy, but the crispy texture of fried shrimp does not stop. Tartar sauce goes well there too. You can see shrimp and hamburger steam set, but the idea of ​​making it three-tiered is wonderful.



"Grilled vegetables Hamburger with roasted cheese" 880 yen.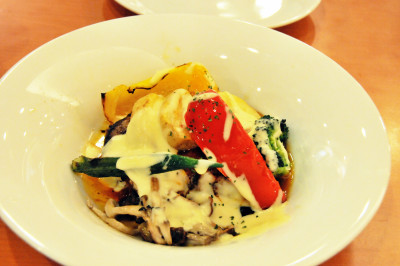 I do not know because it is hiding in cheese, but there is hamburger in the middle.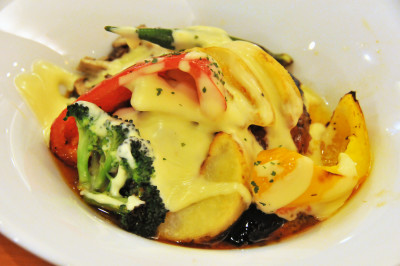 Because it is tightly wrapped, the hamburgers remain in a row. If you eat it with tangled with vegetables and cheese around it you can taste the flavor.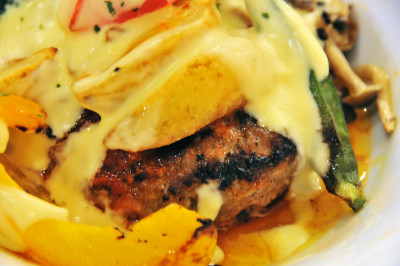 "Avocado Hamburg 2010" 780 yen.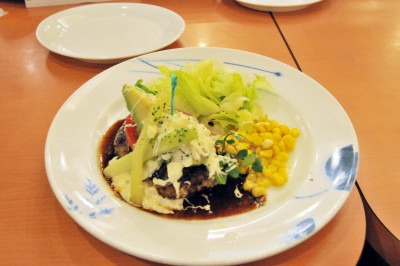 It is like hamburger with avocado salad.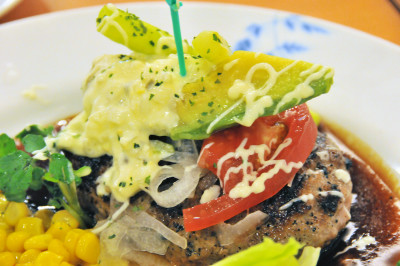 The arrangement of cold, undif [iota] avocado and hot hamburgers is astounding. Creamy and healthy avocado is compatible with a variety of foods.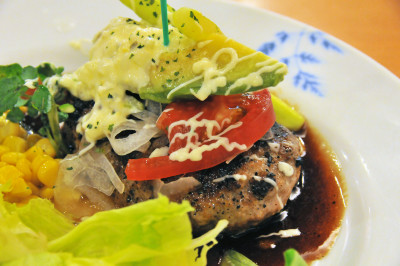 "Avocado & Tororo's Japanese style Locomoco DON" 980 yen.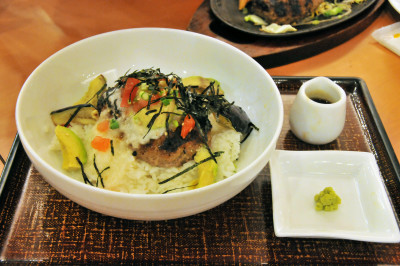 A hamburger has something mixed with avocado, eggplant, and roe.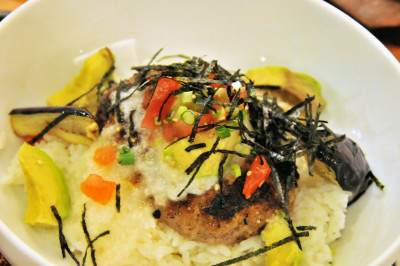 Summer menu for refreshing with wasabi and soy sauce. I would like to buy avocado and yam and manage it at home.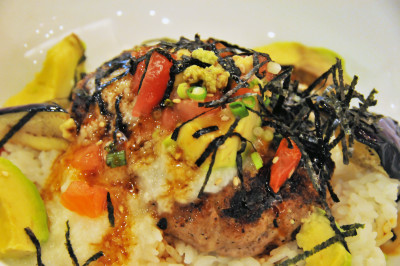 "Grilling dinner steak & shining Mayo hamburg" 1280 yen.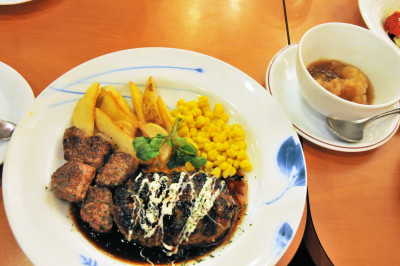 I tried plenty of radish on the steak. It seems that the hamburgers are balancing with the teriyaki sauce plus mayonnaise, making the steaks smolder.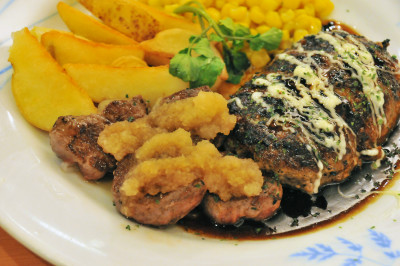 "Demiglas hamburg" 780 yen.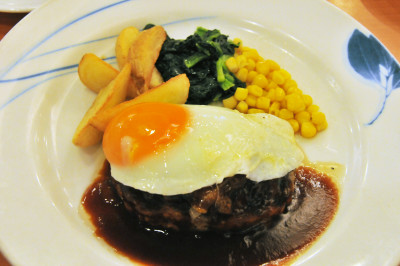 Combination of standard fried egg + hamburger steak.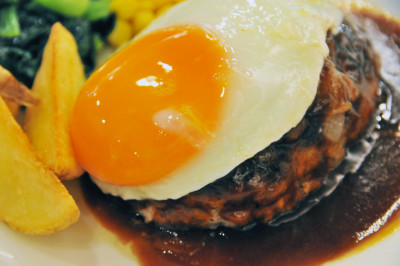 Even though it is 780 yen, the satisfaction is satisfactory because there is so much wall thickness.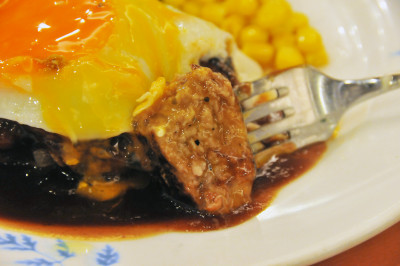 "Japanese style hamburg" is 680 yen.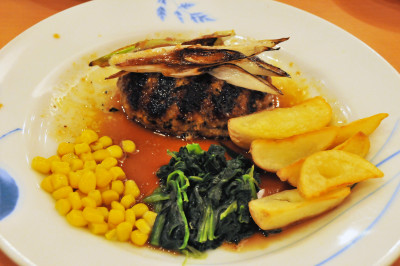 The most standard menu.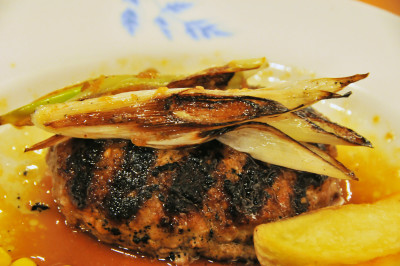 However, Standard is also a popular menu of the classic. I think that it is quite cost performance that it fits within 1000 yen even if it is set with rice or bread.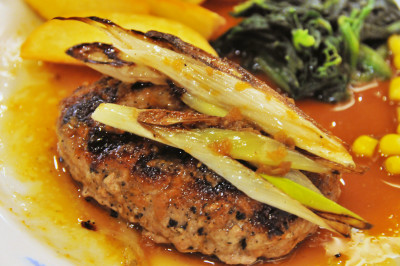 Although there were various hamburger steaks from the stupor to the familiar person, the common thing is that Patty is solid. If you are a frozen patty patch of toilet, after eating "I got it, I had better spaghetti or something," I regret that I regret, but if this class of hamburger is hamburgers, is not it satisfactory first? Because it seems that it can not be eaten forever because it is a fair product, people who have an interesting menu are more likely to visit earlier.

"Denise and "K-on!" Collaboration dessert, after school tea time Recommended menu Tasting reviewContinue to ".