I tried a junk 1 piece collocated by Columno and U.F.O. "Nissin-yaki soba U.F.O. Columno Hot Chili taste"


From July 5th "It is released in the western part from Chubu"Nissin-yaki soba U.F.O. Columno Hot Chili taste"I bought it immediately and tried it.

Even just a snack pastry on a junky cup fried noodles "Columno"Junk food lovers like to have a collaboration product has become. I decided to check as soon as I heard that people who ate like "He!" Like painting "Hei grandma" familiar with the "columno" package.

Details are as below.Nissin Yaki soba U.F.O. Columno Hot Chilli taste | Product Information | Nissin Foods

This is "Nissin Yaki soba U.F.O. Columno Hot Chili taste"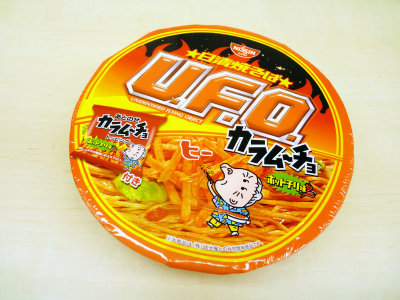 It seems that Columno Celo itself is attached as a topping for the rest. It seems not to be the wind that is arranged especially because it is for topping.



Looking at the raw material name, Columno seems to be written with "French fries" apparently.



Calorie is perfectly 554 kcal per meal (117 grams).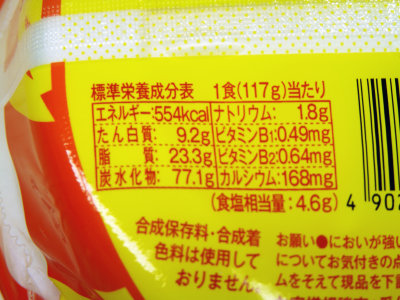 Allergy display is like this.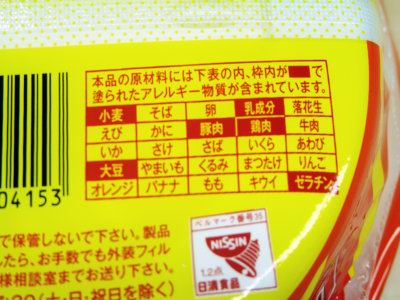 This collaboration is "UNIQUE PROJECTIt was realized with a collaborative project of Nissin Foods and Lake Ikebukui.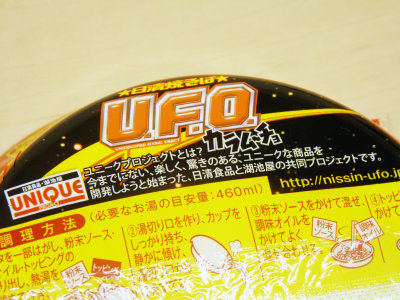 Inside, powder sauce, after-treatment columno and seasoning oil were contained.



Pour hot water and wait 3 minutes.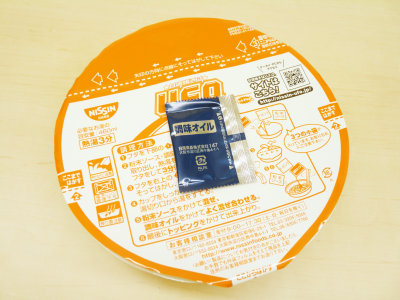 Peel off the film of the hot water cut and throw it in hot water.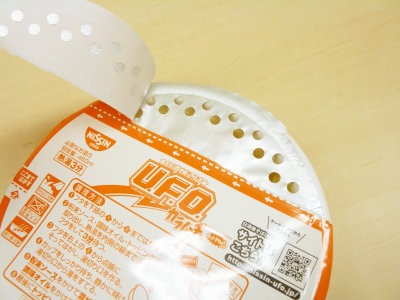 At the stage of mixing the powder soup, an editorial staff who was present was shouting "Sharp, hot, smells are hot !!" and a strong red pepper odor occurred. Besides that, the seasoning oil is bright red and I wonder how hard it is.



Completion after finally carrying the column - up.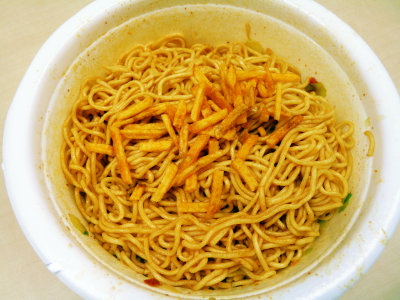 The picture that snack confections are on top of instant noodles is shocking to the ground. There was a great smell at the cooking stage, but when I try to eat it is not as spicy as to say "Heat", if it says it is a cheap sweetness It feels like being extreme here. Columno's crispy feeling is a good accent. The taste of the sauce itself is quite different from the original source taste of U.F.O. It is a refreshing taste as it adds a little bit of spicy to the salt sauce and it is surprisingly summerish taste. It seems to be said that it is perfect for when you want to eat something bit hard or when you want a junky thing at will.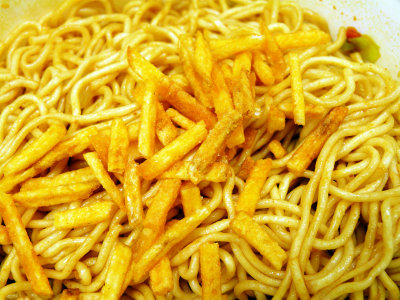 By the way this is not a Kansai limited item but in the eastern area from the Kanto area it will be launched from Monday, August 16 next month, so it seems there is a chance to eat even those living in the Kanto area.