A cheap price of 100 yen for one piece of chicken, Kentucky for sale at the price of the founding in commemoration of the 40th anniversary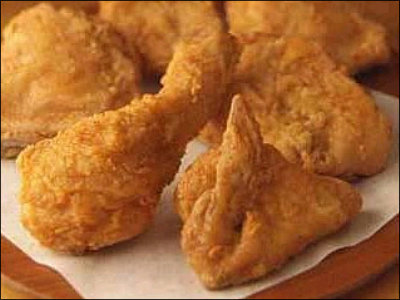 Kentucky Fried Chicken celebrating its 40th anniversary on July 4 (Sunday) announced that it will sell the original chicken at a price of 100 yen, the price at the time of its founding.

Considering that the regular price is 240 yen per piece, it is a very reasonable campaign.

Details are as below.
40th anniversary celebration anniversary July 4th, 2010 (Sunday) Limited | Kentucky Fried Chicken

According to the official page of Kentucky Fried Chicken, the company sells original chicken for 1 piece at 100 yen on July 4 (Sunday) of the founding anniversary in commemoration of the 40th anniversary of its foundation. It is limited sale up to 5 pieces per person, targeting 200 first-come first served.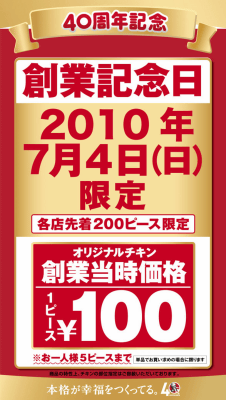 Also, as a 40th anniversary commemorative campaign, if you purchase more than 7 pieces of original chicken"7 piece barrel" where 40 yen per piece is discountedAnd40 yen discount of BOX KentuckyIs also being implemented.

KFC 40th anniversary commemorative site "KFC!"