Including tax from Kentucky 1000 yen "¥ 1,000 pack of summer" Appeared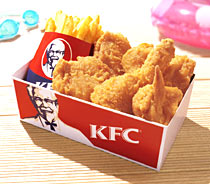 It is released from Thursday, July 13, 2006, "¥ 1000 pack" is 5 pieces of original chicken, 1 (Fried Potato) (1), "¥ 1500 Pack" is 7 pieces of original chicken, 2 pieces of fried potato (L) It is.

The details of how much money it actually is about as follows is as follows.
It's summer! It's chicken!
From Kentucky, the chicken products of the summer only appear one after another!
Released plenty of affordable just-in-chicken "1000 yen pack of summer"
~ In the Bon Festival, "Summer Burrell 2006" released perfect for family gatherings ~

In addition, since it is a combination of 1113 yen as a normal price "1,000 yen pack", it is 113 yen, if it is "¥ 1500 pack" it is a combination of 1638 yen, so it feels like 138 yen profit.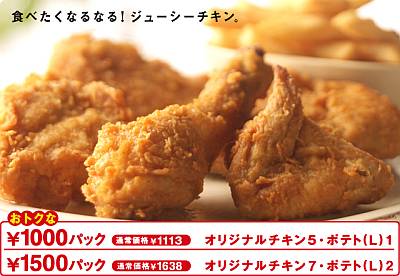 Besides, it seems to come out as "Summer Burrell 2006" limited only for summer. It is released on Thursday, August 10, 2006, including tax 2350 yen. Asian spicy chicken 6 pieces, original chicken 6 pieces combination.