Microsoft scenario for big victory, contents of the leaked "Windows 8" in-house confidential data are very outstanding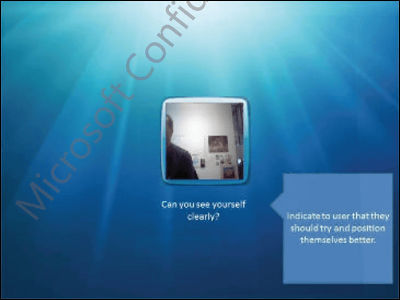 What is wrong, where, and what is wrong It will be released in 2012 and will be the next Windows "Windows 8Things that seems to be presentation materials of "(Tentative)" leaked out on the net, the contours of new functions and future schedule have been revealed one after another from that material.

Particularly noteworthy is how Microsoft is analyzing how to recognize the current situation and what kind of next step should be taken. Beyond Windows is the key to victory! It is said that the business customers are not choosing the product by the coolness of the style and the coolness of the style, furthermore, the influential Early Adapter is not technically powerful but the interest in technology strongly influences It is a powerful presentation and it is a presentation that makes it easy to read.

So let's see the new features that Microsoft will have in the next Windows 8 while actually looking at the document. Details are as below.
Windows 8 Plans Leaked: Numerous Details Revealed | Windows 8, Windows Phone 8, Office 15 | Stephen Chapman @ MSFTKitchen

First we are analyzing how Apple has accomplished it with respect to the fact that Apple has become quite powerfully standing behind Microsoft's market capitalization. People are aware that Apple's brand is high quality, easy to use, and working properly, and as a user experience it is designed to allow people to recognize the value of what they have, so people Microsoft acknowledges that increasing the satisfaction with the product by recognizing the value and feeding back to the Apple brand that people have paid Apple a payment cycle.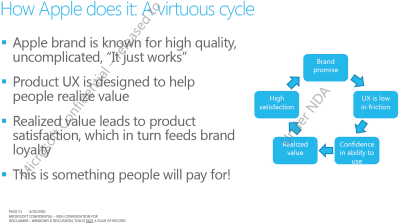 It also talks about a new type of PC that will appear in 2012, the monitor uses 17 x 30 inch, DirectX GPU as a premise of touch display, the sampling rate corresponding to more than 5 multi touch points It is expected to rise further and HD video will be standardized. For various sensors, infrared proximity sensor / ambient light measurement sensor · Sensor to judge whether the user is asleep or happy · It has a sensor corresponding to indication of the room, it is also possible to use a 2D camera face recognition login system I am trying. For the sound environment, omni-directional microphones are preferred, and we anticipate that high-quality speakers, voice control, speech communication using them, prosperity of social networking, media and entertainment experience will be possible. For the network system, wireless LAN, wired LAN, Bluetooth, and fast internet connection are supposed to be commonplace.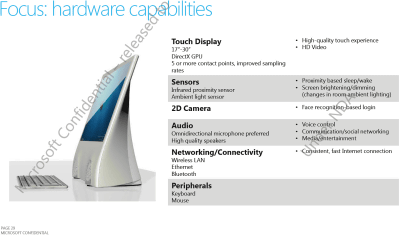 This is about the product cycle of Windows 8, development schedule. The conference itself using this confidential document was done on April 20, 2010, apparently at the stage of "planning (planning)". It is time to build up the vision now, draw a big overview, emphasize the theme rather than the scenario, and decide various functions at the present stage. Next, we enter the stage of "development (vision to beta)", make designs of various functions, decide product lineup, start sharing development code. Final focus on focusing on finishing various functions at the stage of "preparation for release", fixing bugs, preparing evaluation standards and their tracking, and creating "Dell" and "Windows Experience". Why Dell ...? Note that "Windows Explorer 8" seems to be installed in Windows 8.



Login function by face recognition which can be said to be one of the eyeball functions in a sense. In 2012, it predicts that the camera function is integrated with the PC and is nowhere everywhere, the personal computer recognizes where the user is, and it will become possible to log in automatically.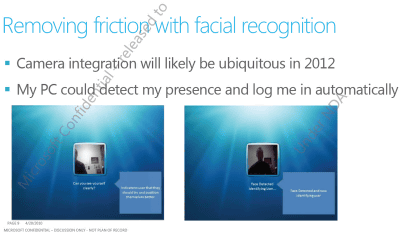 Furthermore, for Windows 8, the authentication function is said to evolve, the user account is the main method for individuals to access Windows, switching among each user account more quickly, connecting the Windows user account to "cloud" , Various kinds of settings etc can be shared by various PCs and devices, logging in to the PC as it is, logging in on the website instead of the user, increasing the security on the line more, from the machine center to the person-centered system We are trying to evolve the authentication function.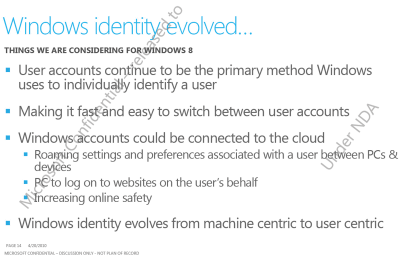 Next about the trend that affects the plan of Windows 8. As new innovative technologies emerge it will explode and change standards so far and make consumer user experience more new and unique. As a result, we need to design about the world that combines software and service about the connection between Microsoft and our customers, which also affects Microsoft's business. And it is said that a conflict occurs between the company and the individual, and it is said that each individual is a part that Microsoft helps to make a seamless and comfortable user experience with a personal part and a professional work part, especially each content Experience is personal and should be highly adapted to the end user's device and its circumstances. And Windows says that a diverse and vibrant ecosystem, that is, partners using Windows should help to maintain a stable and healthy hardware and software ecosystem in a stable manner, It is absolutely obvious that customers will not make decisions based on "quality", "performance", "reliability", "security" as the actual situation never enters from the style.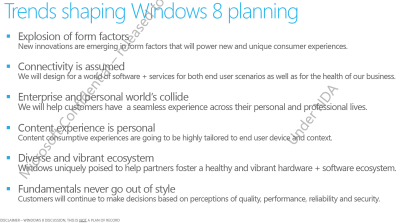 Also, the key to understanding consumers is "engagement(Attachment heart) ", and we divide customers targeting Windows 8 into two types. The first is a layer called "enthusiasts", which is only a subset of the mainstream consumers but has high loyalty and affection, and very much to the use of technology and what it means I am strongly interested and have influence when my friends / family / followers make decisions about technology. Although it tends to spend considerable time, effort, and funds as technology as early adapter, it is said that it is necessary to pay attention to not having technology experts or technical capabilities. And as the second target, "mainstream consumers" have been set, they have only a low degree of affection in the middle about technology, but every day bringing technology to other people and something else I use it to get. Technical knowledge is diverse, but overall there is not high technical skill. The affection and influence about technology is also lower than in the middle, most of the things they do.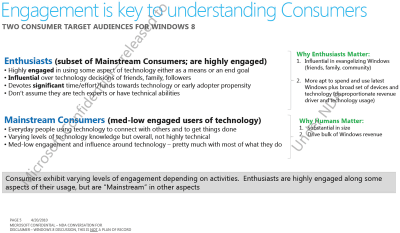 Next is an assumption about the basic business model concept of Windows 8. The key to building an ecosystem is the key and the key to success in Windows is the choice of hardware, devices and software, so Microsoft is interested in all PCs and everyone from low-end to high-end systems to Windows It should be provided. And exceeding the past Windows has leads to victory, it is said to be "Windows + Windows Live + Internet Explorer". Also, upgrading the OS is an opportunity, we assume that the fact that Windows is installed from scratch to create this ecosystem is the very chance, customers need to know what to buy, Windows We should make it easy to know what to buy throat edition.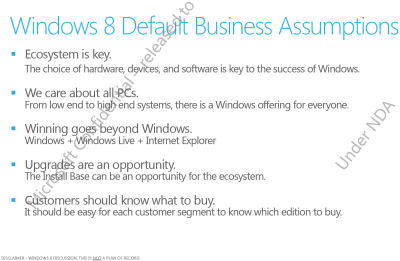 The following figure shows a market that Windows 8 can reach, with professional developers (people whose programming itself is a job), students with a mind to become an entrepreneur, and enthusiasts (mania, doing programming with a hobby ) For each of them. The orange "STEM-D" in the upper left is written by professional developers whose educational institution stakeholders are 39 million and the underlying light blue part is 8.6 million, the biggest red part Is a hundred and forty million enthusiasts or non-professional developers, and the Windows 8 target market is a part surrounded by white circles.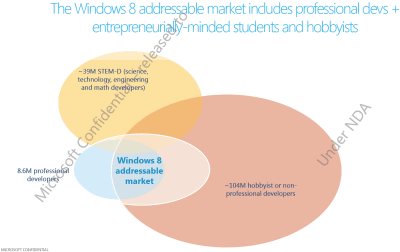 On the goal of differentiating Windows 8. Microsoft partners want Windows to be unique, harmonious and brand-experienced through the delivery of distinctive hardware and software. For customers who want to buy a new computer against Windows8, it is necessary to clearly recognize the value provided by Windows 8 and choose a PC with Windows 8 as the best match for their personality, interests and lifestyle There is a need.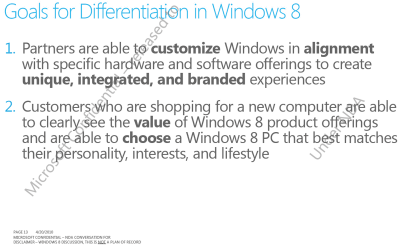 This is a diagram showing the potential area that can differentiate Windows 8. What is above is the form factor, in short, the hardware part, below is the customization, that is, the software part.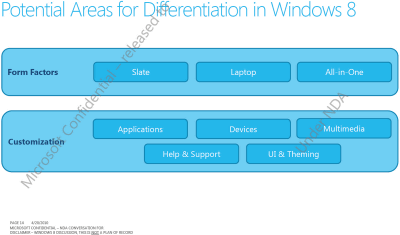 Firstly from the hardware above. As Windows needs to be offered to partners and developers as a modern platform, we have narrowed the target to three clearly.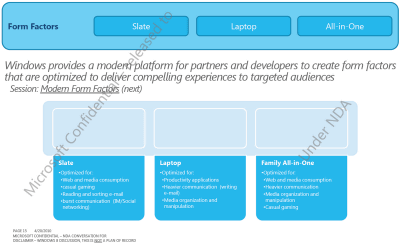 Hardware called "Slate". This is a so-called tablet PC, like Apple's "iPad." Main purpose of web browsing and multimedia play, casual game, reading and sorting e-mails, communication by messenger and SNS. The second target is "laptop PC", which is to produce productive applications, write e-mails, and create multimedia files. The last third target is "all in one", in short it is a desktop type PC with all entries, creating web and related multimedia, heavy communication, multimedia file creation, casual game It is.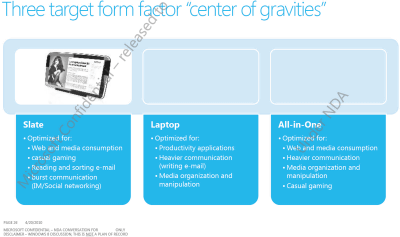 For those customizable software parts that run on these three hardware, first from "applications". Microsoft partners can use "Windows Store" like Apple's iTunes Store and App Store, for example HP as "HP Store Powerd by Windows", "Essential application", "Recommended application" "Good deal It is possible to induce such as "an application." Furthermore, regardless of whether you logged in to a different machine on this Windows Store, HP can re-download applications once you use HP's ID, software licenses are tied to users, not machines It is.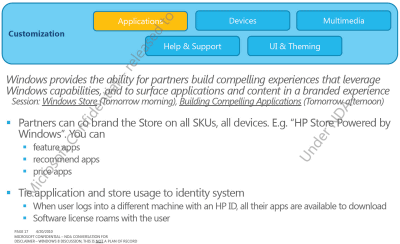 The second is "device", which is already introduced in Windows 7 "Device StageThat thing.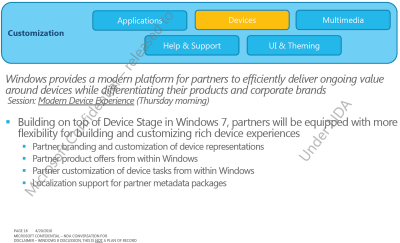 The third is "multimedia", even with battery operation properly performance, copyright management such as HTML5 video and DRM works, 3D display andDLNA, "PlayTo" function (Japanese version of Windows 7 "Remote playback"It is implemented as") also works, especially beyond the dimension that remote playback can be played back on laptop PCs, we will also support peripheral devices and multi-screen.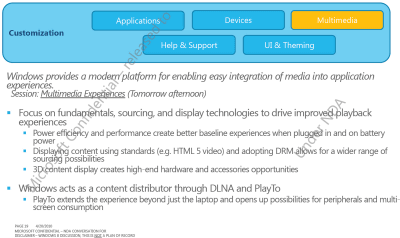 The fourth is to update the contents of "help & support", help properly, make online content of each OEM company searchable as well as Microsoft, and make trouble shooter searchable as well.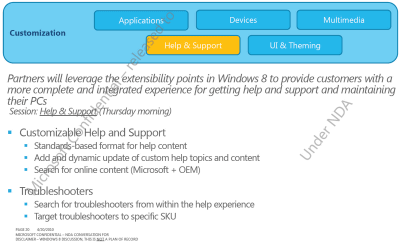 The fifth is "User Interface and Themes", which includes customizing Windows itself, touch and gesture and 3D support, optimizing for smaller screens, reducing the complexity of specific app promotions and overall Windows experience, and It is a product customization due to geographical difference.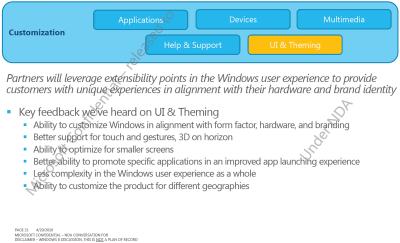 To summarize the above, Windows 8 provides raw materials that produce such value.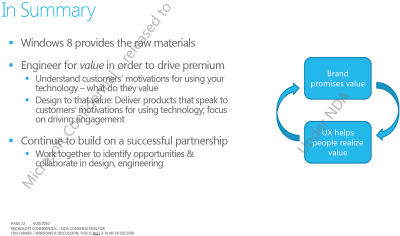 · Continued
What is the new technology "logoff + hibernation" that halves the startup time of "Windows 8"?