This interviewed Kaoru Matsuda of election planner, unknown actual condition of Japanese "election"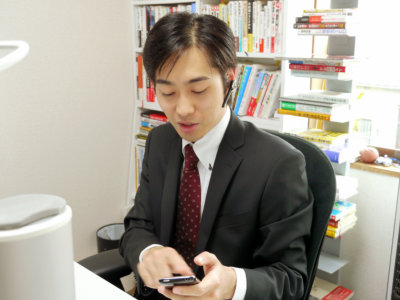 The public notice of the upper house election has been made, and the election period finally enters. Candidates who unwilling to have that one vote of each of you repeatedly sprung up to every corner of the city with a street car while communicating names with familiar loud speakers every time, a unilateral speech was repeated on the street, " Voting day in the blink of an eye quickly, I do not know who I should vote for in the end even if it is before the voting ... ... That is the election in Japan, but the back stage is like that It is not half-bad.

From the table to the true appearance of the election, to the real problem, the story behind every and every election, a profession who conducts consulting work for candidates who run for the election "Election Planner"I interviewed Mr. Kaoru Matsuda who is the youngest in Japan and heard various things.

The interview full of the story behind the elections of Japan is as follows.Dialogue - Japan's youngest election planner election consulting / election investigation / net election / voting rate improvement by Mr. Kaoru Matsuda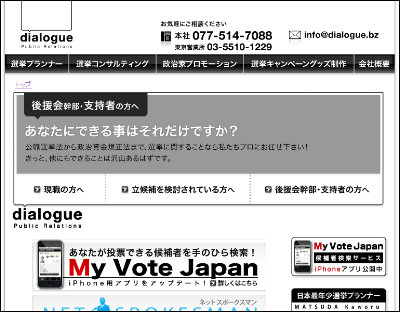 Arrived in Shiga prefecture where there is a dialogue co. It's about an hour by train from the editorial department, but at the moment I get off the train, the refreshing air will pull through the editorial staff. Contrary to expectations, such as Lake Biwa can be seen in the distance, the company was quite a peaceful place.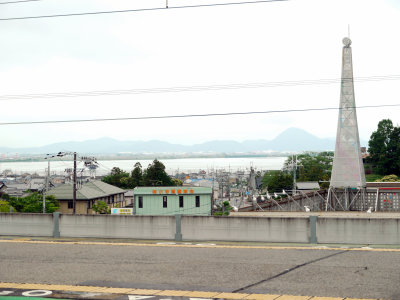 This is Mr. Kaoru Matsuda, the representative director of the dialog. Before the interview I will show the work scenery and the inside of the office.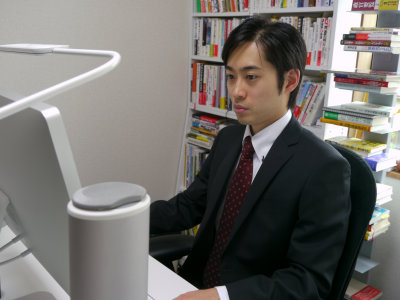 Printers andScanSnapWe have all kinds of gadgets.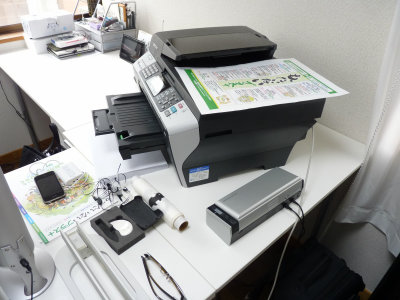 Mr. Matsuda is an iPhone user and has been using much energy, such as eneloop batteries are always equipped so that they can withstand use for a long time. In addition, it seems that it is in a state that you can make a phone call by hands free using a headset.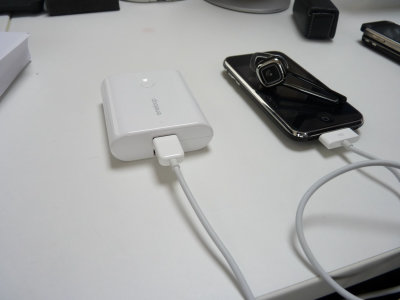 It seems that all business cards manage data on the iPhone. It is said that the business became much easier after acquiring the iPhone.



It seems that I am doing business while calling like this. One thing that makes you feel delectable is transmitted through a single shot that incorporates state-of-the-art things.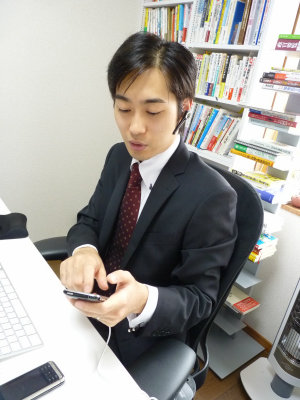 While strengthening PC surroundings, elections always come with paper materials, so they are constantly preparing several kinds of tags.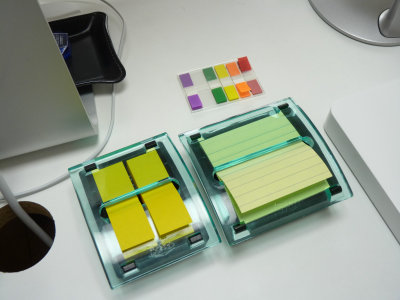 Besides the desktop, there is one notebook. In the near future I would like to purchase an iPad. I've been running Mac users all the time and almost all my in-house PCs are Macs.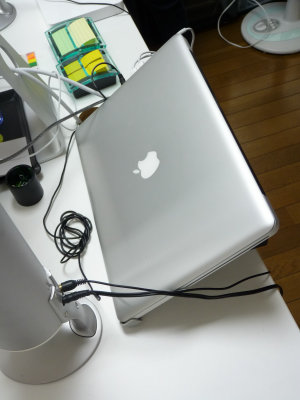 Election-related books are spreading on bookshelves. About the shrine that is above it, "If you do something you can do, the end is a god-honored one" is placed.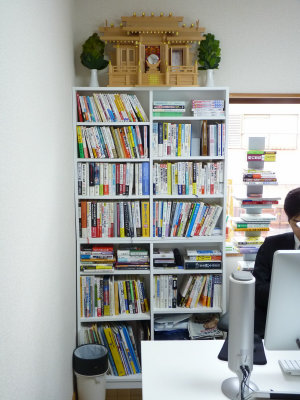 This time, Mr. Kaoru Matsuda, the representative director, asked me to interview.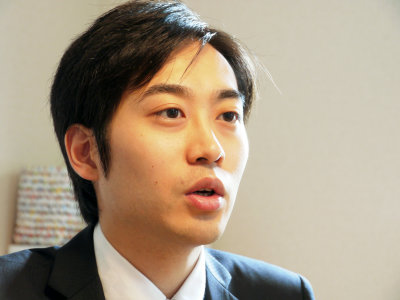 G:
First of all, please introduce yourself.

Mr. Kaoru Matsuda (hereinafter, pine):
Election planner Kaoru Matsuda. I have been saying that it is the youngest election planner in Japan for about 2 years ago, but since at the moment no such people have appeared, probably it is supposed to be the youngest election planner in Japan think.

Originally I was not interested in elections and politics, I graduated from college while working at a design company and after graduating from college I worked at a university and worked on various advertising exercises in a variety of planning activities, personally public · I was studying Relations (PR) and public relations. I felt it was not very suitable for working in a big organization like college, so I thought about quitting in about two years, but at the timing I quit I was taking care of me since my school days at that time He was a professor at Kyoto Seika University which was also an alma mater and a work place,Yukiko KanadaHe said that he will go to the prefectural governor election and help him. At that time I was not talking about electoral planners yet, but I was wondering what I should do to take non-partisan countermeasures or floating votes, or want to think about image strategies as design and public relations experts. There was not enough time to prepare for the voting day from three and a half months ago and it was a story of a lack of people, so there really was not a day off every 3 months. I got about five kilos.

During the election, there was a story about making Shinkansen's new station in Shiga prefecture, but Nozomi stopped, Hikari and Kodama only stopped about one hour in one hour, Up to Kyoto by conventional line 30 It was a station in a halfway place called a minute. With the promotion of its construction, the incumbent of the third term is working hard, and in the situation that the LDP and the Komeito and the Democratic Party will recommend in a joining way, independent and female candidates of the newcomers have won, very It became a topic. I heard that I had been taking care of everything from the beginning to the end because I helped you.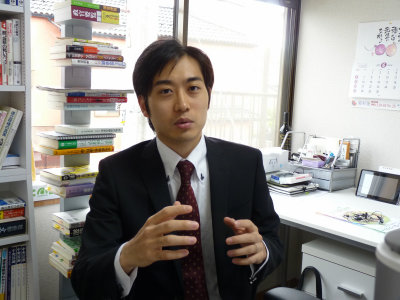 G:
Where is the decision to help Yukiko's election help?

Matsu:
Mr. Kata was very easy to understand the motive for the candidacy. Mr. Kata has been studying Biwa Lake in the field for more than 30 years before he was elected candidate, I have been watching it since I was a student. As a scholar, Mr. Kado dissected about dams, flood control problems and conservation of Lake Biwa, but society did not change. Now if I do not manage it at this timing, Shiga prefecture will be bad for Lake Biwa. That is why he says he will go to the governor's election to change society. It is very clear that the reason for going to the governor's election is very clear, I was convinced very much when I heard that story. "Gatten" and (laugh) In short, power is a means. If you become governor of Shiga prefecture, you will get the power to change.

That is why I was supposed to support the hardest, although a stunning Kata was elected, I planned to construct 24 billion yen using the prefectural tax, the problem of the Shinkansen new station I mentioned earlier. I had already criticized that it was a construction ceremony and it can not be stopped at the moment, but Kado stopped his plan as promised. I can not quite stop the large public projects normally, but stop me tightly. Regarding flood control, basically it is proceeding in the form of flood control that does not rely on dams, and before the Democratic Party of government, it has launched a freeze policy on unnecessary dams. So I felt that society would change if politicians changed. If Mr. Ika is defeated and the former governor was elected, the prefecture's finances may have broken down.

When Kata got into the election was just a year before the House of Councilors election, it was told that it was the purpose of the election of the House of Councilors, or I was invited to recommend if I was to promote the Shinkansen station I tried tapping all of them. Mr. Kata wanted to be the shiga prefectural governor, I did not want to be a politician, so I could refuse them all. It is truly striking. Therefore, Kagoshin is a model of a person aiming at a politician in me.

A large printer that was in the room where employees worked was said to be used for test prints of posters, and that Kada's poster was also designed here. Anyway the facilities are substantial.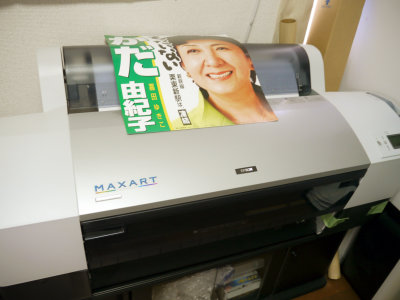 G:
How do you get orders for work?

Matsu:
The election industry is very narrow, people are also coming from outside the prefecture, which is also a prefectural governorate election, they are people who are also elections of their own, or are members of the area It is. People who met each other at the time of Kada's election appreciated my work and started asking for my own election as well. At first I thought about doing things like planning and public relations personal business, so-called "single advertising agency", but there was also Kada's election, and the work entered by introduction was 9 It was related to the election campaign, and I did not take a break for about 2 years only for election work. Under such circumstances, election know-how has accumulated to some extent in myself, so I thought that I should focus on elections, and I started heading for election planner in the beginning of 2008.

It is just the fifth year since I first started my election work. So far, about 80 candidates have been helped. I have not reached 100 people yet. The winning percentage has declined a little now, I think it is around 75%.

G:
Does that mean 75% in a downed state?

I agree. It is 100% winning probability all the time without election, but (laugh) It is quite undefeatable there is unreasonable place, especially in our company, Kada's election image is strong, does not have organization backing shield, To be clear, a person who does not normally win is coming to ordinary. There are a lot of requests for newcomers saying they have no organization or election for the first time. Approximately 30% of the incoming person's request, about 70% is newcomers.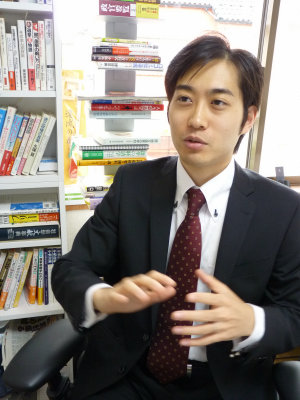 G:
Although it was said that he used to be a staff of the university before, how did it start to start the election consultation with the trigger?

Matsu:
Originally it was designed by a company that worked in college as part of design or such, but design is a way to the last. It was not the purpose of making a villa, I asked a lot of customers to come, I wanted to access the homepage, I got the part that I had to do something after firmly seeing the purpose, I got it.

Since there was such a way of thinking, there were times when it was working from a university that I would rather go to the project person than the designer. Since I've always liked studying myself about the part of planning and editing, collecting data and collecting various data, I did not get bothered by analyzing past election data. When I put down the part of what I am going to do in order to achieve the purpose, I finally got help in the form of consulting.

I was not thinking that I was going to be a consultant, but when I did the necessary things in the order of the idea of ​​"I want to realize this kind of things when I try to realize this kind of things" As it is the flow that it was consulting, I never thought of actively consulting in myself.

G:
As I mentioned earlier, 70% of newcomers will be asked for election consultation, but even if we have all of the ground (support base), signboard (famous degree) and bag (funds), we will be in the election consulting Is there a case to request?

Matsu:
Yes, there are. Although about 30% of requests are incumbent people, there is a fear that elections do not really know what will happen, so there is a request that I'd like to ask, although I think that is probably OK. It seems to be almost incumbent. So, how to help you will be different from the case of newcomers.

In the case of incumbent people, our company is completely turned into a black ladder, and knowing that we are contracting may be in the form of only the head of the selection headquarters and the principal and the family of the principal. So, the strategy that I made, the analysis of situation, etc. will be the head of the selection headquarters. That is why supporters who have supported it until that time do not feel comfortable with external consultation.

Some people buy antipathies such as "Can not trust their strength," some people have partitioned elections in the area, and unnecessary conflicts may occur. It is in our company that we make a major plan such as independent public opinion survey on phone, analysis of past election results, strategy based on it, devising catch phrase, etc., but in the field of work Recently there are a lot of patterns that everyone (the campaign headquarters) will do it.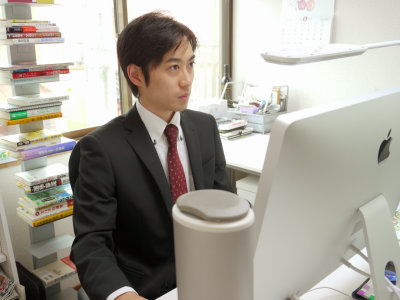 G:
So, what kind of policy do you consult for newcomers?

Matsu:
In the case of a newcomer, it really feels like I teach from the "I" of Iroha. First of all, if you want to run for the first time, you need to have your own political organization. It is like "○ ○ support group" or "a group that creates bright ○ ○ city". Since we have to issue a notification of the establishment of a political organization, we will help you from that way of writing.

Why is this necessary, for example, if there is a mayoral election in Osaka, a candidate who runs for it will say "Please support me for Osaka mayoral election ○ ○, before the election" It is regarded as an advance exercise and it becomes a violation of public election law. Although it is very confusing, there are words of political activities and words of election campaign, and although the election campaign is included in political activities, it must go only during the election period.

In the case of the Upper House election that is to be announced soon, it is a vote on 11th July at the official announcement on June 24th, but you should only do election activities from the day of public notice until the day before the voting day. Then, how to make an exercise for winning beforehand is not to say "to go to the election", "Since there is such a problem in this town now, I would like to change this style to myself I will appeal the policy. Because it is political activity to appeal my principles, assertions, policies, it will not be a violation. It is truly confusing, but (laugh)

If this example is just a mere interpretation of the law, it will be until then, but there are many such precautions. In running for the election, you do not understand ordinary people, such as whether you need to make your own political group or how fund management organizations can do such things. So, if you have a completely newcomer and you have an organization to some extent at the current position, how you engage also changes.

G:
Do you also do consulting of so-called foam candidates (electoral candidates who have a very low prospect of electing elections)?

Matsu:
Whether it is a foam, because there are some results, I can not say anything. Anyway, when I meet with the candidate, I truly support Japan if I can improve my will and the will to improve my city where I live, but I've never helped a candidate for foams at the moment . I have been asked by such a candidate to date so far.

It may be slightly different from the foam candidate, but recently there are many funny queries. For example, by e-mail, inquiries such as "I want to go out to the mayoral mayor of Kyoto, can you do it in about 1 million yen?", Neither a name nor a contact address will come. Since the mayor election will cost more than 1 million yen only with the deposit money for going to the election, it is impossible to run in that amount, and it is terrible that there is no contact and name.

Also, "I do not have money, time, and labor, I do not want to do much trouble, so please ask me to wake the wind and win". Of course I am not saying this clearly, but in essence this is what I think. It was from an incumbent lawmakers, but I declined to answer that I am impossible because it is not a wizard (lol). Elections are the qualities of candidates, and preparation is important more than anything else. Because I am the assistant of the candidate to the last, I am refusing about those who are not prepared.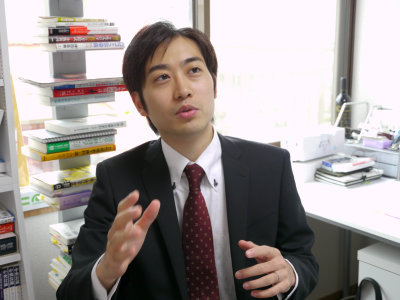 G:
There seems to be something that is lightly sticky, "Let's change jobs to politicians".

Matsu:
After all, there is a misunderstanding that it is a stable occupation in a sense. Because there is election, it is not really stable at all. There seems to be some people thinking that it is status to be a member of the Diet. So, the part I want to win is coming out before.

There are two patterns for those who consult us, which is very easy to understand. Anyway, hot people suddenly called me up and they phoned "I have a problem in our town, so we have to change!" At the phone entrance. No, who are you? It is such a momentum (laugh) That person who has a will is such a feeling. On the contrary, there are people who are conscious of just winning the election from the beginning, saying "It is about money like this, but can you win if you should get a recommendation from a political party?" The purpose is to win. I generally understand it when I talk to you, and I refuse the latter as I lose.

G:
Does that mean that there is a high possibility of losing the election if it is detailed in money?

Matsu:
Of course, I have know-how to keep my money from being wasted, but I also give advice, but there are some parts that money will necessarily come, such as prints and folds of villas. So it can not be helped to win, people like managing to borrow money is overwhelmingly strong. With regards to money we are stubbornly sticking out the groundwork, because the date of the election has been decided, it is getting behind the back.

When supporters moved hard as "Win!" And the candidate says that "There is no money to reprint, but when there are no villas to distribute," the proponents' morale also goes down. Elections must be made not to spend money, but those who actually have insufficient visibility or partly missed in the portion of money that is actually needed will be defeated. Our company has also been reluctant to pay, deloned, I have had painful eyes.

G:
Is there such a thing ...?

Matsu:
It is unthinkable, but it hurt me several times. There are things that will not happen in interactions between ordinary companies. It's hard to get over it, it does not happen quite among companies.

So, we are coping with changing contracts, making a prepayment system and changing various ways. There is no time to election anyway, so I do not have time to stop with the money story. Although we are recommending exchange, we are recommending, but at the stage of payment at the end of the election, even though we are ordering through the estimate, there is also such a thing like it is being overwhelmed at the end. In addition, after being priced by the estimate or being priced again ......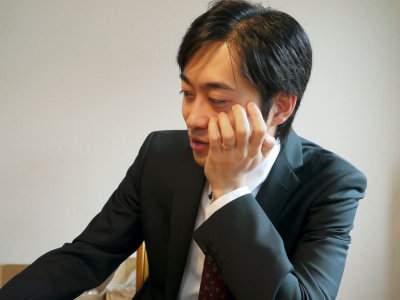 G:
Have you ever declined refusing to be consulted? What kind of patterns are there?

Matsu:
There are various things. The most troubling thing is the time when requests from both camps came in the local chief election. Such a case has happened twice in the past. The first time, the next day when you asked for a job by introducing your acquaintance, a request came from the other side, of course it can not be said that the request from the opponent came, so you can not say that it is impossible to schedule It was. It was okay for those who helped us to win, so it was good. For the second time, requests from both factions came and I got acquaints from both camps, and at that time other work for the election had already been entered, so I declined neither.

As our company is helping with people-oriented regardless of partisans, there are times when we get involved without regard to the ruling and opposition parties, and there are voices coming from various places. Hitoshi cuts out who was the introduction in those elections at the time and whether the story was early, and even in the same constituency, even if it is an election where multiple people are elected, we can not request a contending candidate . First of all, it's hard to do. When it comes to talking which one wins, it is ethically problematic and you will not know how to apply it. This is something like in-house ethics unique to election consulting company.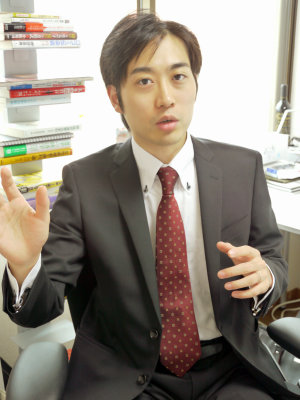 G:
It is not simply selling things, because the relationship will continue afterwards.

Matsu:
I agree. In the summer of 2009, there were many requests from the current parliamentarians, but we refused because no one can receive it.

G:
In terms of election activities, there are a town propelling car running through the streets, a voice of Mr. Ugisuis, and an image of distributing flyers, but what is the most effective means at the moment?

Matsu:
Actually there are many different kinds of elections, the election period is also different, and the target municipalities are also different. The biggest election is the election of the House of Councilors and the election of governors, there is a period of election for 17 days. Election of the House of Representatives is 12 days. Based on about 300 thousand people, we divide the form of one district. So, it is 12 days for about 300 thousand people.

Another is the mayoral election of the government ordinance. The government ordinance city is about the population of about 800,000 or more, but in Osaka if it is Osaka city, Sakai city. In that case it is 14 days election. In short, the length of the election period will change depending on the number of eligible voters and range. By the way, the shortest is the towns and village parliamentarians, the mayor of the towns and villages. That's 5 days. There is not a week. It is short-term battle of Tuesday notice, Sunday voting.

So, each effective means by election will change. Because there is also regionality. For example, in the House of Council elections, the biggest influence is the huge media. It is greatly affected by reports such as TV and newspaper. Even if you distribute the villas at the station, even if you are speaking with the people of the Democratic Party, even if you give a speech to the station at the end of May and give out a villa at the end of May, no one will receive it, but if you distribute it now you will receive a mess up is. It's easy to understand. It is very painful if there is no accumulation of advance in the part of whether or not something will happen when the headwind is blown. He says that he is firming up a member of the individual support group.

G:
I see. Among them, is there any way to expect rough effects in any election?

Matsu:
After all it would be a door-to-door visit. The experience that I came to meet and talked and shook hands is the strongest. Once, in Japan's Public Offices Election Law, the door-to-door visit of the voting request is prohibited, but we ask you to join your own support group in order to convey your political beliefs before the election period It is gray because it is "solicitation activities of a supporters association" and it will be a door-to-door visit. If you visit with someone's introduction, hand leaflets and ask membership ... ... and so on, it will not be a direct violation as a door-to-door visit.

However, it is around Japan that prohibits the door-to-door visit. The reason for the prohibition is "Because there will be money transfer at the time of door-to-door visit", this is a terrible story, I think that he is completely silly citizens. In short it is because you are assuming that voters will receive such things.



G:
If you give money by door-to-door visit right now in this era, it seems that it will end with haste after being exposed to the Internet.

Matsu:
That's right. Written as "It was acquired by Mr. ○ ○" on Twitter, it will be high end.

However, one difficulty with door-to-door visits is that people with organizational skills are advantageous. For example, 100 people will be mobilized, we will decide from this place on the map here, we will do with the roller strategy, human tactics tactics. If you can do such things, people who still have money will be more advantageous, and there are other spoofs such as spoofing and other opponents, so I think that it is necessary to properly implement laws.

But overseas, door to door visits are fundamental to election activities, so I think that it is a little irregular to regulate them. People who appeal to their policies while visiting their houses or who are doing a steady effort to have them participate in an individual support group are surviving even if they are Democratic Parties at the time of dissolution of the postal residence, But I am surviving in the LDP incumbent. People who are building such steady things are strong in the election. However, it is difficult because there is no difference between being strong in the election and being able to work as a politician in fact.

G:
I talked about the Internet, but how about this time the election campaign has been lifted?

Matsu:
It is a shame. The current election law is not a voter's eyes, but it is made of the current politician's eyes, I think that it is made for convenience to incumbent. I do not feel like having as many people as possible to vote, by raising the interests of the voters and knowing the policy. It was a shame as I thought that the ban on elections would be a breakthrough.

As a company, we began preparations from around 2007 for the lifting of the election election. I also posted on the homepage "Net spokespersonThere is a thing called "The solution is ready to develop steadily on the extension line of the solution.

It is not only net elections, but also about donation has not yet spread in Japan. Even if I wanted to make personal donations, the window was not entirely simplified. Rakuten and some companies started donation service, but it is not yet easy for voters to donate. And corporate donation is not good. Then where do politicians make money from? It turns out that. At this stage, postal transfer or bank accounts are often transferred, but if you want to donate 500 yen, you will have to pay a transfer fee of 315 yen and pay 815 yen. Ridiculously, nobody does it, this is. Because nearly half is the commission.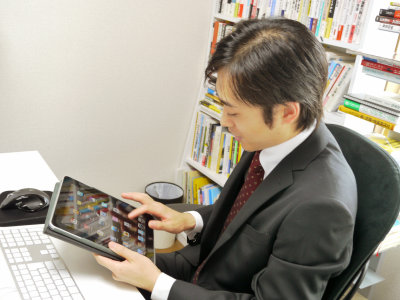 G:
It seems to be easier to put it in a donation box in front of the office ...

Matsu:
I can not do that. The candidate can not accept anonymous donation. About political parties and political fund groups, you can receive anonymous donation only for 1000 yen or less. So basically there is the possibility that the campaign box or the like may be in violation. Although there are places that I do without knowing, basically, except for political parties, I can not accept any anonymous donation.

There are not many legal arrangements about donation, and donation culture is not so taken root in Japanese society itself. I think that this area is about to come. Therefore, I think that it will change again if the organization is prepared, including losing corporate and organization donations properly, encouraging personal donation, making a tax deduction worse, etc.

Even so, it is regrettable that the election campaign flowed back. While planning and talking with the forecast that election campaign will be lifted during the election period, everything has flowed ....

However, it is still difficult to say that net elections were lifted, but it was not possible to vote on the net. As for the contents of the case of being banned, you can update the homepage during the election period, you can update the blog, but it was content that Twitter and YouTube can not be done this time. What about restricting the name of mere service such as Twitter or YouTube by name? If updating the blog is allowed, I think that Twitter can be basically accepted. It is said that such things as the risk of impersonation are told, since there is no dirt when starting to say.

Besides, I heard that Twitter and YouTube were repaired due to libelous slander, but I think that there is only candidate's side to take appropriate measures. Because the monster books are still flaring.

Yes, the monster is real. I have seen it several times. I wrote a woman problem or a financial trouble of a contending candidate in a postcard and bother to take out the post office of the neighboring city so that my feet do not stand out. The most amazing thing was that when an elderly candidate ran for a while and was not in good shape, that is, it could not serve as a term of office, two days before the voting day, "○ ○ candidate is A monologue titled "Dead!" Is flowing. I was consulted from the wife of the candidate "I should do this ... ...." I was surprised honestly. Although I settled down by letting voters show the energetic appearance of the candidates for the time being.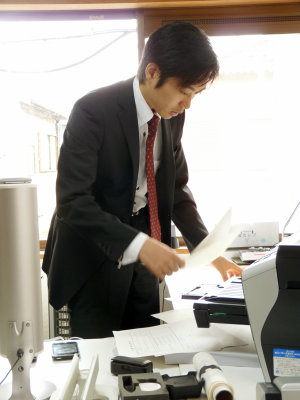 G:
That idea is amazing. If you really died, the election itself will stop first.

Matsu:
There are cases in which elections are redone. Writing something unknown and likable ones, such as monster books and accusing each other is because it is already done without a net. Well, it seems that people who do such things think what to do if the net is lifted. It is not a big deal if it is from people who have never done things like monster books.

G:
In overseas, "Spin · DoctorThere are various cases where people called politicians make up the image of politicians and influence the trend of the election, but is there no similar case in Japan?

Matsu:
The spin doctor is not limited to elections, it is a general "information manipulation pro" in the United States. In the case of the United States, the division of labor is pretty much underway for the election, and the election campaign manager divides everything, but there seems to be hiring a spin / doctor for media correspondence and public opinion operation. Besides that there are speech writers, web masters are there, or teams are working on it. It is still the presidential election that is the biggest election in America. Because it is a big project to spend two years, money spent on such projects is different from three elections in Japan, three digits are different, the period is also quite long, the way the media is taken up is completely different .

In Japan, it is quite difficult to do things like spin doctor, but it is often said that the former Prime Minister Junichiro Koizumi's dissolution is postal. That is why it was very good to bring it to the media, or why it is said to be theatrical type. "Postal dissolution, yes or no" is said. That is how it is shaped to send thugs. On the other hand, the Democratic Party of Japan could not put into effect any effective measures, and he could not object against opposition to the postal service and against counter ballasts, and it was completely buried. In that part, it means that we could not resist anything against the media strategy the LDP set in. I think that it is the first case in Japan that maximized utilization of the power of media in elections.

G:
Is any such media strategy done in any election?

Matsu:
spinThe election that the media can be controlled to a greater extent is in the House of Representatives election or the House of Council elections in Japan. It is time for national interest to increase nationwide interest. Of course, it's not as easy as you can control your way.

By the way, the LDP was making interesting animated videos during the previous House of Representatives election. A man who resembles Mr. Hatoyama says that he will propose to a woman, "I will give the freeway for free and also give me a child allowance so I'd marry." "Would you like to replace me?" When a woman says, "Do you say such a thing, money is okay?", It returns with "I wish to decide such details later" and it is the content that punch cuts. At that time it was not an atmosphere that it was accepted at all. That was one more topic about this month ago. "It was exactly the case", "The LDP knew it" It's like atmosphere (laugh) But nobody said that at the time.

It was important to summarize why the LDP was criticized at the time of that election and how to launch it. A man who is proposing to a woman (voter) is certainly dreamy and daunting, but when I say to the LDP on the same playing field, I'm cheating while I'm tied up for many years, DV It is terrible as wrinkle. In comparison, the LDP will become an unprecedented old man. Therefore, without summarizing the place, even if you criticize the other party, it will not get support. I think that I am not good at summing up on how such voters are seen by voters. Even for the Democratic Party or the LDP. Since I have never worked as a political party, I was objectively referred to as an electorate, but I think that it is really difficult to do in fact.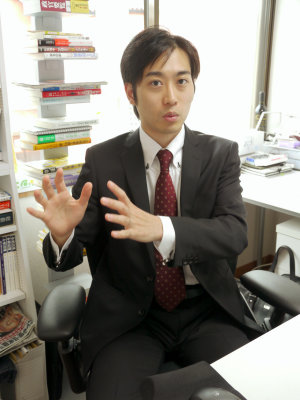 G:
Is it an illegal election consultation that can be said objectively?

Matsu:
I agree. Since we mainly say "How to pull one vote" is the main thing, I am constantly aware of such parts since I did this work. It seems like movement of support rate, but I am balancing my sense, the results of the data that comes up at that time, and the outcome of the election. I think that the accuracy has been improved much more than 4 years. Even when I got a magazine forecast, I found that the accumulation of daily activities was useful.

G:
Election consultants in Japan are said to have a low level even on a worldwide level, is it true?

Matsu:
I do not know if the level is lower than overseas, but the awareness as a profession and the size of the election are certainly different. I think that the election in Japan itself, including the Public Offices Election Law, is behind schedule. If there are only about ten people in Japan who are everyday living in election as I am, the magazine company who came to interview before said that. Even if I am aware of people being taken up in the media, such as being issued a book, seven people put myself in. Until now I have a very closed election, and when the candidate who had been in the election until that time retires, the relatives or supporters, that is, the person who breathed on him was running. Then the world does not spread. There are new independent residents and there are young people out there, and the layer that was immobilized has changed so much, so it seems that the place where people like us like us are increasing little by little.

Also, there is a difference in idea between the election planner and so-called local electoral pros. Election planner is data oriented. Of course, though emphasis is given to experience, I am going to base on scientific data. On the other hand, how to vote for electoral professionals is "how many votes they took over the recommendation" and how to read such additions. Husband's supporters also about how to calculate votes of family members, so I watch with my wife, children and grandpa, 4 votes. But, now my wife is not listening to what her husband says, but sometimes put it in a different candidate, the prediction of the vote is completely different.

People are not moving just by relationships and relatives, like a long time ago. I think that it has changed a lot in Japan's election. When I am electing throughout the country, it is a story that strangers come and what can be done, but since it is the same Japan (lol) I can communicate in Japanese and it will be fine. There are cases where there are special circumstances in the local, but I will try to do based on the data here. Regardless of how confusing that area is, after all it is anonymous voting so you do not know who voted where. So whatever you are bound, what you will eventually decide by yourself will be the job of the election planner to think about how to work on it and think about whether you will get the vote.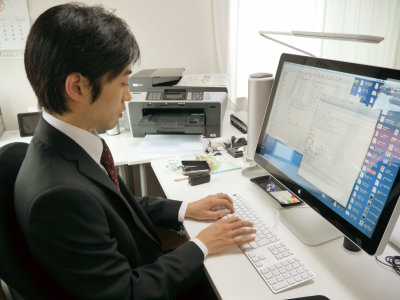 G:
So, it does not seem to be okay if there are grounds, signboards and bags like the old days.

Matsu:
The importance of the three remains unchanged, but if it says whether we can win it, it has been gone. More than anything, the election does not know what will happen.

I was told that the first election of Kado is said to be absolutely not able to win if seen from the people who came to the election, for example, it is like challenging a warship with a fishing boat (laugh) ) When I was really in the beginning, I was stupid that "I'm talking about four years later" without a name recognition or organization. But I did not feel like losing from the beginning. There was a strange confidence that there was no one who thinks about Shiga prefecture, Lake Biwa as much as Kata who Kata got out and can not be defeated. But, I think I could win well if I think about it later ... and it is a miracle (laugh) I guess it was good as a result of scary things of amateurs.

On the other hand, I think that I can "win" to a certain extent and lose sometimes. I won a few percent at the exit investigation stage and I wish I could see it from a prior reaction. Although the weather was very bad on that day, the voting rate dropped, but even though I saw the result of the exit survey still, I thought that I could "go". I can read the situation on which voting office the television station goes on the voting day. There are a variety of broadcasting stations such as NHK, how much is there coming to the office? Since I can not get out of the crew unless it is a big election to interview a million years after my precision came out, I will change which way I will let the main crew go. At that time most of the television stations came to our office, so I thought I could win, but ... I lost. I could not believe it, I got distracted, but in a panic, I rewrote the formula. I only made the winning pattern. Therefore, I do not really know what I have.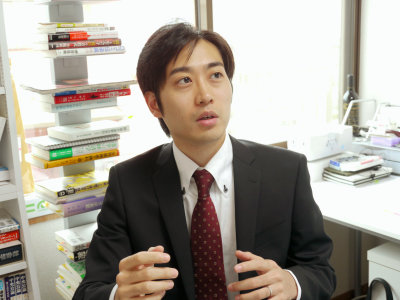 G:
On the site of election in Japan, how much is the use of election consultation established?

Matsu:
I think that it is increasing little by little. Thanks to the fact that our company has taken up the media in various ways, the job of jumping rather than introduction has increased considerably. As it increases, we also have troubled requests like I mentioned earlier ... ....

Since the work itself is still not well known, there are many people who are interested and inquired about by looking at magazines, newspapers, or television. Especially in April next year there is a unified local election, but it is about one third of elections in Japan, once in four years, I will do it all at once. That timing means that there are so many candidates who will be in the state of doing elections nationwide, but we have already received inquiries from several people towards that. I think that there is a job called an election planner and that trends that we should consult there for graduating are probably appearing little by little.

G:
From the old days, it is said that the work of election planner is getting penetrated.

Matsu:
Yes. Previously, I first used the name Election PlannerHiroshi MiuraWhen I met you, I asked you, but as I started working, the elections world seems to have been harder now. As I mentioned earlier, the Public Offices Election Law is complicated. It is not a big deal at all if studying properly, but there are a lot of people like election goro saying greatly that there is nothing serious about it, making the elections unknown secretly I'm busy.

In other words, it is like a guru of a medieval church and there is only one person who can read the Bible, so it is unlikely that you can say "in the Bible like this". I tell you that it is a big deal of know-how that is not a big deal, and win money up. It is not so much that we have more interest in elections and have people participate in various elections to activate the elections, and changing election mechanisms that are very difficult to understand in an easy-to-understand manner, Miura said that she wanted to help out as a politician, and Miura thought that I really was right.

Public office election law is very ambiguous, it is ambiguous enough to be called side by side with wind method. There is a place to do anything depending on interpretation, there is a local rule. It's as big a pillar as a trump. (Lol) For example there is Tasuki. That is because political activities are regarded as acts of sale or advance exercise, you can not use them. If it is Tasuki used before the notification, it is not a name but it is necessary to write "himself".

However, Osaka is putting a tasuki with its name well in advance from the stage of pre-activity, and when asked if it is not a violation, it is returned as "No, that's a name tag." "No, that's impossible, I do not have such a name tag ..." .... Everyone in general is doing it in Osaka's constituency, but it is a pre-exercise regardless of what you think. There are quite confusing local rules in Osaka and Hyogo, and there are people who are familiar with such local rules.

People who are familiar with such things, people who have extensive experience in elections, are those who think about how to win the votes and win the vote, are not they? Since there is no planning total planning of how to win and win more votes than the opponent, including the analysis of the opponent's partner, this analysis, the voting of the nonparty group, and so on, That part is the work of the election planner, and it is where we have to demonstrate our power.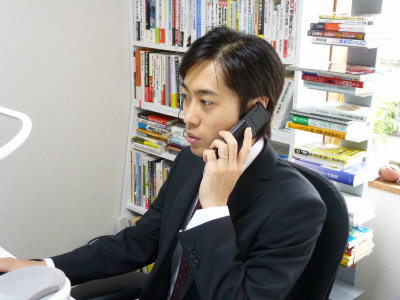 G:
Candidate I think that the consulting fee of a neighborhood is case by case, but please tell me the case that was the highest as a guide and the case where it was the cheapest.

Matsu:
Basically, it's about 1 million yen in January, but somewhat sad when converting to hourly wage ... (bitter smile) because this work does not have tension, you can not get out of hand, and Saturdays and Sundays are irrelevant. Because there are often events on Saturdays and Sundays as elections. It is often that you can not rest at all from 1 month to 2 months. I made a meeting of choice until midnight or around 11 o'clock, then prepare tomorrow for the contents of the meeting and then wake up at 5 o'clock in the street market from the morning of the next day, it will be 18 hours work × It is like 30 days ... ...? Is not it low in hourly rates? It will be said that. The more you enter into places where there are no handsets, the more it will be this pattern.

To be honest, it would be easier if you only received consulting projects. If you are a newcomer, you have to teach yourself and it is tough to have support for various parts. There are two of us who are titled Assistant Planner at our staff and experience in the field of the election is long, so we dispatch them when we are short of manpower and turn office affairs of the office. However, the upper limit of the daily allowance for exercisers during the election period is decided to be 15,000 yen, and if it gets more than that it will be a violation. It's almost like a temporary worker .... Besides, the restraint time is over 12 hours.

In the room next to Mr. Matsuda's office, the employees were working. It seems that it operates a few elite.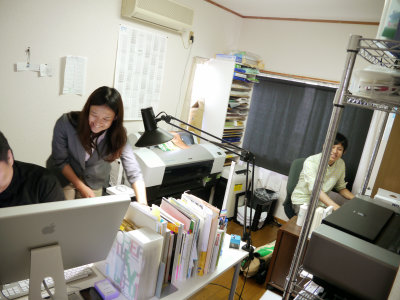 Assistant planner Tenmun Hikari. The machine to manipulate is still Mac.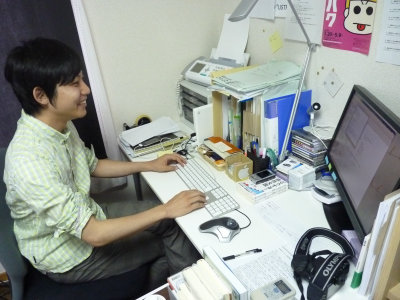 G:
It is said that money has not been sent over the image, but will other markets turn around better as other companies in the same industry increase?

Matsu:
Well, it may be a bit different as it gets recognized as a job and consulting in elections becomes commonplace. However, many politicians who are clients do not have any money in the first place.

Politicians' money problems are often picked up by the media, but I guess it's a bit overworked. The windy image that politicians are soiled with gold and received a lot of bad money is too strong. I think most politicians disbelieve as politicians distrust. When doing this work, the parliamentarians who are doing the hard work are also about 10%, and conversely, although rude way of speaking, there are about 10% of those who think that this is useless, 80% It is an ordinary person. An ordinary person who wants to make money and want to win, (lol) Because it is a story in the story that I have only seen, pretty biased.

For those who are really trying hard, the job of politicians is not worth the price, clearly say. The term of office is 4 years, the longest is 6 years, each time there is an election. Then it will cost money again, and it will become unemployed if you fail. There is no life stability.

For example, if the city is about 300,000 people, since there is money that can be used for various investigations and research as political investigation cost separately from monthly salary, it will be annual income of about 9 million yen or less in total Naturally, tax is drawn from there, and from that part, I make a newsletter of my own support group, appeal my work, tell the problem of municipal administration, etc., money is spent in various situations It costs me, so I do not have any money at all from the people who are working hard. Since copying fee is taken for information disclosure, enthusiastic lawmakers use most of the political investigation expenses alone.

I came out to Congress without doing anything, the sleeping person is getting the best. I feel like an honorary job, sleeping without doing anything, because the answer sheet is made by a staff member or another legislator, let people make it, so I can not read kanji when I ask questions (bitter smile) Such a person really I have it. I am paying taxes, but I have not done any work that matches my money. On the contrary there are no money but some people are desperately doing it anyway, so it is necessary to make a firm decision on it.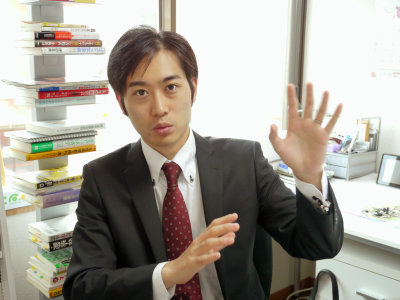 G:
What kind of person is a politician who is particularly troubled with financing?

Matsu:
Diet members are indeed poor situation. Some members of the House of Representatives, I really do not have money. It is only three public secretaries, second secretary, and policy secretary that public official expenses are issued because it is necessary to attach a secretary, so if we do not hire more at private expense, we are short of manpower. In the United States, as many dozens of secretaries are employed at public expense, it seems that they can make a team for policy planning. The secretary's person is in a more dire situation. There are few people who can obtain 200,000 yen a month with a private secretary of a Diet member. Moreover, it is a hard work. I am willing to withstand that I am a politician, but I think that it is really hard.

If you are looking at a politician who works exactly, I think that it would be good to have enough money to guarantee living. Especially the head chief is basically 24 hours 365 days restraint, if there is anything, all responsibilities will come, if ten thousands, hundreds of thousands of voters are not good at representatives, salaries will be cheaper than legislators Right. I think that salary is never high if you consider the weight of the responsibility that you are doing hard hard to really publicly in such part as it becomes difficult if you make a retirement payment. It is a place where such parts are not easily transmitted.



Matsu:
Because it is such a state, our work does not profit so much. However, I think that what we can do can expand from now on. In elections, people like politicians and voters can approach in all directions. We are not only looking at candidates, we would like to take into account all the people involved in politics surrounding elections.

G:
How about approximate expenses when you consolidate the story so far and make use of election consulting, when you face the election with the strongest formation?

Matsu:
It is also completely different in the election, but for example, the mayoral election of about 300 thousand people is roughly 10 million yen. Well, there are more things you can do certainly if you have one. It is difficult to win absolutely. For example, if you decide to fold in newspapers, if it is a city with a population of about 300,000 people it will cost about 200,000 yen for the insertion fee. The money is money only for folding, and we spend money separately to print a flyer, but when it is comprehensive it takes about 700,000 yen in one time. If you have money you can do it many times. We will adjust the part of it according to the budget. It will be in the form of election if there are around 10 million.

When it comes to the scale of the House of Councilors and Governor's elections, I do not know when to prepare from around, but because it is quite extensive, I put offices in multiple cities, place some people there It will take about 30 million yen when it comes to it. After all, personnel expenses are quite extensive. It is not the personnel expenses received by our company, but it depends on the placement of a dedicated person in the office. Because it is hard to say anyone who will do volunteering.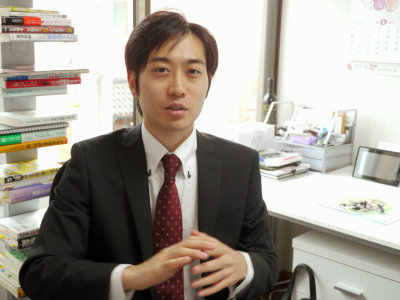 G:
So, is there a high proportion of personnel expenses to be charged to expenses?

Matsu:
Yes, it is expensive. When I was using a large amount of money, such as 500 million yen in the past, it seems like distributing money anymore, it seems that I was paying more than 10,000 yen for people who came one day anyway. The exercisers who can pay the fee are decided and it is a violation because there is an upper limit on the amount that can be paid, but it seems that they used to do in the past. Now that we do not spend as much money as possible, we have increased the number of offices that are feeling such as paying traveling expenses and time fees, not just a fair amount. If you are posting a leaflet in advance, you do not ask the contractor to do it, but even if it takes time to do it yourself. I devise such a way to lower labor costs.

G:
Osaka Mayor's election candidate for 2007Shinya HashizumeHe ran for Mr. and Otsu mayoral election in 2008Kimiko KanaseMr. Mr. Matsuda got consulting but it is a case of being defeated, but do you look back at these cases and there is something like a common "defeat"?

Matsu:
There are separate causes of defeat, but first of all it is my power shortage. I truly apologized to the two of you for this.

The election of the Mayor of Otsu in 2008 is the election I said earlier thought that I could win, but the most disappointing is that the candidate decided to run was the one month before the thrown date is. This was not only the candidate's responsibility, but there were various complicated circumstances, but I was asked about around December 13 and the voting day was January 13, which was an ultra-short battle fight .

It's been only one month, and since the printing laboratory stops at year-end and new year, it was only about three weeks ago. On the contrary, the incumbent has been consolidating into rapprochement such as LDP / Komei recommendation, and almost all of the city councils are about current incumbent .... There was not one more step. If I have another week, I will think that it was different if I do not sandwich the year-end and new year even in one month. After all, newspaper reporters also said that "defeat can only be written as late assertions are delayed."

Matsu:
In the last survey during the period it was not as short as after the last survey but it was a bit as though it was on the exit survey of the day but I thought that I could win but it was painful that the weather was bad and the voter turnout did not grow It was. It really regrets that there was not time. Other than that, I did a lot of things I could do and my candidate Mr. Kose, who was working very hard as well. It was really disappointing.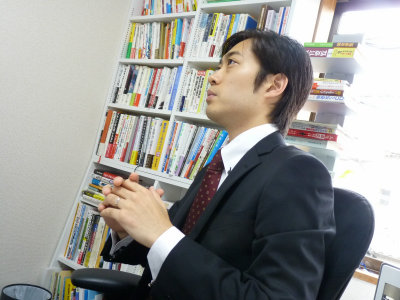 G:
Then, what was the cause of the Osaka Mayor's election, which is another case?

Matsu:
In the case of Osaka it was a very difficult pattern. When we receive consultation, the best pattern is that it is easy to make a story from the stage of candidacy by consulting before the candidacy assertion. I can tell a story of the part about whether I run for the first time and I want to grasp the initiative by creating a flow from there because the announcement of the candidacy is the largest and taken up in the media. However, I met with Mr. Hashizume and my acquaintance after seeing his appearance, and clearly said the worst outgoing person. Reporters' reputation is very bad ... .... Although I saw that state in the image, it is a feeling that I do not know well why I ran away, and since the person himself also had a dark face, I was not quite impressed.

It was also decisive that the story that Mr. Hiramatsu, the current Mayor, will run for the recommendation of the Democratic Party is raised. I thought that somebody would stop me so that I would not run for the moment I heard it. I can not win if I think about it. At that time it was a time when the Democratic Party made a leap in the upper house election and there was a momentum, because it is an original announcer with a popularity rating of 1 with a prestige degree prestige. I wanted to give up hoping for a candidacy and worked to encourage Mr. Hashizume to support it, but also when I met Hiramatsu-san for the first time at a public discussion forum, Mr. Hiramatsu walked from here, "Mr. Hashizume, I was cheering you for the first time, but I was sorry, but I was smartly asked for a handshake (bitter smile) No, that was really true. I had also made a catchphrase on the assumption that she was an incumbent Mr. Seki, but as Mr. Hiramatsu said, all the strategies have been reworked.

Supported by Seki Seki, an LDP / Komei recommendation, and Hiramatsu, a democratic nominated recommendation, famous Parliamentarians from all over the country, because it is the first large local election to be held after the Democratic Party became the First Party in the Upper House election timing To the contrary, the media stirs up the ruling and opposition confrontation, so it completely buried.

Because the election campaign has begun before the election, not to put out candidates is also a fight. It is the war skill of Sun Tzu. It is best to win without fighting. It is under the bottom to take off the castle.

G:
I see, that is the easiest thing to do if you have consultations before the elections begin.

Matsu:
Yes, it's easy to move. There is a person who is likely to be a strong candidate, and if there is a pipe, it is possible to include such story as getting to support oneself, but it was difficult. Mr. Hashizume was supposed to run for the first election, and there were places where I was not ready for a while, but I became able to mistake on the way and I got a great reputation. It was told to the media-related officials, "It was different again from the beginning if it was ah from the beginning." Because Mr. Hashizume who knows the feelings to Osaka and Osaka better than anyone, it was a pity that the good thing turned out to be the last one. I think that there was also a lack of my power.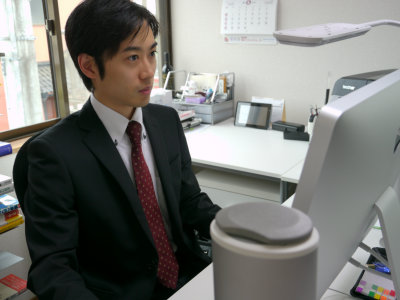 G:
When you hear both cases, you are quite questioned as to the candidate 's determination power.

Matsu:
I agree. Whether you will hurt, is still big.

Hashizume - san was also strong after he got hungry, but it took a while before that. But, somehow I cleared the confiscation point at the last minute. It is one criterion of the foam candidate to break the confiscation point. This deposit money is troublesome, Japan is extraordinarily expensive. It costs 3 million yen for the districts of the House of Representatives and the House of Councilors. France has already been abolished, and in England it was about 100,000 yen. One of the systems that I think is better to quit the deposit money, but if I deposit the deposit money and divide the point of forfeit of deposit money, because I was not able to get support from a certain voter, We will forfeit the deposit payment paid to.

Public expenses for posters and town declaration vehicles will also be self-expensive, so it hurts very much. In the history of Osaka Mayor's election, Mr. Hashizume is the only person who is independent and has exceeded the deposit money confiscation point. Because I managed to go that much, I was evaluated in Osaka, and I was involved in the city planning in Osaka Prefecture and Osaka city. Mr. Hashizume 's manifests that were made at that time were also appreciated, being a special advisor to Osaka Prefecture since becoming Hashidori Governor, has become one of Brain.

It was hard to defeat, but what I heard from Mr. Hashizume is that it seems that "my husband and wife has improved" (laughs) Although I was too busy with each other to work together, I could not get along with the election It seems time has increased with the relationship. Also, I was told that any real friends were understood. Mr. Hashizume is published as a professor at the university several books, and since it is a famous person who does not know unknown in Osaka 's town planning, many people came to come. When it came to the election, everyone was scattered and it was not easy to support them. Some of them are trying hard so that they are their true friends ....

There was such a part of election, and Kan was also very depressed at first. Because the scholars' world seems to want distance from politics as well, people who were good friends get on the election, etc. on the boundaries of the election, so we are studying so far to go to the election It is thought that it is done, it is taken very badly. I think that it is a decision that everyone will support more if it is true, but it is quite bad way of getting received there.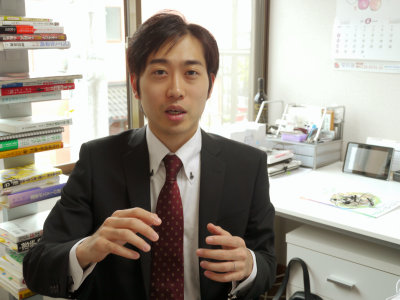 G:
Certainly, politics tends to have a negative image from the beginning, right?

Matsu:
Politician distrust is too strong ... right.
Also, I think there is also a talent legislator in the cause of distrust. Especially the upper house election this time is terrible. Some people expressed the National Parliamentary District of the Upper House as "the crowd of the talent," but the citizens have to accept it.

Of course she is not a talent so I should not become a politician, but I am wondering if she is prepared or has the ability. If the voters do not say no, they have to show clearly that they do not pass.

G:
By the way, have you received any candidate for talent after receiving it?

Matsu:
It's already a big success. We will be cast into support speech in various places! The way of saying is bad, but it is "a panda to pick up." It is most effective for one person to attend a celebrity talent (bitter smile)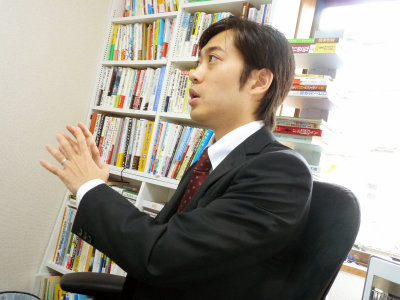 Matsu:
I go to cheering in various places, use it as a poster of a common name, and so on, I will do a supporters speech for those who have never met before.

G:
Is there no one who can politically replace his / her heart after winning?

Matsu:
Of course I guess. However, there is the impression that the person who passed by season is running for candidacy. . If Arashi 's sakurai kimi or the like runs out, it is amazing, I guess the new party can be made (laugh) If people of such a popular peak come out, though the resolution and force will be different.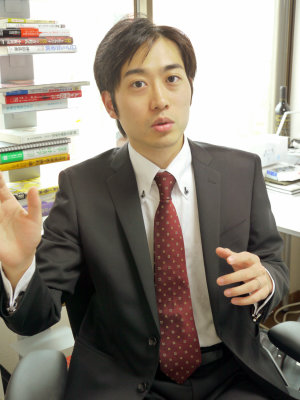 G:
It is said that "unemployed if it falls in elections", but how did the losing candidates live for the next four years? Is there no alternative but to overcome while saving money?

Matsu:
Even those who have been defeated are those who have fought for election candidates to a certain extent, so many such patterns, such as finding a job by referrals from people and acquaintances who got acquainted with elections. After all, when fighting firmly and supporters arrive, those people do not leave it. There are quite a lot of things like searching for jobs for the next four years, so it is not in the case that I really get lost in the street.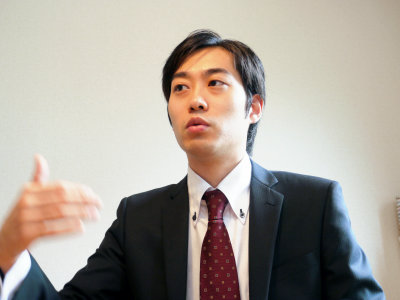 G:
Where candidates who consulted did not succeed, do you do discount etc?

Matsu:
There are no discounts in particular, but there are people who pay properly if winning or losing, even if you win, there are people who will price you .... "I use too much money to win, I can not pay it ...".

G:
Regarding the election strategy, does it have cooperation with the election campaign headquarters of political parties?

Matsu:
At the time of the election, there were items such as advertisement goods from political parties, and the headquarters side provided contents such as current news stories to talk about today, so that there was such a thing, I reworked it further There were such things, such as doing, complaining about not being able to use such a thing. However, there is nothing cooperating with party headquarters headquarters. It is hired by individual candidate to the last. I will pick out something among the party's party and use what I can use.

G:
Do you give consultation guidance etc. to the candidate's sponsoring organization as well?

Matsu:
Well there. For example, because the Head of Selection Headquarters will do something for media correspondence, we will discuss in advance what to talk about, and please speech such a greeting to candidates' spouses and their families If you support me, I will give you guidance like this please touch like this. It is the same as making a support association, and I will also administer the management of the roster and how to use it finely.

Because one candidate can not do elections. Besides, candidates are supposed to become heat sources and have to make everyone's atmosphere excitement. The very difficult part of the election is that if various people are involved in volunteering, each one wants to be heavily used, or that he wants to demonstrate its presence, or that kind of feeling comes up.

Among supporters, there are various candidates, such as candidacy counseling came or not, and those who get angry with "Well, I do not hear". Since the candidate is busy anyway, even if I think, I can not pretty much worry about everyone. It makes use of the strengths of outsiders, and intervenes and takes on human relations.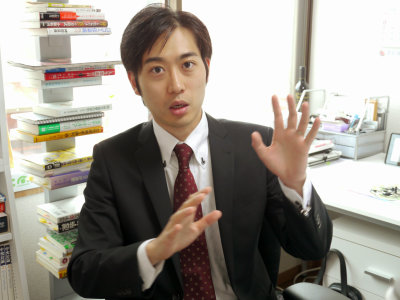 G:
During the election, are you going to the candidate 's office frequently too? Is there a case to accompany the election campaign as well?

Matsu:
It depends on the content of the contract, but there are also cases which cling to during the election period. I will also go on the first and middle days of the election period and then on the last day. My schedule is also related.

If you are going to elect the election for the first time in a newcomer, I will tell you while chatting around while traveling around the city street. I am guiding you in advance, but if you are an amateur if you are a girlfriend, the guidance will be done, and also the manuscripts read by the girlfriend will also write. Only the story of this place, like a town declaration car or a girl nigga, I would like to quit the style. Anyway, the election is a big selling. I would like to quit the style of selling out to those who are not interested. As I thought, there are places I have to do in that form right now. I devised the manuscript, or something he brought in the tape was shed and I did not let the girl nigga talk, but various hands are striking, but because there is the limit of the public election law ... ....

The Public Offices Election Law is a very old law enacted around 1955, which is not in line with the times. Since I am keeping the laws of times when the homepage and Twitter are not supposed, I hope that it will be revised, including the place standing on the eyes of the voters, in a manner consistent with this era. Some people say that the Public Offices Election Law should be as popular as the Road Traffic Act if it is a democracy country, I think "I see." Unfortunately it is unfortunately difficult to understand, as there are many people who have such a scary impression, such as getting caught if you violate the election, or taking money, so the first work I do when consulting newcomers I think that the part of the pilot who teaches that "the election is not afraid, it is all right" is important.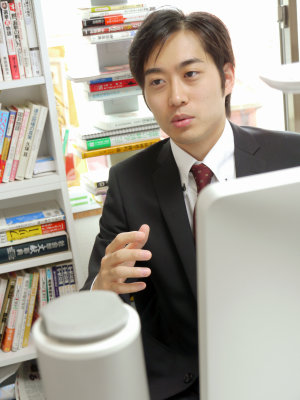 G:
What kind of work do you do during the period when the election is not held? Are you doing preparations for elections etc?

Matsu:
Since the election has never been interrupted (lol) The election of the Upper House is from June 24th to July 11th, but the story of this preparation has come from around last December.
When considering in Japan nationwide, the village assembly, the town council, the city choice election, the village mayor, the mayor, the mayor, the mayor, the governor's election, the House of Representatives election and the House of Councilors election. There are so many elections. I am doing it on Sunday, 52 days a year, so I am always in a state of election somewhere.

There is no voting day for the Bon Festival and the year-end and New Year holidays, but since the year-end or the beginning of the year is on the horizon. That's why I have been involved in elections almost all the time. It is a form of sliding it while deciding on charge for each election. I have never been interrupted. There is another election after the Upper House election, and I want to hide the clouds around September when it is over ... I think that.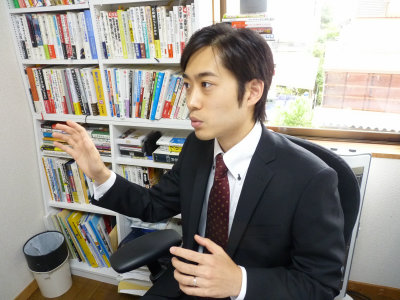 · Continued
I heard about Japan's change in the election campaign lifetime, "About the dark side of politics" and "How to change to the future you desire"