DELL officially announces tablet terminal 'streak', Android adoption planned for Flash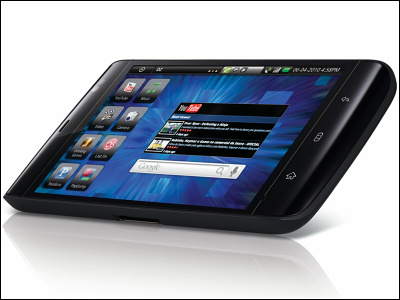 Apple's Tablet PC "iPad" to be released in Japan on May 28 is talking about, finally DELL, the leading PC maker, released a tablet terminal "StreakWe announced.

"Streak" adopts Google's mobile phone OS "Android", it can use various services of Google and that Apple will not support it on the iPad or iPhone despite being the main stream of the current web It is planned to correspond also to the Flash contents and the like which have expressed.

Details are as below.
Dell streak tablet entices people to watch, surf, connect, listen, and play on 5 "of power and portability | Dell

According to this release, DELL seems to release a tablet terminal called "Streak" for the UK mobile phone company "O 2" in June. Also, it is scheduled to be released in the US this summer.

"Streak" is a Snapdragon processor driven by Qualcomm 1 GHz used in high-end smartphones, WVGA (800 × 480) liquid crystal compatible with a 5-inch multi-touch interface, 2 GB recording area, 5 million pixels corresponding to autofocus Front camera, wireless LAN, Bluetooth, UMTS / GPRS / EDGE / 3G communication function compatible with HSDPA up to 7.2 Mbps are installed.

This is "Streak". By the way, portability is mentioned as a reason for mounting a 5 inch liquid crystal which is compact as a tablet.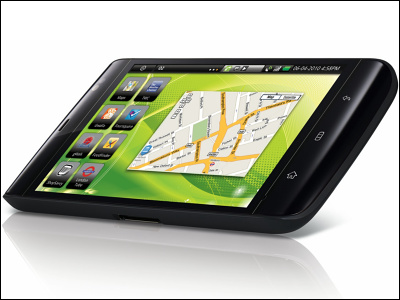 By using e-mail, IM (instant messenger), etc., you can communicate with friends and family at any time, you can easily upload taken videos and photos to YouTube, Twitter, Facebook.

Furthermore, because it adopts Google's mobile phone "Android", it can use various applications provided by "Android Market", and also supports various services such as "Google Maps".

The version of Android adopted at the time of release is unknown, but within the year"Android 2.2" which realizes smartphone's wireless LAN routerization and high-speed processing announced the other dayIt is supposed to update to 10.1 and officially correspond to Flash 10.1.