A 15-year-old boy who saved the corner of the father who had become a fireman in cola


Coke replaces fire extinguisherMany people think that it is an urban legend, but in fact it happened in the UK that prove to demonstrate the power to extinguish it unexpectedly.

It is said that the life of a 52 - year - old man who was ignited from a bonfire and enveloped in flames was saved by a 15 - year - old son who blew the coke and sprayed a cola.

Details are as below.Son saves burning father by spraying him with cola bottle - Telegraph

CornwallRegionMullionMr. Andrew · Wise (52 years old) resident, on April 18 (Sunday), with his son Nicholas (15 years old) removed the guts and weeds at home to try a bonfire. However, because it did not ignite, gasoline poured so quickly that the flame rose, the bottle with gasoline exploded and Mr. Wise was ignited.

Mr. Wise who was also enveloped from the arms to the chest, neck and ears tried to erase the fire by rolling on the ground, but it was ineffective and cried Nicholas when you shouted "You help me!" It was.

"Instinctively, I picked up a bottle of 2 liters of cola that was in the vicinity, shook it and sprayed it towards the flame," Nicolas said.

Mr. Wise ran into the local hospital with his wife Anita 's car,BristolHe was transferred to a hospital and received treatment for burns. According to doctors, Mr. Wise 's burn was that she needed a skin grafting, but that would have been fatal if Nicholas' s ways had not changed.

Mr. Wise said that he is "very proud" about his son Nicholas, who was a benefactor of life, "Nicholas is very discerning and calm, unless he is definitely more terrible I guess it was going to be really lucky. "

Mr. Nicholas (left) who saved his father's life and Mr. Andrew · Wise proudly.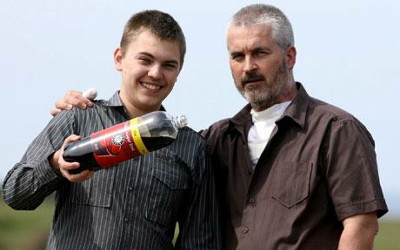 HelstonKeith Stringer official at the fire department officials said, "Beware that you should pay attention to safety and do not use gasoline, people think that they are just poured liquid fuel into bonfires Gas volatilized around the liquid is dangerous, "he warns of the use of gasoline on bonfires.

Coke contains carbon dioxide, it can be effective for extinguishing more than mineral water etc. in that it can also weaken the fire with the momentum of spraying by opening the bottle after swinging it, but in the case of a bonfire etc. I would like to confirm the place where water can be secured beforehand and carefully treat the fire carefully and carefully.
in Note, Posted by darkhorse_log