I ate sashimi with heaping sashimi at the outdoor standing drinking izakaya "and yo" to bake tuna roaringly with a gas burner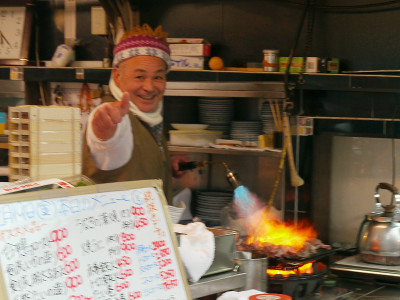 Speaking of the most amazing shops in Izakaya in Kyobashi is "Yo".

One of the features of "and yo" is its good taste. Every day, I use fresh items purchased from the Osaka central wholesale market and the Tsurubashi market, the menu also changes according to purchasing situation. And another character is a strong character "Otachan". It makes me tell you a funny talk just as to say that the kitchen is my stage.

I have been visiting because I can not stop going to such an interesting store.
There is "and yo" around this place of 3-chome Higashi Nodamachi, Miyakojima-ku, opposite Yamauchi shop.

View Larger Map

JR Kyobashi StationFrom the north entrance heading southeast.Keihan Kyobashi StationFrom the central ticket gate and exit 2 (towards Daiei). It looks like this way going through the guard of the circular line from Keihan direction and proceeding.
YouTube - walking towards the standing drinking bar "Yo" representing Kyobashi


I reached a tremendously freedom place. This is called a pub.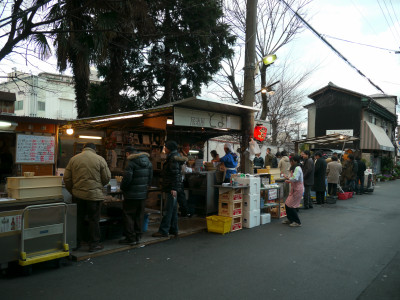 The basic menu is kore. Tuna's lean, Toro, big toro, how much, five kinds.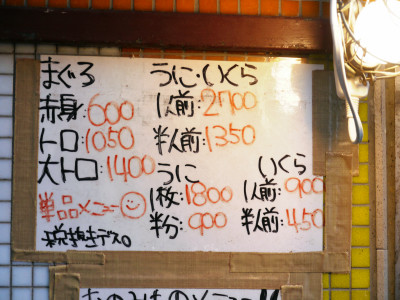 Other menu is changed daily. It seems to change depending on the contents of the purchase, Thai, squid, blowfish are contained on this day, but there seems to be some kanpachi.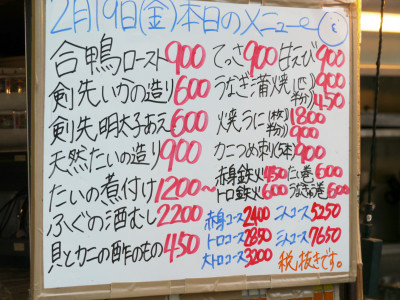 Drink menu. Oolong tea is all - you - can-drink at 150 yen.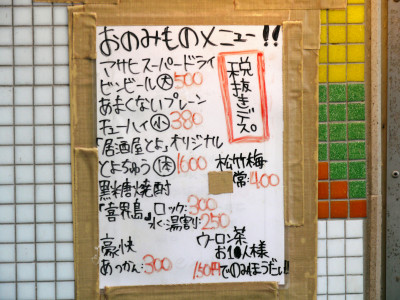 It is a system to pour yourself from plastic bottles.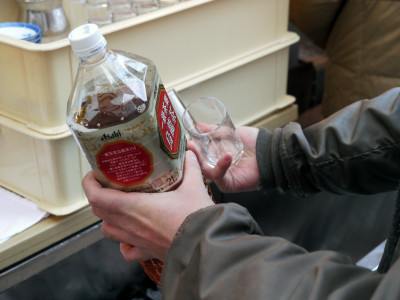 It is amazing.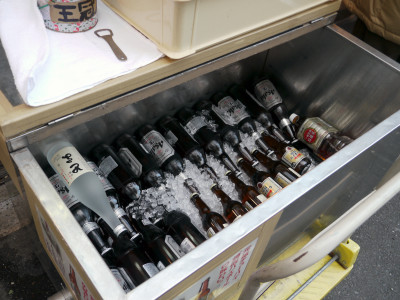 Closed holidays are Sunday, Monday, Thursday, and a public holiday. Business hours are from 16:30 to 21:00 (from 15:30 to 20:00 on Saturdays), but it is sold out as soon as possible. It seems that there are many things you can do at the same time as opening a store.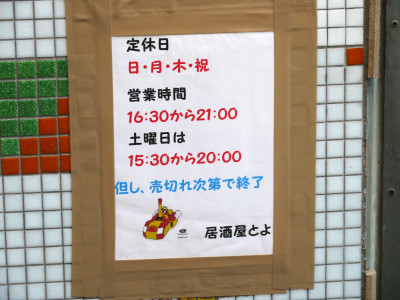 It was a quite chilling day on this day, so there was no queue so I was able to get to the table at once.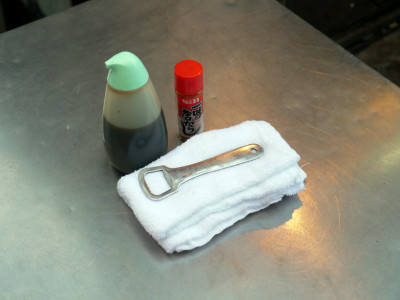 My uncle is working a lot.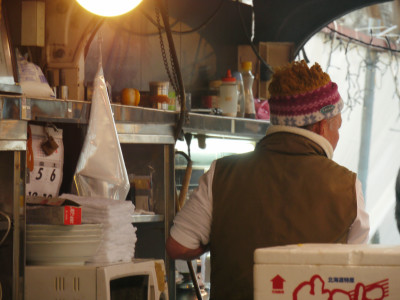 Because I was three people, I thought about ordering a three person course, but from a store clerk, "Since there are four people in a two-person course, those who doubled and thought ... ..." advice. I planned to order various items besides the course so I made it to a two person course (5250 yen).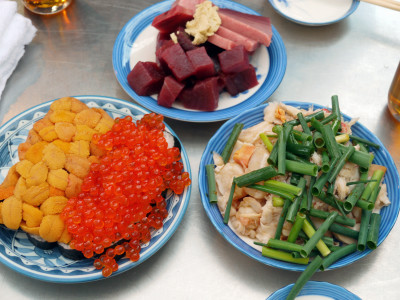 How much (1 single item: 2700 yen). I do not know what the heck is too much.



It is a thing called a warship warrior, or how much it was buried above the rolled sushi ... ....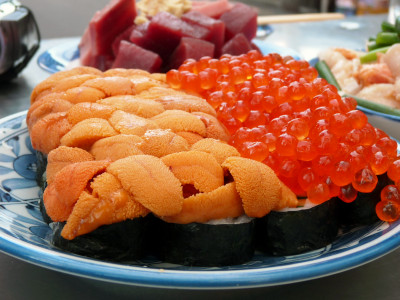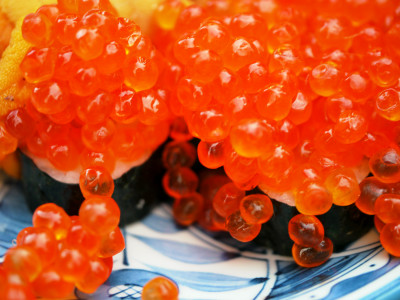 How much is spilling up.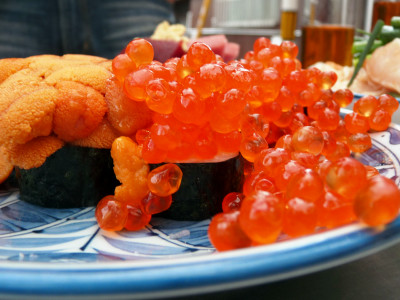 I tried lifting. The amount per 1 rolled sushi is not Hanpa.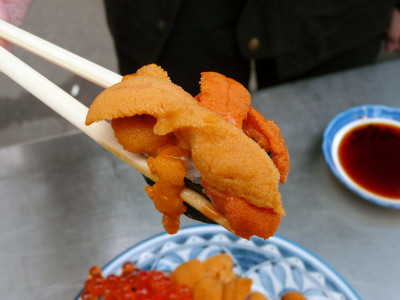 This is crab and shellfish vinegared (single item: 450 yen).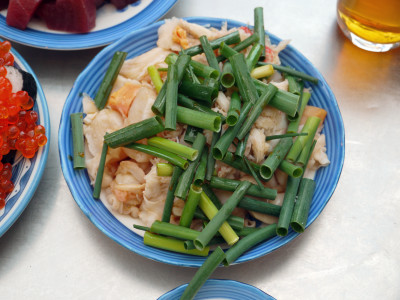 This is also a heap.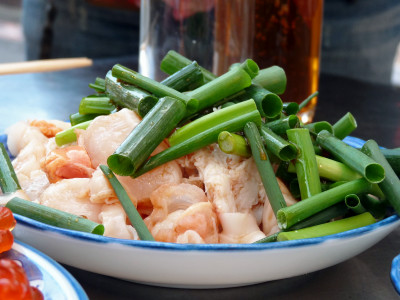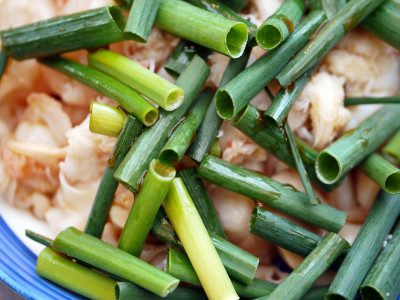 And crabs and shellfish are perfect size per piece.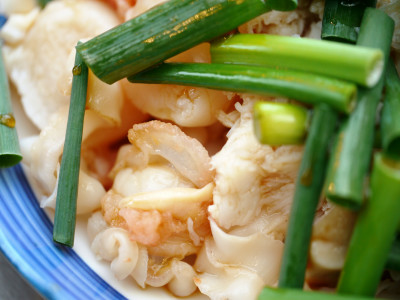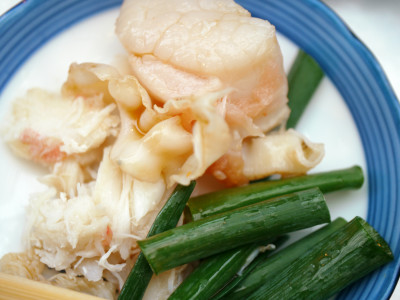 Assortment of lean and Toro.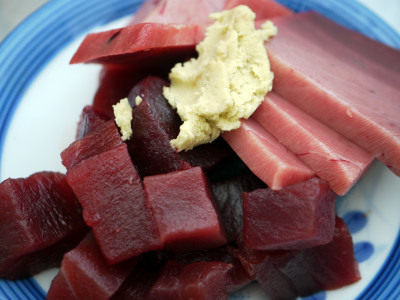 Tonto Toro.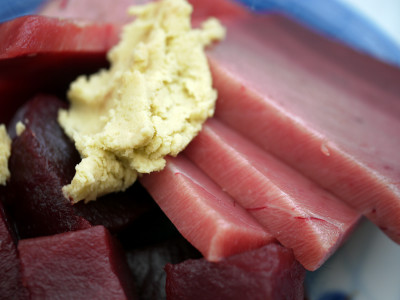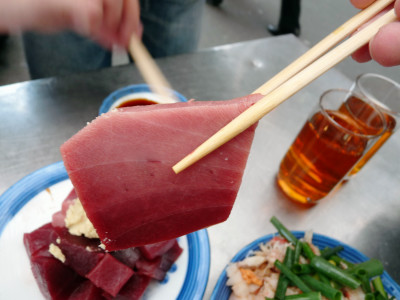 And the corner of red meat. The item up to here is the course menu.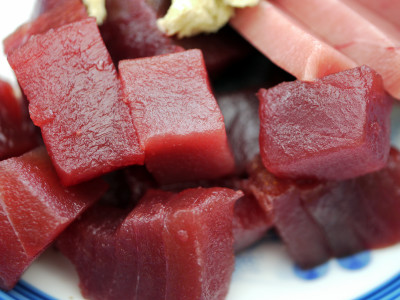 Tataki of tuna 's hoof meat (630 yen). Although it was not on the menu, it is a famous menu of toy.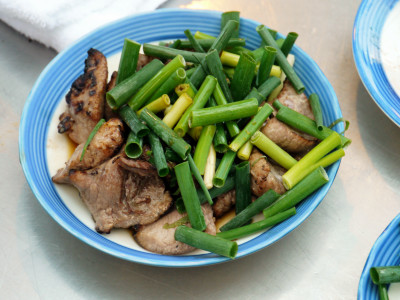 If you know a person who knows it, it is famous as about kore.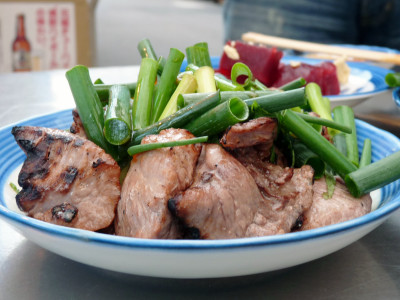 There is grease like beef, but the stomach never drips nor refreshing taste.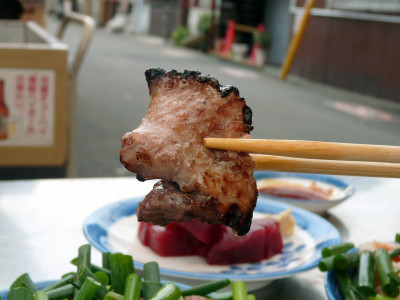 This Tataki is made by a grandfather using a gas burner baked at a stroke. Every time I make Tataki this performance can be seen, it is really exciting.
YouTube - Burning tuna's cheek with a gas burner 'and yo'


Grilled eel with an eel (1 animal: 900 yen)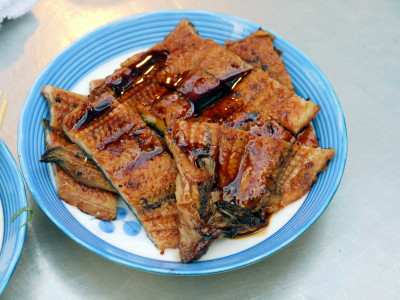 When I got used to the volume just before, I got the impression that "that? Normal?".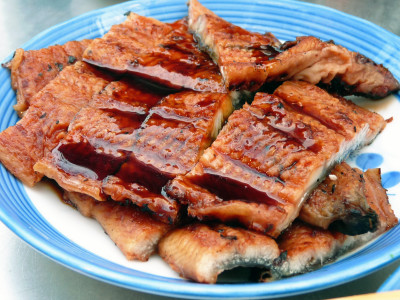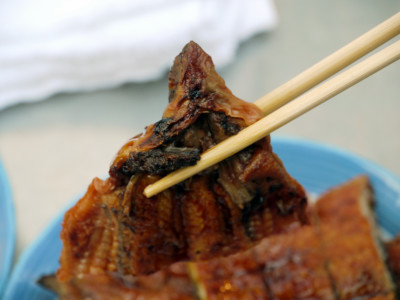 As I flattened it with the pelori in the blink of an eye, I will order with additional gun guns.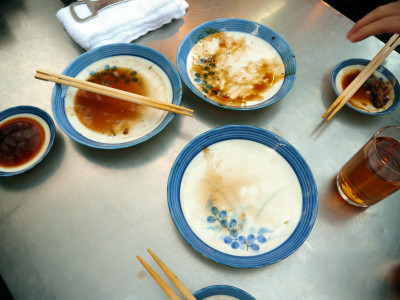 Even though it is cold, it is nearly full. There are no people lined up, so even this one may be few customers.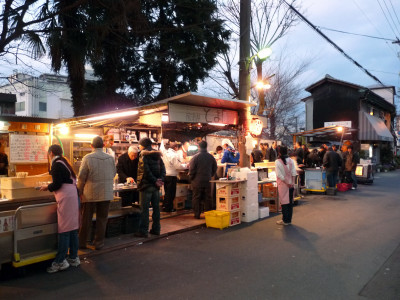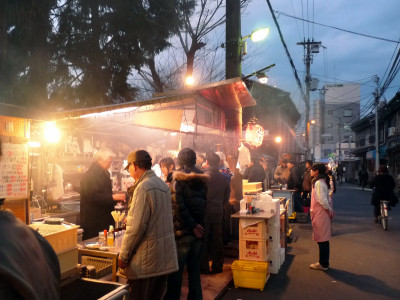 It seems that baking (1800 yen) burns with geta.



As expected, the firepower is different.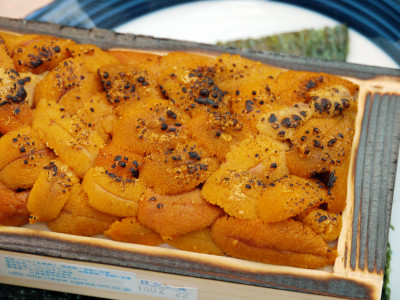 The surface is burning a little, but the inside is a toro. I feel that sweetness is increasing by being baked.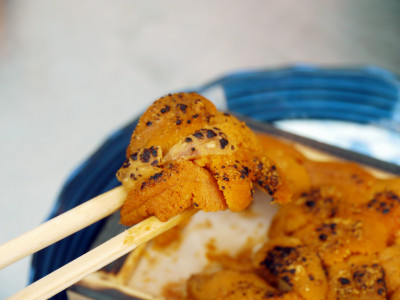 Of course, in a fight ... .... How ugly conflict?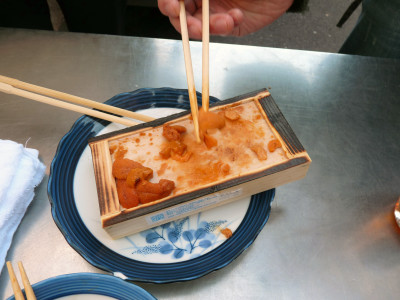 I wrapped it in a roll and tried to make it a warship winding style. Maybe it is too luxurious.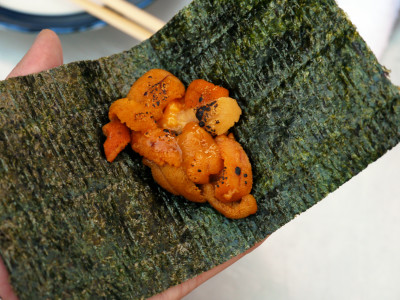 Incidentally, it seems that it is made in Russia.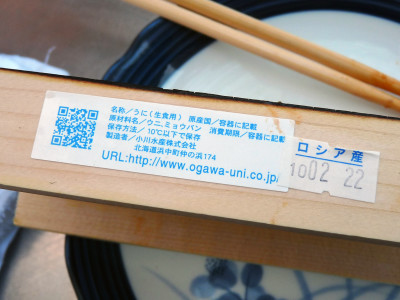 Boiled sea bream is 1,200 yen. It seems that the price will change depending on the size, this time we chose the Casira.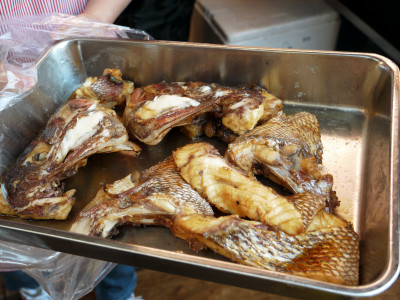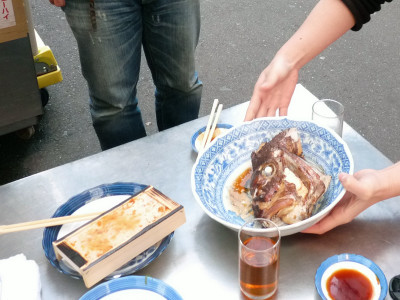 It is 1,500 yen in Kore.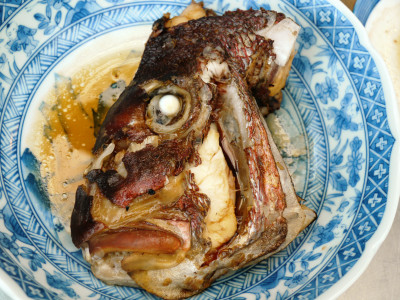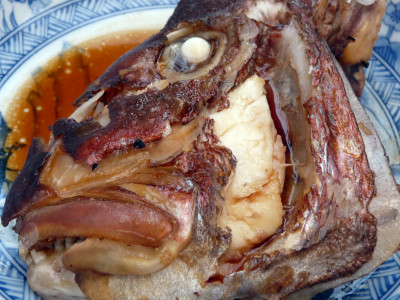 Fast eating the front side in no time, turn it inside out.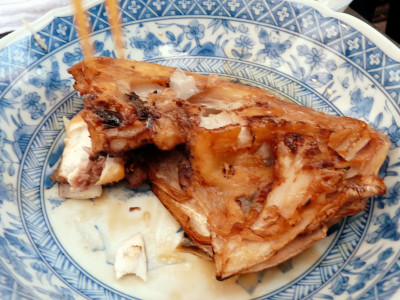 I sucked to the bone.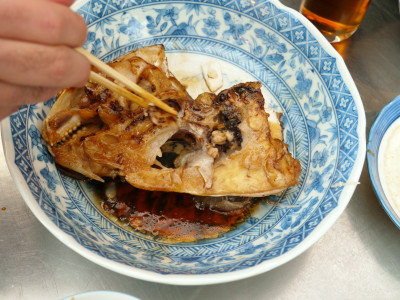 Steamed fish 's sake (2200 yen).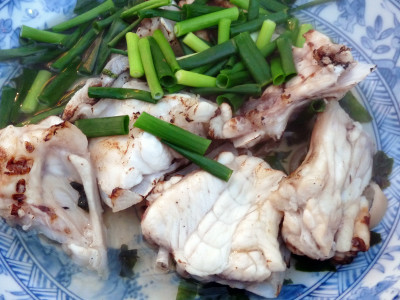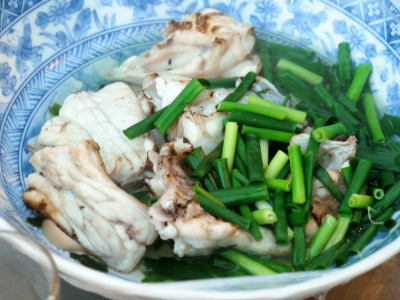 Plenty of green onions, plenty of foggy.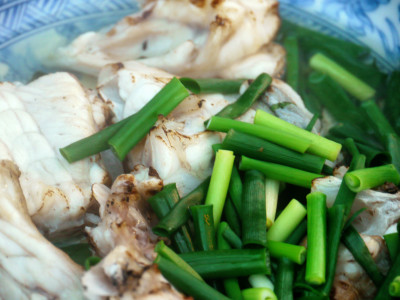 It is easy to cool by drinking outdoors, it gets warmed from inside the body and tastes impatient. The texture of a plump fugu is also the best.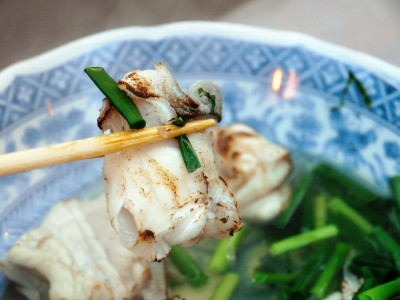 Roasted duck (900 yen).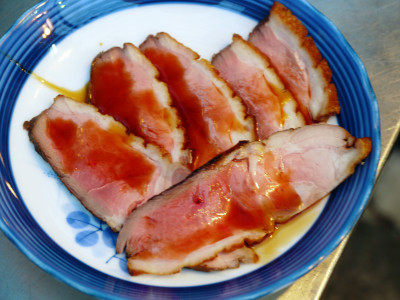 Eel sauce? It was a sweet sauce like that.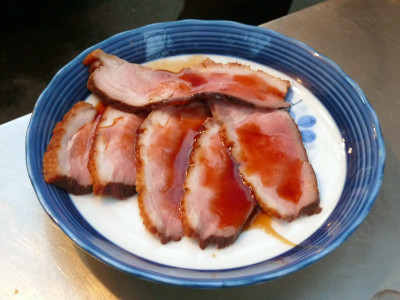 Tightening is a trowing (600 yen), winding (600 yen).



There are more items than Shari.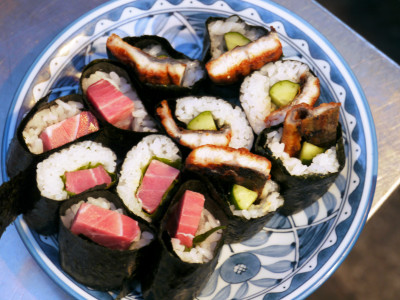 By the way, it seems that the toilet which is worrisome because it is an outdoor shop has been renewed during the past year and a half, it was a very beautiful toilet.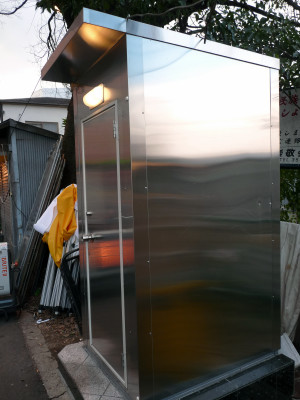 It is not a simplified toilet, but with a foundation that is frustrating.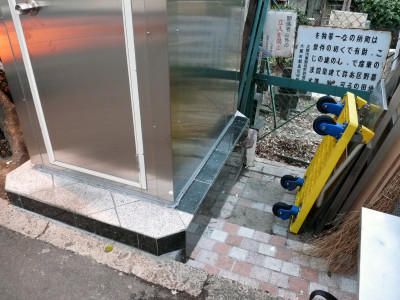 But the wiring of the electricity was a proper feeling that would make me a bit uneasy.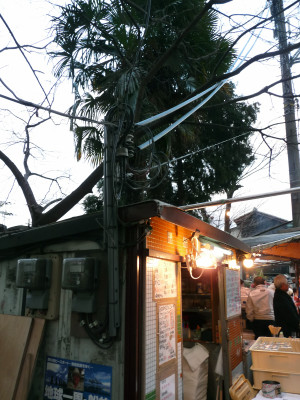 The shop where the old-fashioned rice is very good, I stay longer than I thought I was eating and drinking while talking. It's comfortable, so it's perfect for getting a cup of tea while eating sashimi and sushi.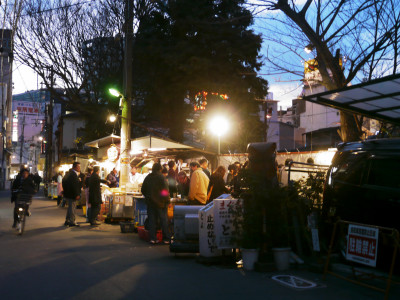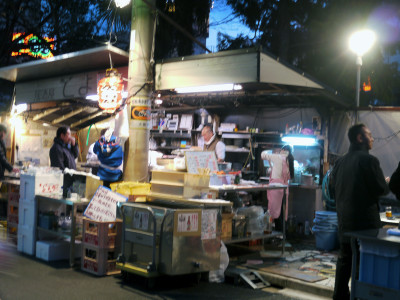 By the way, under the guard on the way back is like this. There is a shop ahead of where I walked. Since I am out of the way from the entertainment district, I think that I made a mistake at the beginning, but it is okay.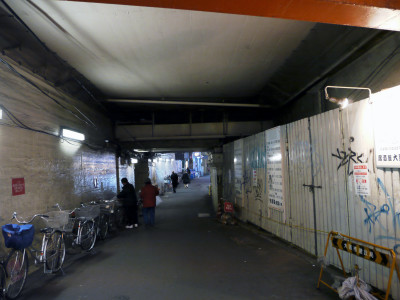 Since there is a traffic volume in the alley where the shop is located as it is, because the width is narrow, let's stop parking on the street.