I'm trying to eat "Donut Assort" "Big Almond Ring" donut 's limited donut' Cafe and Nand 'going up one step by mistake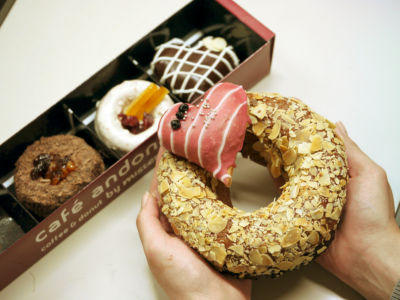 By upgrading the quality as a "mist adult adult" going up ahead of the traditional Mister Donuts, we have targeted the layers that we have not been able to cover so far.Cafe Andando"Limited time shop opened today at February 3rd (Wednesday) at Valentine's special venue of Osaka · Daimaru Umeda store.

At the Osaka · Daimaru Umeda store, valentine-only donuts, which are not sold at the existing "Cafe and Nand" which is deployed only in 4 stores in the Kanto area, were on sale, so while being overwhelmed by enthusiasm for other booth's Valentine selling warfare I bought it and ate it eating.

Details are as below.Topics | cafe andonand

Arrived in the Daimaru Umeda store before opening. There were a lot of people waiting for the door to open now.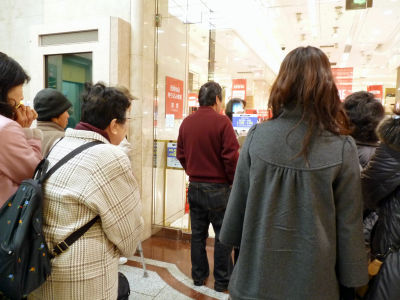 It seems that it is opening as one store of "Chocolat Promenade" being held at the fairground on the 13th floor.



There are things that it is right after opening the store on weekdays, but there are not many people in the event hall yet.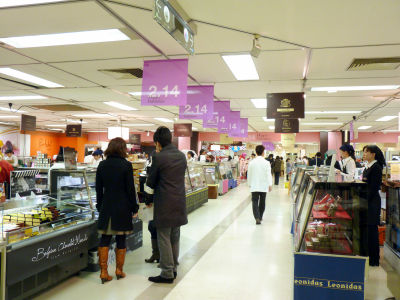 I found a booth of "Cafe Andando". Nearby was the Fukuya's Peco-chan booth.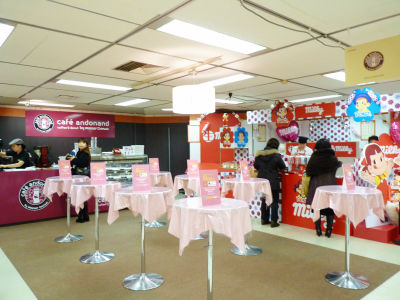 There are big signs on it.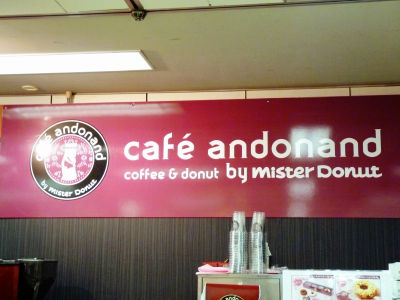 A sample of limited items was decorated above the showcase.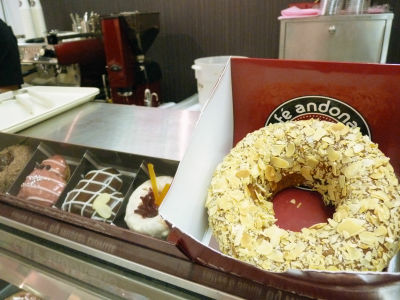 "Donut assorted" (800 yen including tax) with Valentine's Day Limited Donut set. In addition to the "Osaka store" there is the word "Kyoto shop", but as of February 3 14:00,About the Kyoto store is not announced on the official pageSo, is that a limited-time shop scheduled to open in Daimaru Kyoto soon?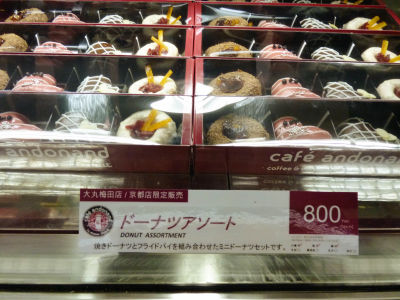 Another limited donut, 'Big almond ring' (500 yen including tax) was displayed in a box.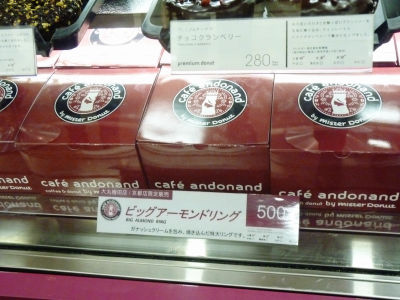 A list of donuts sold at limited shops. Some of the donuts sold at existing shops are also on sale.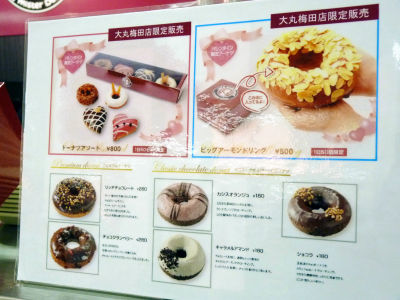 "Chocolate cranberry" which was popular in the editorial department is also lining up.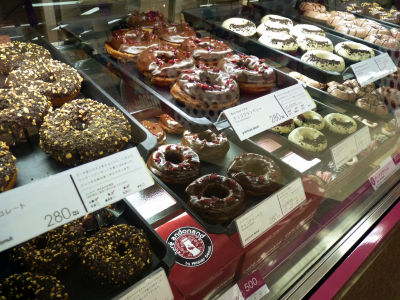 The drink menu looks something like this.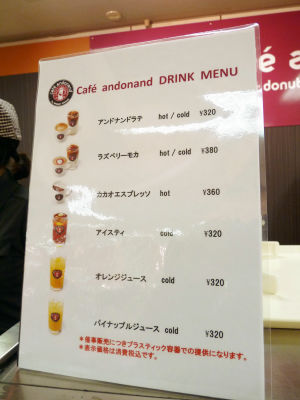 There are several tables, so you can eat and drink here. It seems to be good for a feather rest for a woman tired of choosing Valentine 's chocolate.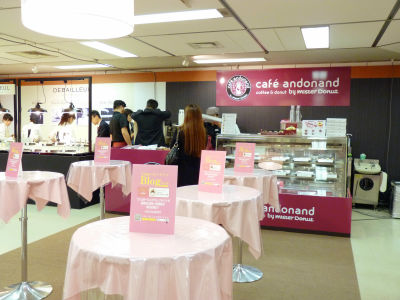 I bought two types of limited donuts and brought them back.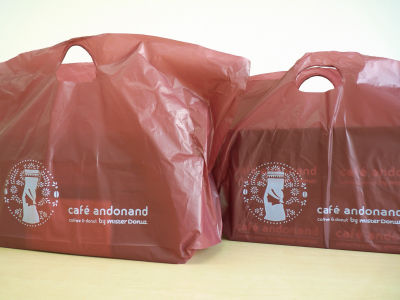 First of all, from 'Donut Assort'. It looks very pretty, it feels like a gift for anything.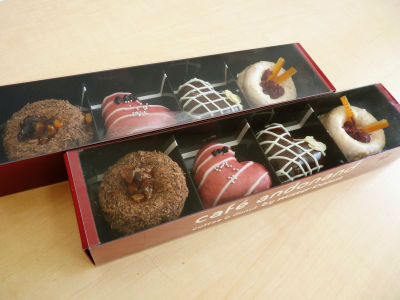 The logo of the store name is printed large on the side of the box.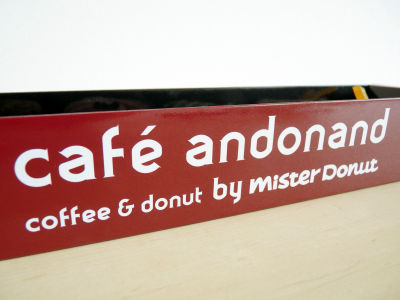 I will look inside. "Grilled donut mix fruit". It is sold at some stores in Himeji City, Hyogo PrefectureGrilled curry breadExcept for the exception such as Mr. Donut history, it is the first "fried donut" not fried in oil.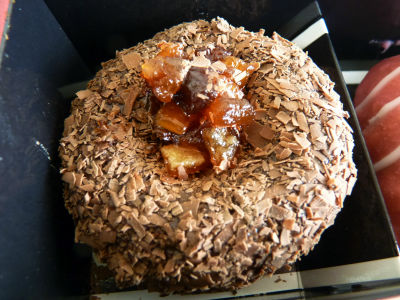 Decorated chocolate is beautiful, but it is easy to spill, so be careful when you eat. The sweetness of the dough cloth is intensified, but the dough is moist and the dry mix fruit is kneaded in a lot, so you can eat it without getting tired. It seems to fit black coffee.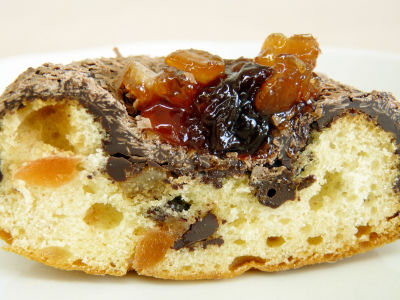 "Heart pie" which covered a mixbury glaze with a pie containing cranberry cheese cream.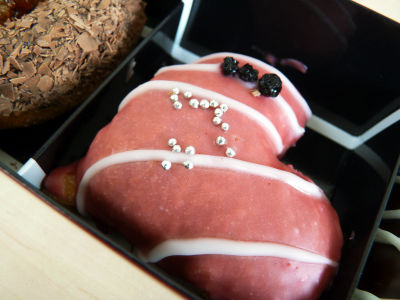 Appearance seems to be considerably sweet, but the sourness of the mix berry glaze is quite strong, so I do not care little about the oil of pie. Because the taste of the cheese cream inside is even more acidic, the preferences may be divided, but the taste that even people who are not very good at sweets are likely to eat.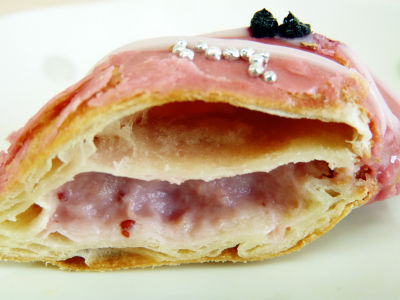 "Heart pie chocolate". I coat chocolate on the pie with orange jam.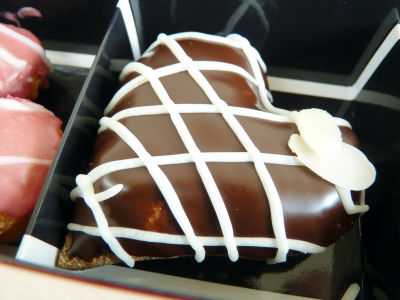 When I cut it in half, Orange Jam overflowed a bit. Coated chocolate was quite bitter, combined with the sweet and sourness of the jam, brought about the atmosphere of adult preference. Pie is also crisp, easy to eat, moderate volume.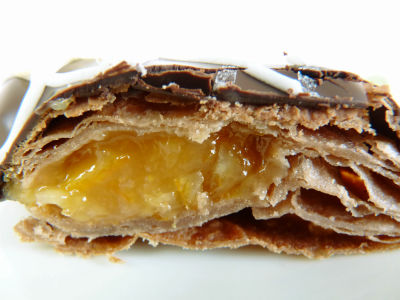 "Grilled donut triple berry" decorating white chocolate and orange peel.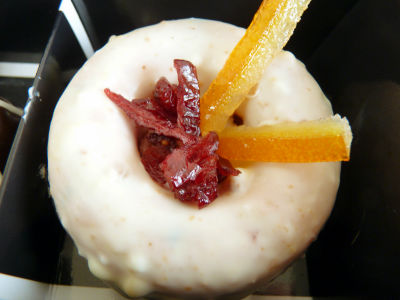 The strawberry fabric of clean color is gentle sweetness, and the mellowness of the white chocolate of the coating is plus there. Dry blueberries and cranberries which are being kneaded, and orange peel of the decoration are good accents. Overall well-balanced, there is a satisfaction near cake rather than donut. It is a taste that girls are likely to accept.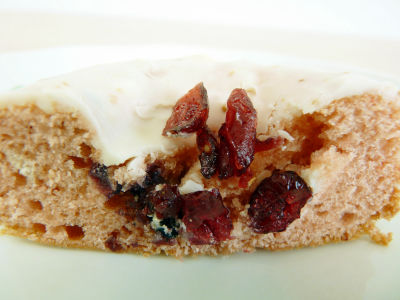 Next is "Big almond ring". I do not think that the box is big and that donuts are in it. It will be exciting if you get a present.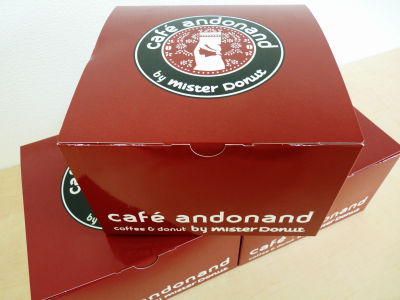 When I open the box with a bowl, there are donuts full of almonds as the name suggests.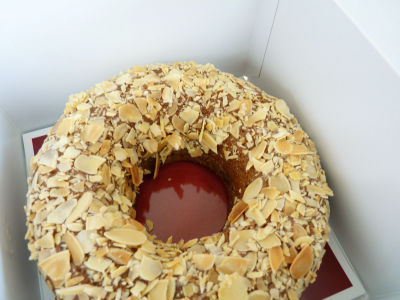 Since it is about 1.5 times the diameter compared with the classic donut of "cafe and nand", I ordered it with assorted donuts. The size is different so that it can not be seen from the same kind of donut sweets.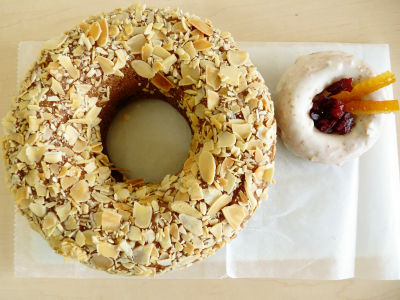 The reverse side is brown and brown, and the impression changes quite a lot from the front side of almonds crowded.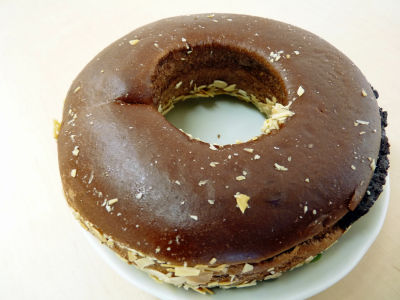 The section looks something like this. I have chocolate cream. The solid chocolate cream that is solid and massive is modest in sweetness and goes well with the almonds of the dough. Although there was no explanation at the storefront or on the site, since orange peel is used and even this is claimed as much as it is, it becomes an irresistible one for people who like "chocolate + citrus system" It is.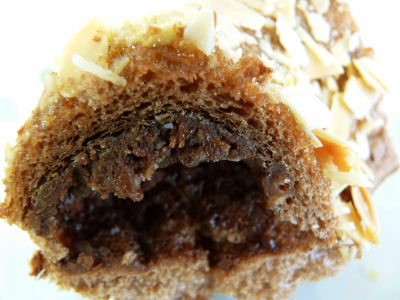 Because of its huge size, the cream seemed to be biased in part and the cavity part was seen. The apparent impact is strong and cost performance is very good as it can be bought with one coin.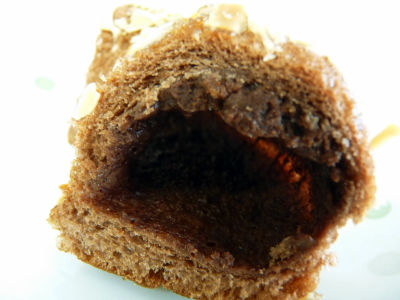 Both of the limited items have a high degree of completion, especially the baked donut of "Donut Assort" is about to raise the voice saying "I want this to sell normally!". Because it is an adult rich taste on the extension line of Mister Donut, which I am accustomed to, usually, it is just right to give it to a friend or a worker.