I've interviewed Mr. Karuo Kurata, an iron artist who created Scope Dog, "I want to make a robot that can ride"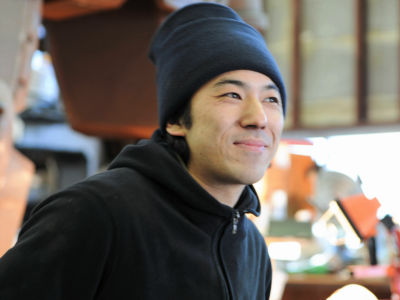 Armored Trooper VotomsI have interviewed Mr. Karato Kurata, an iron artist who is famous for making the Scope Dog in full size.

Currently addressed "Castrol 1"From the secret passion I have asked about the things which I have ceased to produce in detail about the works we have produced so far.

I will make everything.
http://monkeyfarm.cocolog-nifty.com/

GIGAZINE (hereinafter referred to as G):
First of all, could you tell us about the opportunity to create this free kick machine?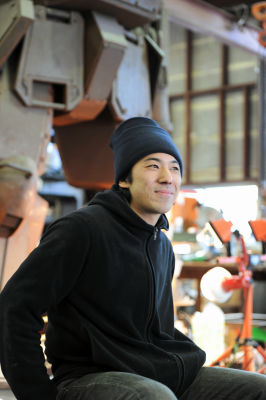 Karato Kurata (hereinafter, Kuraki):
It was the first time that I was ordered as a job. It was a story that other people said they could not do it, so it was great to say "Would you like to do?"

G:
The idea that "If it is, let's do" is amazing ... ...

Warehouse:
It's okay for everyone to say that they are refusing.

G:
Basically, did Mr. Kurata alone do the production?

Warehouse:
I agree. Basically I made it and various people are helping with chaos.

G:
I got a request and I was able to make a free kick machine almost from the beginning, but what was the most difficult point so far?

Warehouse:
Anyway, it is a place where "the whole is heavy" and "to make things moving". It is harder than things that do not move because things that move are still difficult, so it took time to trial and error is different from ordinary productions.

G:
In the current "Castrol No. 1", movements such as "get up" and "to run" that were not originally made were added, but did you find that there was a part that was inconsistent with the concept due to the change?

Warehouse:
Since it is style to always make the last form, it is not particularly troubled by policy change. It is a feeling that I will steadily incorporate if I come up with it.

G:
Kick legs are not irons that Mr. Kurata usually deals withCFRP(Reinforced plastic), please teach if there is anything felt that it was adopted the production with materials that you would not normally touch.

Warehouse:
This time I tried various other things besides CFRP, but "lightness" and "strength" are important for kicking legs. Compared to iron, CFRP is lushly light, so it was surprisingly surprising in that sense. In this regard, we cooperated with a company dealing with CFPR to promote development.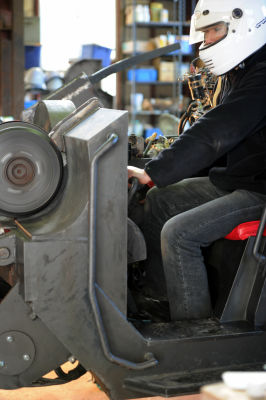 G:
At first I heard that iron pipes were used as kick legs.

Warehouse:
That's right. But even if I stop using it, the iron pipe is not bad. Iron pipe is also so light, and iron is not broken suddenly any more, because it bends and it has a sense of security. Since CFRP can not deny the possibility of breaking suddenly, there are things that iron is easy to understand as myself.

But, as it is still going to swing the kicking feet part, the rampage by the centrifugal force is scary so I felt that the CFRP is better.

G:
Kicking legs are not straight but slightly curved, but are there any meanings in kicking?

Warehouse:
No, it is not a functional aspect but it is a problem of a design completely, it is making a form conscious of a human foot. Originally, there was also the idea of ​​bending a spring like a spring to add a bend, but if the kicking feet are not too thin it will not be until you create a bisque. But, if you thin your legs too much, the ball may crack when you kick, so it looks like it is now.

G:
Although the whole body has the color of iron as it is, some red paint is done and the seat of the cockpit is also used red, but what kind of intention is there for this color scheme?

Warehouse:
Red is taken from Castrol's logo, but I designed it because it would be nice if there was red point in black overall.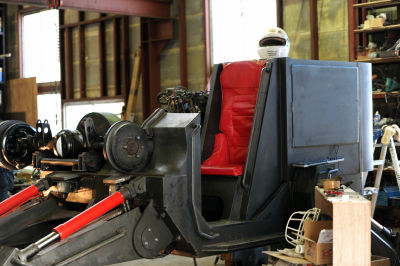 G:
Is there anything that is the base of the part that runs as a car of "Castrol No. 1"?

Warehouse:
It is a battery-operated forklift. I rearranged it all once after breaking it once.

G:
In addition to that, can you tell me if you are committed to "Castrol No. 1"?

Warehouse:
Better than sticking to kicking, "I want to make it interesting as a thing" There are things. As a given condition, it was "driving with the engine" or "kicking the ball with hundreds of kilometers per hour", but if you stand or run it will be more funny. Because I am lucky, I want to ride myself and make it interesting.

G:
Although it is said that you built your home yourself, was there something missing in the existing housing, so it was made by yourself?

Warehouse:
The very first dome house was exactly that kind of feeling, but I thought that you can make cheaply if you make a pre-made part at home you recently made? It is a simple motivation. It is close to the feeling of making a personal computer yourself. Because it took us to make "Castrol No. 1", we asked carpenters about construction on the wall.

Although I still use the dome house, 12 years have passed since it is passing, so I use it completely as a warehouse. I'd like to fix it when it gets free.

Dome house that this is my own making.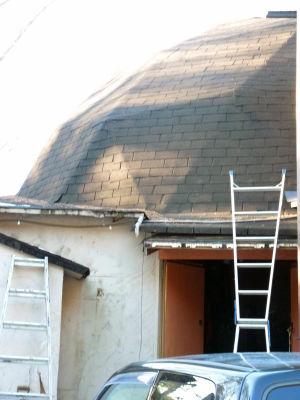 It is made by combining triangular wooden panels.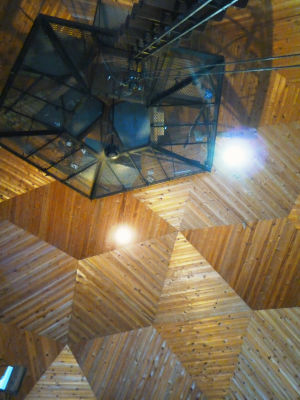 Stairs are also installed.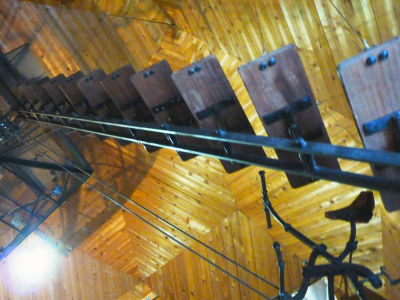 G:
In Chiba PrefectureJFE SteelIt was closed byMonument on blast furnace 12 meters highAlthough it was produced, how long did it take for the production period?

Warehouse:
As a result I was in Chiba for about 2 years as a result of having a work place prepared.

G:
Although it is said that a tour of the factory of JFE was also done, how did you feel when you saw the site making iron?

Warehouse:
Although I was the same iron, I felt that the scale was completely different from the size of the iron I was twinkling, I felt like I was being told of the scope of what I could do alone, but on the contrary I think there are some fun things I can only do by one person It was. It may be funny to say, but I felt the spread of the world.

G:
Scope dogs are borrowed for several events, but how much is there on average on average over the year? Also, are there any conditions for renting out?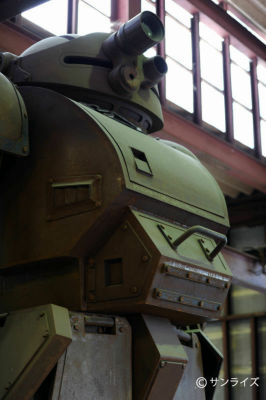 Warehouse:
It was not originally made for business purpose, but as I am feeling like "my own big plastic model", I have not positively put it out in front of people. Regarding lending so far, I am receiving it as if there is inquiries from people involved in the bottoms. As I made it, I got permission after making it without permission so I lend it only because I want to repay it.

G:
Actual size Gundam appeared in Odaiba in the summer of 2009, but did you see it? Also, do you have something like "Do not do this for yourself"?

Warehouse:
Although I sometimes hear "talk about Gundam, how about?", I actually have not seen the real thing (laugh) I made a scope dog because there was a connection called "iron" you know. But, if you can do it, I think you would like to make Zaku more than Gundam (laugh)

G:
I heard that you have met with other artists, but what kind of opportunity got to know you?

Warehouse:
Well, through the work, especially after the bottoms, I often hear from you over there. Many people came to visit us when I was in Chiba with JFE blast furnace monument production. When someone I met, I brought 10 friends and one of them brought someone again ... I got acquainted with the feeling.

G:
Also, is there anything you would like to collaborate with?

Warehouse:
Probably, if you make something like these these guys will be fighting (laugh) But, "Lucky DragonI think that I would like to do something like a group exhibition with people who make big things like Mr. Yanobekenzi and those with common terms.

This is "Lucky Dragon". It is considerably big compared with the surrounding people.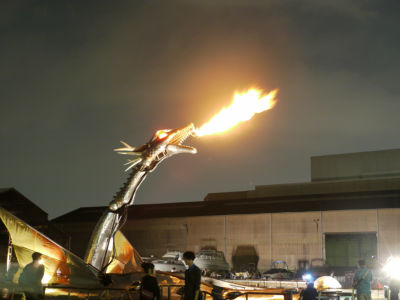 G:
Do you have plans for the revenge of the decor pin machine that was produced in 2007?

Warehouse:
No, that is ... ... While I said it was a deco pin machine, in fact it was a hand of Iron Man 28. The first person Iron Man was aiming for full-time operation. I was talking about hanging a 10 meter ironman with a crane and letting him walk downstairs.

When I heard that this robot (Scope dog) is 4 meters when I was a child, I guess it is "not surprisingly big". There are lots of robots that are set to be huge stature. But actually it is quite big if you see 4 m. So, it really is terrifying when Kore will move. I think that I would like to experience such a thing.

Even in "Castrol No. 1", at the beginning of the development, Mr. Castrol said that "There is no need for a person to put on the remote control", but there are tastes of himself, but after all soccer is a person vs person is not it. Kicking to the keeper at the current ball speed has the danger of life though (lol) I think that by making a cockpit, I could express indirectly that people are kicking. I think that I should not make it like something like a volleyball practice machine to hit a ball. If there is no cockpit in the current "Castrol No. 1", it is only a military vehicle or something invisible (laugh)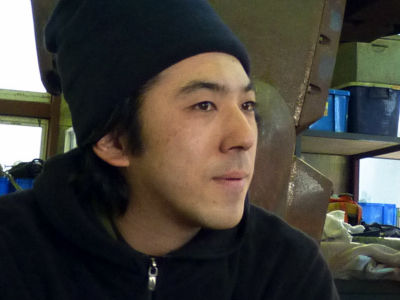 G:
Quite a while has passed since the discontinuation of the development of Tetsujin No. 28, is the iron prototype stored in this workshop?

Warehouse:
Iron Man is staying at the workplace of JFE in Chiba. It's a pretty generous policy to leave it untill the workshop itself is gone, OK. Among JFE, there are lots of people who like iron people and it is a waste to throw away but what should I do? It is a feeling that it is kept at such a feeling.

G:
Will there be something the iron man looks like in the future?

Warehouse:
No, probably I do not think they will reconcile with them ...... Bukkake. That is something you can not do without building a considerable budget, so once it gets chance it is difficult. There are various circumstances of adults in the world (laugh)

G:
Although it is said that many plastic models are produced for work change, is there something in particular that this can be done?

Warehouse:
Well, all the Gundam is amazing, is not it? Mold technology and so on ... ... It is rather a point of view of that one. I'm more concerned about how I made the parts themselves than what I made.

Also, as long as we start with the long-term production like the "Castrol No. 1" project, as a matter of fact, the desire of "Do you still not get it?" Will come out. Then there is a place where you can create a plastic model and taste the sense of accomplishment "I made it!" And I am relieving stress.

Scope dog's fist Kurata told "a big plastic model".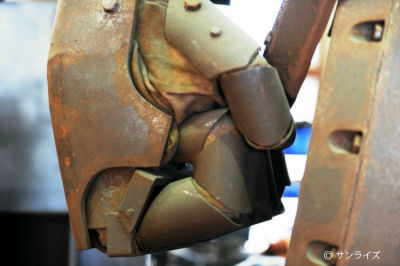 G:
Is there anything else you want to change?

Warehouse:
When I make big things like "Castrol No. 1", I know that I will regret later because I take a whole day off, so I do not get to go out somewhere. There was no holiday at all this time. So it's not a job, in that sense. It is close to making an amateur's plastic model.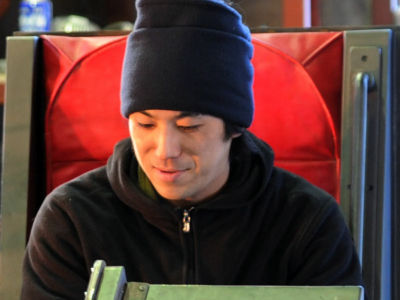 G:
Then, do not you feel a sense of accomplishment when you complete the work?

Warehouse:
No, after all it is a way of thinking that there might have been some more things that can be done (laugh) But after all it's getting tired of getting tired of making it all the time. For example, if it was told that this "Castrol No. 1" was totally renovated and refreshed a bit later in a year, probably would not do it. I think that it would be a feeling to make new things.

G:
Among the works that have been produced so far, are there any works that have been made especially?

Warehouse:
Is it your own house as manufacturing? Because it was pretty tough. After all it was a bottoms if it was in terms of relationship with people.

G:
I was taking an electric construction worker's two types of practical skills exams, but I wonder if there was a scene that required some qualification.

Warehouse:
I wanted to do something with stress, so I took the exam (laugh) Of course I had the purpose of doing electrical work at my house, but of course I wanted to study for the time being, from the desire to see the textbook .

G:
Have you found any discoveries that you could not obtain by self study after you actually took the exam?

Warehouse:
It was a series of discoveries, saying "Oh, that's it!" As I was not knowing about electricity at all. I could use it for my subsequent work.

G:
My father also asked me to make iron a business, but I would like to teach you if there are direct opportunities, episodes etc. I decided to produce iron-based works.

Warehouse:
For example, you are not interested in vegetables as a souvenir of a greengrocer. In the same way, I was not interested in iron or anything at all. When I was a child my father was making at my parents house in Kichijoji, but I moved to this workshop about 20 years ago. The place of this workshop was in such a place that electricity did not pass through the cabbage field at the time.

When I was an elementary and junior high school student, I did not see any iron at all, but I tried trying to make something in the workshop for a while at my high school summer vacation. Then it made it surprisingly well made ... ... It is the beginning.

G:
I wonder if there have been any things made before then.

Warehouse:
I liked to work with paper from the time of kindergarten, and when I recall, I feel like a life without any time to make anything.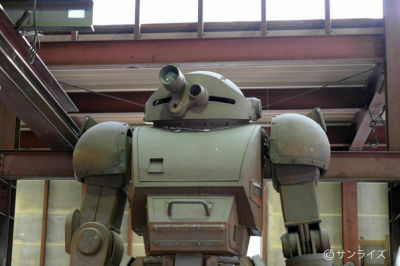 G:
Footwork is lightly challenged for large-scale production such as bottoms, interior decoration of a store, and home, but where does the motivation come from?

Warehouse:
It is curiosity. For example, always doing different things is curiosity about what kind of things myself will make when doing this. It is my style to challenge more and more differently than to make the same two things at all. Even at work I am not going to proceed like this "I will make it with such a design until the end", so curiosity in the sense of "what will I create" is the strongest.

If you do the same thing every time you do the same thing, you can make it as soon as possible, but if you do different things you have to do trial and error, so it's still funny. I have to think about how to make it. I also try to use CFRP for "Castrol No. 1" besides iron. Originally, if it was business it would be better to make as many of the same things as profit can be calculated, but I think that "it would be funny".

G:
Now that production of Castrol 1 has been settled down, are there any plans for the next work?

Warehouse:
I want to make "a robot that can ride" ... .... I understood the hydraulic pressure in this "Castrol No. 1" and there is also a part where the experience value has gone up. Basically like the one I like to get in, like a car, I think that it would be nice to be able to build a robot on such an extended line.

G:
Thank you very much.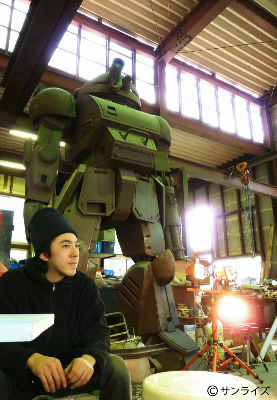 · Additional notes
After this, Mr. Kurata started to produce a robot "Kuratasu" who can truly ride a person.

Reality robot "can ride", an iron robot with a total length of 4 m is underway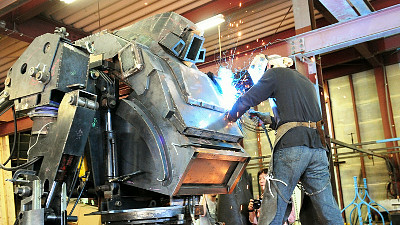 "Cluttas" was completed in 2012, was exhibited at the venue of the Wonder Festival, and was exhibited at museums and others.

Humanoid quadruped engine driven land-war type giant robot "Kuratas" announced in one festival, people can ride and control and can be deployed & purchased at home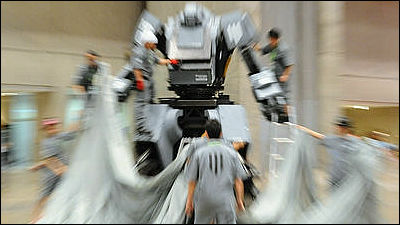 The movie of the state of the announcement that actually moved the huge robot "Kuratasu" that people can ride is like this, the price is also found out