Event "Mathiasovi vol.2" Starting on January 16th, events such as jumping shops and acting as one-day stationary staff of popular voice acters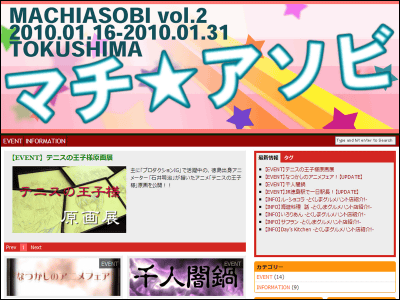 "Machiasobi" planned as an event to play Tokushima. Vol.1 was held in October 2009 in the form of a joint event with "Mountain Top Autumn Festa"Achieve the number of participants who all parties disappointedWe closed the curtain within the great success. Therefore, vol.2 will be held as soon as possible.

Last time it was a short-term intensive event for three days, this time it is a long-term event covering 16 days from January 16th to January 31th, the jumping shop will land in Tokushima for the first time,Steward4 people and Mr. Takashi Kondo served as the station chief of the station at Tokushima Station, there was a screening event of "Toriko" "Katekyo Hitman Reborn!" Screened for the first time on the Jump Super Anime Tour, "Thousands Dark Pot" The event which is worrisome is pushed as if it is done.

Details are as below.
Machiavailable | Try to defeat Asuka Tokushima! Event information Updating one after another!
http://www.machiasobi.com/

In Machiasobi Vol. 1Maiya Sakamoto announces the limited time of the Bizan RopewayWe did, but this time "Katekyo Hitman REBORN!"Takashi Kondo, the role of Yoshiyuki Wakame and Toriko Toriko, is in charge of announcing. It is limited from January 16th to January 31st. In addition to this, Mr. Takashi Kondo is also planning to perform a talk & live at Shinchomachi Higashi Park in the afternoon of January 23. This event is free for viewing.

The situation is here.
◆The main character of "Toriko" · Toriko and "Reborn" Announcement movie of Mountain Ropeway performed by Takashi Kondo who plays Konoya Hibari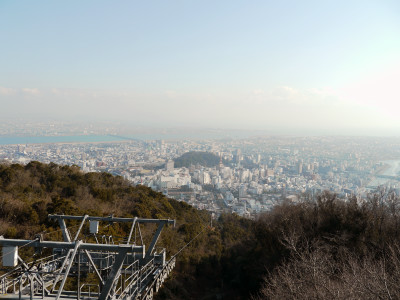 Also, as with ropeway's announcement, "Tsukimeko" who gained popularity with Machiasobi Vol. 1 re-landed in Tokushima, it seems to bring excitement in various places in various places. On January 23 and 24 at the umbrellas shop, radio "Citizen and Akuzu and Yamamoto's third-tailed radio! Ver. Matinee"When"Igarashi, Koshida and Kuwamon's sequel radio! Ver. SoareThe public recording of "will be carried out.

This is how it is.
◆"Kondo Takashi" x "Tsukikaneko" Web Radio Public Recording Event Scene from Fan Early in the Morning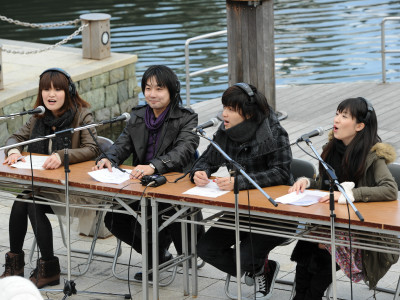 ◆Ayano dance, air guitar, pretty choreography and sight-seeing "Tsukimeko" outdoor live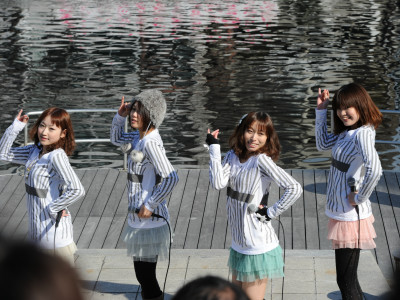 ◆Pictures and videos of "Kondo Takashi Talk & Live" that excited female fans get transmitted to here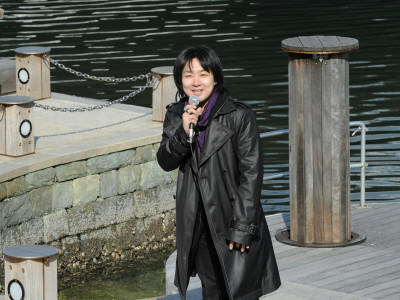 Mr. Kondo and "Tsukimeko" are appointed as the station chief at JR Tokushima station. The content seems to be enjoying on that day (January 23), so you can watch uniforms and have events such as the inauguration of the station chief or departure campaign a day? It is said that.

The appearance of the day is like this. Not only the appearance of the hat, but also the departure cue was issued, and lastly it was held until the handshake party.
◆A rush to the Tokushima station enough to restrict admission, Takashi Kondo and others gave a starting signal to the express Muroto one day station manager event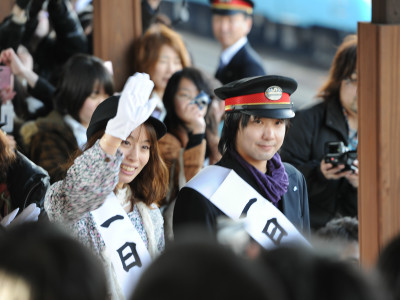 On the Poppo Street shopping street entitled "Natsukashi's Anime Fair!" Various goods including a poster of anime work hit in each era from "Space Battleship Yamato" to "Evangelion" gathered. The sales booth of "Mikusen" which was attracting attention as Machiasobi vol.1 is also likely to be exhibited. Also play Yu-Gi-Oh! Card Game with Centralville of Poppo Street as Duel Place. On the 30th and 31st of January every year, participation is free, but it has become the first 50 people.

◆"Machiasobi 2 Poppo street special venue" decorated with signs and posters of famous manga artists and popular voice acters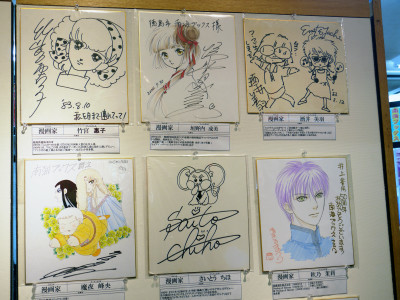 ◆"High taught party" where fans who seemed to have had more than 100 people with high momentum of just 5 minutes and high touch with voice actor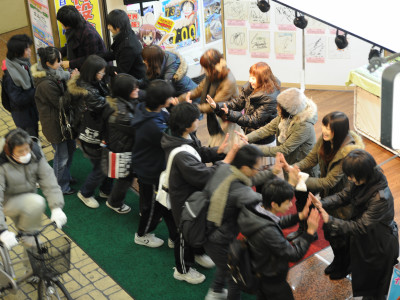 The jump shop arrived at Tokushima for the first time at the Awaodori Kaikan. While the limited time of Machiasobi, Shueisha's original goods and animated items, shirts, DVDs and sweets are all packed with jump goods. Exhibits used at Jump Festa 2010 will also be prepared.
◆"Machiasobi vol.2" opens, the jumping shop has a row from 9 o'clock before opening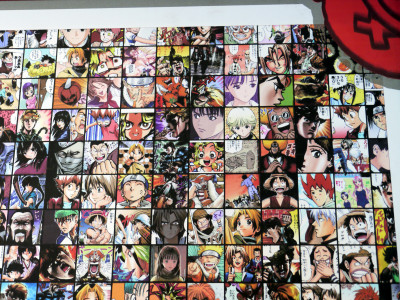 In the jump shop, an original picture exhibition of animation "The Prince of tennis" drawn by Tokijima-origin animator · Ishii Meiji is done. The original picture was actually used in animation, and Mr. Ishii's comment is put in all original picture. Also, a message note is placed, so that a message can be written to Mr. Ishii. Mr. Ishii is also in charge of "Digital Creator Training Course" with the ufotable staff on January 24. This will be a student free · general 1000 yen event.

Ufotable cafe TOKUSHIMA will exhibit original drawings of animation "Toriko" screened at Jump Super Animation Tour 2009. It was sometimes referred to as ufotable that was responsible for the production of "Toriko", carefully selected raw original images actually used for exhibition. Limited menus nominated for works will also appear. Also, when we eat and drink with ufotable cafe "Toriko" coaster will be gifted. After "Toriko", "Gourmet hunt" set in Tokushima is also carried out. 16 stores in Tokushima city participate, and each restaurant can receive a special postcard when you eat special menus and recommended menus. Also, a bingo card is attached to the flyer, and collecting stamps pushed by gourmet hunt participating stores seems to be a special gift ticket.

"A thousand dark cook" is scheduled at Shintomichi bridge east park. This is limited to 1000 people to do the Tokushima special gastronomic secret pot. I'm looking forward to seeing what ingredients are in it.

And the original animation "Toriko" and "Katekyo Hitman REBON!" Screened at Jump Super Anime Tour will be held over the whole period. Screened twice a day, "Toriko" is the latest work of ufotable production. "Katekyo Hitman REBORN!" Is an original story that the Vongole family led by Tsuna goes on a school trip.

People who said that time and schedule could not participate in the last gore Asobi, too, this time it is a long-term event of 16 days this time, please try once.
in Note, Posted by logc_nt