KDDI announces a new price plan "Gangan Mail" that makes it free to send and receive mails with anyone, no attachment attached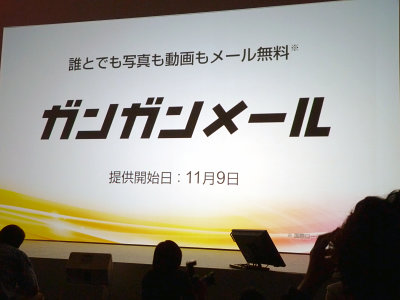 KDDI is being held todayNew model release for Fall / 2009 modelAnnounced that it will launch a revolutionary price plan "Gangan Mail" at.

It is a plan that sending and receiving of mail is free regardless of the size of the destination and attached file, so it may be good news for those who think "I want to use e-mail, but the charge of the packet flat rate plan is too high" Hmm.

Details are as below.
Survey results of the MMD laboratory announced last weekAccording to the restriction that feels dissatisfied with other companies' e-mail sending / receiving free service is "to be charged if the mobile phone company is different" and "to be charged depending on the capacity of the attached file".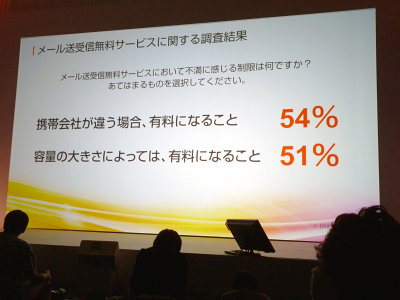 "Gangan Mail" is a new rate plan with a basic monthly charge of 780 yen "Plan E Simple" and you can subscribe to the EZ WIN course and you will receive an unlimited number of mails by 1095 yen per month. In addition, the packet flat rate plan "Double fixed price super light" available at a maximum of 4410 yen per month is combined, and even if you use the packet with mail other than mail it is available up to 4410 yen.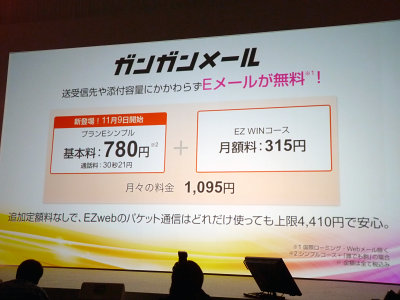 Compare prices with other companies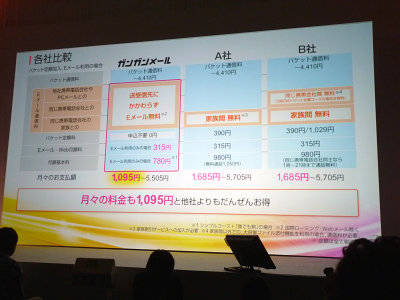 Telephone calls to three au mobile phone numbers designated by 390 yen per month will be fixed for 24 hours "Specified call fixed amountCombined with ", it may be quite good.

The details of Gangan Mail are from the following.

About launching new rate "Gangan Mail" | 2009 | KDDI CORPORATION