"Because it is a butler at" Akuma "... ...", production of the second period of animation "Black Butler" is decided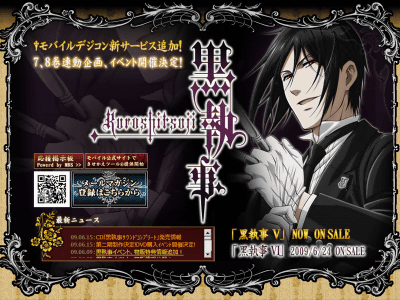 Works depicting the success of Sebastian Michaelis, who is the head of the Phantomhive Earl and who carries on the work of a back society for the Queen, and who does all the work from cooking to escorting with his deacon "Black Butler".PivotalHas been serializing to monthly G fantasy from 2006, TV animation was broadcasted from October 2008 to March 2009, but now the production of the second stage of animation has been decided.

Details are as below.
Second stage production decision & DVD 7.8 volume full production limited edition event for buyers - TV animation black butler

Shutsuke, and ... ... Junichi Suwabe Official blog "Zenra Ojisan" by Ameba

According to the official website of "Black Butler" and Junichi Suwabe's official blog, it seems that the second phase of 'Black Butler' has been decided. "Black Butler"DVD 1 (Full production limited edition)Has sales as of February 2"Code Geass: Lelouch of the Rebellion R2" 6 volumes, "Macross F" 6th volume, followed by 13,000 sheets, Released on May 27DVD Volume 5Although it does not reach 10,000 sheetsSell ​​9230 sheetsWe are gaining popularity mainly in the female group, etc. It may already have been decided that the second period production was during the first period broadcast.

Sebastian who is a "devil" and a "butler" is supposed to receive Ciel's soul after the contract, and in the final round of the first phase of anime there is a description as if Sebastian robbed Ciel's soul I was wondering whether the story completely closed the curtain with this, but does it mean that the fact that there is a continuity did not deprive the soul?
in Anime, Posted by logc_nt