'Soul Eater' is broadcast at 18 o'clock on Monday evening, late night version plus special images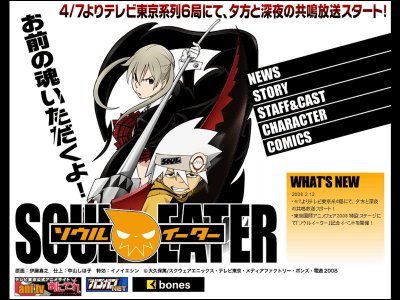 Manga, Soul Eater series serialized in monthly boys' battle cartoon Atsushi Okubo will be animated in TV Tokyo series from April 2008. The broadcasting frame is the frame currently broadcasting Mutant Turtles since Monday at 18 o'clock, but in addition to that it seems that it was decided that "Soul Eater Late Show" will also be broadcasted in the late night band.

Details are as below.
SOUL EATER - Soul Eater -

Seoul Eater is scheduled to broadcast on September 7th (Mon) at 6 pm on TV TOKYO 6 series (TV TOKYO, TV Osaka, TV Aichi, TV Setto, TV Hokkaido, TVQ Kyushu Broadcasting). This is a time zone in which the mutant · turtles are currently being broadcasted, but in addition to this, "Soul Eater Late Show" plus a special image is broadcasted in the middle of the night.

The purpose of "craftsmen" and "weapons", students of the death god weapons craftsman's vocational school, is to let us eat "99 spirit of eggs and soul" and "1 witch's soul" as weapons and shinigami weapons Making "desize". Three pairs of Maca-Albarn and Soul Eater, Black Star ___ ___ ___ ___ ___ ___ ___ 0 are going to collide with each other Synopsis.

Directed by Takuya Igarashi who directed director of 'Ouran High School Host Club' and 'Sailor Moon' series of series, series composition consisting of 'Ayaka's Gash Bell!' And 'Armed Alchemy' series composition of Akira Yamatoya, Animation production is "Bronze alchemist" and "Buns who created" Symphonic Psalm Eureka Seven ".

Cast has been acting mainly on the stage as Maka Albarn Chiaki Komigawa, Seoul-Eater role "Kingdom Hearts II" Roxasu role of Uchiyama, Takahi Uchiyama "Blackjack star" as a role "Baked freshly! Yasuko Kobayashi and Yoshiko Kobayashi of the role of Shosuke Ogata, director Masatake Ogata, "Eureka Seven" Eureka role "Eureka Seven" and "true tears" Yoshinori Yuasa, Kaoru Natsuka, role of Death the Kid, "Mobile Suit Warrior Gundam 00 "role and" DEATH NOTE "Masayuki Miyano of the role of Night Shinki role, role of Liz Thompson" Magical teacher Negima! "Series of entourage tea ceremonial role and" Kissdom - ENGAGE planet- "Yella Mamon Watanabe Akino role, Patti Thompson role is becoming high heisei beauty which will be a voice actor debut.

As a DVD benefit, it often happens that pictures are enjoyed, but it is the first time in history that the special image of the work that was broadcast in the evening can be seen at midnight.

I'm looking forward to see what kind of image will be added.