Finally the release timing of 'next generation Atom processor' for low price mini-note is revealed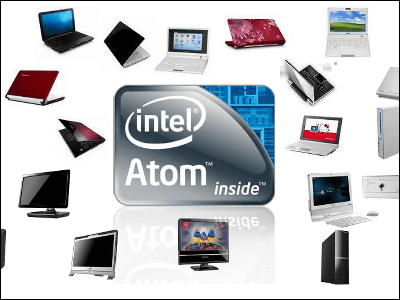 Previously GIGAZINE Intel realized low power consumption and improved performance by integrating memory controller and graphics into the CPUIt is planned to release "next generation Atom processor"I told you that the time of its appearance was finally revealed.

Will it also start selling mini-notebooks equipped with next-generation Atom processors in line with the release of CPUs again?

Details are as below.
Intel to launch successor to Atom N 270 CPU in October at the earliest

According to this article, Intel is to release "next generation Atom processor" as early as October as a new CPU replacing the Atom N 270 processor installed in the low-priced mini notebook of the current model.

The next-generation Atom processor consists of two CPU chips, "Pineview" which integrates a memory controller and graphics, and "Tiger Point" which handles the connection interface part such as USB, Serial ATA, PCI Express, and Intel HD audio. Pine Trail "code name, it is said that the model number will be" Atom N 450 ".

With the advent of the Atom N450 processor, Intel said that orders for the N270 processor will be cut off in the first quarter next year.

Again on October 22Microsoft's latest OS "Windows 7" will be releasedWill it be a release according to?