Will the temporary member certificate from the SOS group arrive? We are looking for SOS members on 'The Melancholy of Haruhi Suzumiya' official website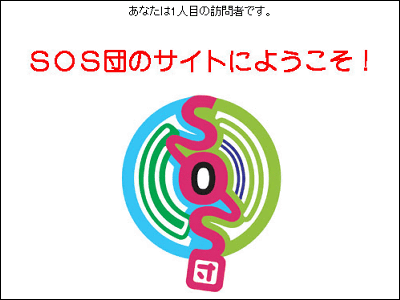 "Revisited" will be broadcasted from AprilTV anime "The Melancholy of Haruhi Suzumiya". Beginning with Sun TV which starts at 24:40 on April 2 th (Thursday), broadcasting will start at UHF affiliated stations such as TV Saitama and TV Kanagawa, and from YouTube on Wednesday, April 15 (Wednesday)Kadokawa Anime ChannelIt is supposed to be distributed every week.

Meanwhile, the official website of "The Melancholy of Haruhi Suzumiya" was renewed for broadcasting, and it became the site of the SOS group. Official site from beforeDisappearance toward the second stageWhen I saw it or saw the source, my preference was being made as if it was made by a character in the work, but this time it is like recruiting a member as if the story so far was reset It is.

Details are as below.
SOS Dan web site
http://www.haruhi.tv/

Recruitment of membersThe content of registering name, address, and e-mail address, the head of the group said strict words that "Anyone can not become a member". Although "Issuance of provisional membership cards" is written in the handling of personal information, will it reach the registered address ...?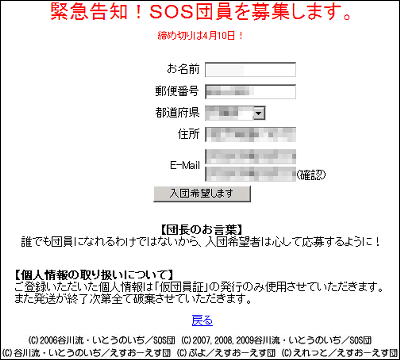 There is confirmation of registration contents.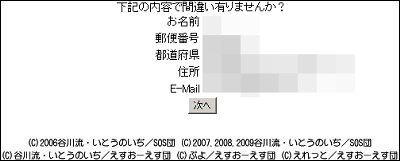 And registration is completed. There is absolutely no explanation of what this is.




The deadline for recruiting members is April 10,KyonWhether it's a message from a white letter, it says "If you apply, advance is early before the head of the headmaster changes."

By the way, the broadcast schedule of "The Melancholy of Haruhi Suzumiya" broadcast again will be as follows.

Sun TV 4/2 (Thursday) 24: 40 ~
Tereball 4/2 (Thu) 25: 00 ~
Niigata TV 21 4/2 (Thursday) 25: 45 ~
TOKYO MX 4/3 (Friday) 26: 30 ~
Tvk 4/3 (Friday) 27: 15 ~
TVQ Kyushu Broadcast 4/4 (Sat) 26: 40 ~
Television Wakayama 4/5 (Sunday) 25: 10 ~
TV Hokkaido 4/6 (Monday) 25: 30 ~
KBS Kyoto 4/7 (Tue) 25: 00 ~
Hiroe TEL 4/7 (Tue) 25: 29 ~
Cibatelle 4/7 (Tue) 26: 00 ~
Nara TV 4/7 (Tue) 26: 00 ~
Sendai Broadcast 4/7 (Tue) 26: 08 ~
Métel 4/14 (Tue) 27: 25 ~ (broadcasting for 1 or 2 episodes)
in Anime, Posted by logc_nt